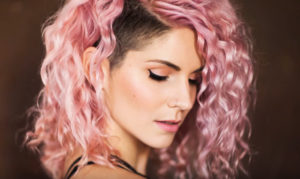 Lea Sirk beat seven other acts in tonight's Slovenian EMA final. With upbeat song Ne, hvala!, Lea will be Slovenia's representative for the 2018 Eurovision Song Contest. 
Last Saturday, 16 acts competed in a preliminary heat from where 8 acts were chosen for tonight's final. Surprisingly, we saw two former Eurovision participants not able to make the cut. They were 2016 participant ManuElla, who at Eurovision failed to reach the final with the song Blue And Red, and Tanja Ribič, who in 1997 scored a 10th place in the final performing Zbudi Se.
Involved in this year's Slovenian EMA selection was also their 2011 participant Maja Keuc. Not as a performer though as she was one of four people in a special committee, that chose the 16 acts in the run to represent their country this year.
Let's take a closer look at tonight's national final:
The show
Presented by Raiven and Vid Valič, this year's Evrovizijska Melodija featured a quadrangular LED stage surrounded by two mirrors that obviously allowed for great special effects.
It wasn't long until the eight songs started being presented and one hour after, the lines were opened for the public vote.
While the lines were opened, one of Omar Naber recent songs was performed by a dancer and the show's host, Raiven, also took her chance to perform one of her songs. Maja Keuc took the stage last to perform her most recent song.
The eight songs
1. Lea Sirk – Ne, hvala!
Surely the most upbeat song of the competition. In a blue background, Lea Sirk performed the electrifying Ne, hvala! with a bunch of dancers. Definitely a great choice to start the show.
2. Indigo – Vesna
Rather traditional, Indigo had barely any changes on their performance when compared to the semi final's. Vesna is way slower than the previous performer yet it also stays visually on your mind with her flower halo.
3. Ina Shai – Glow
In a black dress, Ina Shai presented one of the night's best staging making it quite magical. It was another ballad yet a great production.
4. BQL – Promise
Impossible to ignore BQL when they have glowing guitars going all around. BQL's long work with 2015's Slovenian representative Marayaa could also give the song some extra boost.
5. Marina Martensson – Blizu
Maybe the most simplistic staging, outfit and even song. Marina Martensson failed to create an impact with such strong competition.
6. Lara Kadis – Zdaj Sem Tu
In a dress resembling Disney stories, Lara Kadis presented a strong ballad that surely created a sweet but strong moment.
7. Proper – Ukraden Cvet
Despite the simplicity of their song, Proper had one of the most interesting stages that could easily remind Salvador Sobral's performance at last year's Eurovision.
8. Nuška Drašček – Ne Zapusti Me Zdaj
Nuška had perhaps the most Eurovision friendly song with a great sing-along chorus. Her fierce stage presence was also a great plus to the overall result.
The Results
As common in many countries, and at the Eurovision Song Contest, Slovenia also used the 50/50 combination of jury and televote to select their participant. Last year, their jury was geographically spread, tonight they represented various professions: Singer, composer, radio industry, TV industry, OGAE fanclub and finally an international jury composed by Kristian Kostov, Aminata, Bojana Stamenov, Emmelie De Forest and Dami Im.
When all votes were in, Lea Sirk ended up summing 116 points even though she wasn't the public's favorite. BQL ranked second with 106 points and Nuška Drašček third with 88 points.
Slovenia at the Eurovision Song Contest
Three top 10 results, but no victories yet, those are the top facts about Slovenia's Eurovision journey, however their last top 10 was a 7th place in 2001 to Nuša Derenda, which was also a tied best for the country. It matched Darja Švajger's 7th place from 1995.
Since the introduction of semi-finals in 2004, it hasn't been easy being a Slovenian Eurovision fan. They missed the final 10 times, and only made it four times. We have to go back to Maraaya in 2015 to find the last Slovenian appearance. Her entry Here For You finished 14th.
This year, Slovenia will try to reach the final from the second semi-final. On paper, this semi-final looks to be the stronger of the two, however Slovenia had a bit of luck at the draw as they are guaranteed to perform in the last half.
In the video below, take a look at Lea Sirk's performance in EMA's semi final: