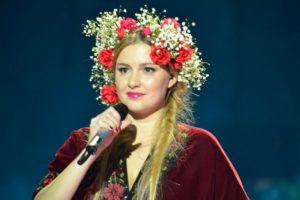 Slovenia's search for Lisbon has begun. Out of sixteen songs, eight moved forward to EMA's 2018 Grand Finale to be held next week. Slovenia's 2016 representative – ManuElla – was amongst the favourites.
It'll be next week that Slovenia will decide which act and song will represent the country at the 2018 Eurovision Song Contest. Tonight, the show's only semi final took place in order to select the eight songs that will take the stage one more time next Saturday.
The results were divided between the judges and the public. Each part had the responsability of selecting four acts to the show's final round. Neither their 2016 representative ManuElla, Tanja Ribič (1997) nor EuroVisionary's poll winner Nika Zorjan made it through.
Below you can find which acts were selected and if the decision came from the judges or from the viewers at home:
Proper
Lara Kadis
BQL
Lea Sirk
Indigo
Ina Shai
Marina Martensson
Nuška Drašček
Slovenia at the Eurovision Song Contest
Slovenia's first appearance in the Eurovision Song Contest took place in Ireland's Millstreet in 1993. Back then, 1XBand finished 22nd with only 9 points. Slovenia had previously been represented at the contest as part of Yugoslavia between 1961 and 1991. Four of these 27 entries were from Slovene artists.
Since 1993, Slovenia has participated in the grand final 13 times. Their best results were seventh places in 1995 and 2001, and their worst result came in 2013, when Hannah Mancini finished last in her semi-final.
ManuElla failed to represent her country once more. The singer took the stage in 2016 to perform Blue and Red that failed to qualify. Remember her performance below: