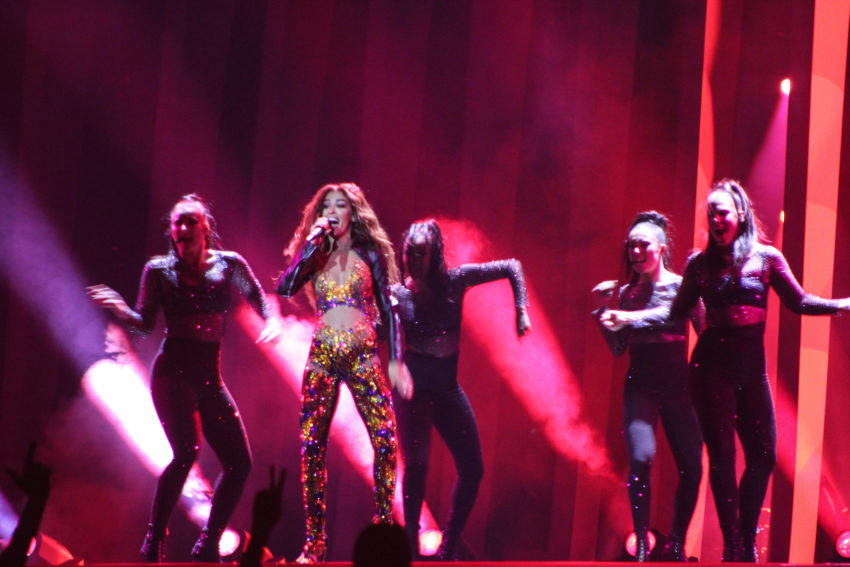 It suddenly got warmer in Lisbon after Eleni Foureira arrived in Lisbon as she literally set the Altice Arena on fire. Everywhere she goes it suddenly becomes warmer.
Eurovision Village
Gallery
Second Rehearsal
Opinions expressed during our second rehearsal coverage are personal from the mentioned writers.
Pedro, Portugal  (from the arena) – The arena went LOUD, sang along and clapped through the entire song. This is the main fan favourite for now and my favourite as well. Eleni did an amazing job and her performance is both good for TV and live.
Jens Erik, Denmark( from the arena) – Before Lisbon I would have denied it, but I really get on fire for this one. Eleni does a fantastic job as both with the singing and  the dancing. This will for sure make the arena ecstatic on the big night – because there is no chance this will not qualify. I actually feel a bit sorry for Helena Paparizou for turning this down. It could be a surprise winner.
Michael, United Kingdom (from the press centre) – This is a piece of nineties classic dance pop, ready for the Summer of 2018. Eleni seems to like the song more than it really deserves, but coming on last in this semi does it a lot of favours. Eleni shines on the stage along with her dancers, but  the song just lacks a certain something, and I'm sure the juries will notice this, But as a club-banger this is what is needed for the summer.
Complete the sentence
First rehearsal
Eleni Foureira just had her first rehearsal in Lisbon. In a golden and sparkling outfit she enters stage walking through a tunnel of light. This could easily remind one of Beyoncé's Single Ladies (Put a Ring On It) 2009 Video Music Awards performance where she does something similar. To add on that, and because Eleni is a proud Beyoncé follower, some of the dance moves are clearly inspired on the American singer, the Crazy In Love choreography for example.
Eleni is joined on stage by four dancers who were wearing black and sparkling silver. The five of them were also joined by animated and real fire.
Overall, Eleni did burn the house down, at least the press center who shouted and applauded the Greek singer more than any other act so far.
How Eleni Foureira was selected
Back in September 2017, Cypriot broadcaster CyBC announced that they had signed a contract with Greek-Swedish songwriter Alex Papaconstantinou also just known as Alex P to write their 2018 entry. At that time, the artist was planned to be chosen through a national selection. That was later dropped, and an internal search for the artist started.
As both 2005 Greek Eurovision winner Helena Paparizou and well known Greek singer Tamta said no, the broadcaster approached another Greek singer Eleni Foureira, who said yes to sing the song at the Eurovision Song Contest representing Cyprus.
The song was released in the beginning of March.
Cyprus at the Eurovision Song Contest
The Greek part of the divided Island of Cyprus joined the Eurovision Song Contest in 1981. They are yet to win the Eurovision Song Contest, but they have three times finished 5th tasting a bit of success.
When Lisa Andreas came 5th in 2005 with the ballad Stronger Every Minute, the semi-final system had just been introduced the year before. Two years later, the country would fail to reach the final – and unfortunately not just one, but four years in a row. In 2011 and 2013, Cyprus again missed out on the final.
Since 2015, Cyprus has been rather consistent reaching the final every year, but all finishing bottom six.