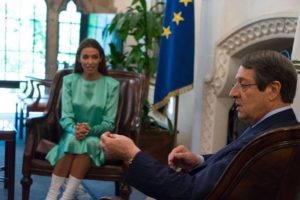 After her recent Eurovision success, Eleni Foureira today met with the Cypriot president. Invited to the meeting was also "Fuego" songwriter Alex Papaconstantinou and the rest of the team behind this year's runner-up entry.
Today, at the Presidential Hall in Cyprus, Eleni Foureira met with the Cypriot president Nikos Anastasiadis. He expressed his interest to meet the woman who made his country proud. He congratulated her with the second place that she brought home for Cyprus.
I'm very glad to welcome Eleni Foureira, Alex Papaconstantinoy and the whole team who represented us at this year's Eurovision Song Contest. We would like to thank them for their work. They became very good ambassadors for Cyprus abroad.

Nikos Anastasiadis, President of Cyprus, on Twitter.
Moments after her meeting with the president, Eleni said that it was so beautiful to be there, that she was honored and thrilled to meet Mr. Anastasiadis. The Greek singer took the opportunity to also reveal that she is going on a summer tour, starting her journey from Cyprus.
In the video below, you can hear Fuego performed live at this year's Eurovision Village in Lisbon, Portugal: