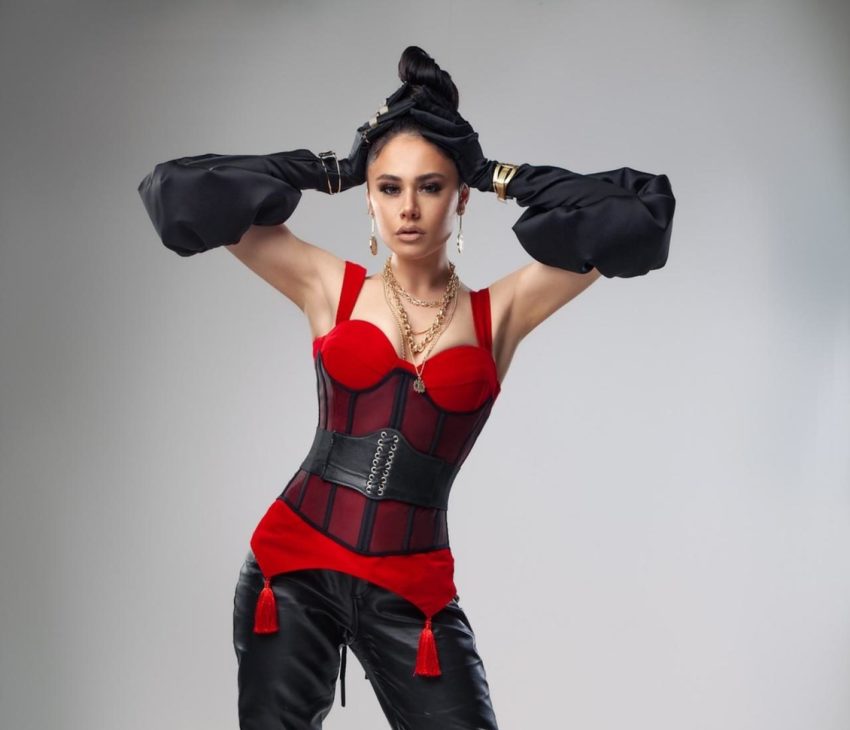 Efendi represented Azerbaijan at the 2021 Eurovision Song Contest. She is an experienced singer quite used to competitions. Another song of hers 'Dans Ediyorum' is one of those songs from her repertoire. It's in Russian with a Turkish title.
Efendi is a girl of festivals. Most of her career is about her festival and song contest appearances in different cities of the world representing her country.
Dans Ediyorum is a modern pop R&B tune in Russian language with a Turkish title. Samira Efendi competed with this song in the Europa Song Contest's 6th edition in Dnipro, Ukraine in 2018. She barely couldn't pass the semi-final with 123 points which gave her the 12th place.
Dans Ediyorum – opinions from fans
In order to find out what Eurovision fans think of this song from Efendi, we asked our Eurovision Fan Panel. It includes team members as well as fans from all over the world.
🇩🇰 🇳🇱 Wouter W. – I love this! The way sounds and rhythms I recognise from Turkish folk music are combined with a smooth dance track really appeals to me. And the absence of a clear hook, verse or chorus gives it the pleasant impression that it could go on forever. So different from Mata Hari, it's hard to imagine that it's the same artist.
🇮🇪 John D. – A well produced and presented piece of pop from Efendi. I didn't much like her Mata Hari at Eurovision this year. It was just a lazy rehash of Cleopatra. She may as well have slotted in any historical/political figure with four syllables. 'Arlene Foster' or 'Margaret Thatcher' would have worked as well! I think this song would have done a bit better, but not much.
🇹🇷 Gunec G. – Dans Ediyorum is a tune from Samira's earlier career. I love the modern hip hop R&B style of this song, and it shows how a multi talented vocalist is Samira.
🇬🇧 Michael O. – Nice to see her sing in her native language, but the song is another run-of-the-mill number, easily forgotten once it's finished. Nothing special.
🇩🇰 Charlotte J. – I am mixed here. I do personally like it better than Mata Hari, but that one at least had a chorus, I can remember. This one Dans Ediyorum is light-pop and a lot more innocent, but yet I prefer that one without it being a song that does a lot for me.
🇨🇴 🇫🇮 Alvaro S. – I like to find a totally different type of song from Efendi. Although this is pop it is still very different to what she sent this year and to her 2020 wishful song. I like this song more than Cleopatra or Mata Hari simply because it is more relaxing.
🇩🇪 Pascal W. – The song starts pretty promising, but it unfortunately gets very repetitive after some time. I'm always waiting for something new all the time, but it never happens. I prefer both of her Eurovision entries to this one, even though Mata Hari was not one of my favourite songs this year.
🇦🇺 Michael R. – I love this, but then again I like a lot of songs similar to this. It is a pretty standard piece of Russian language pop, but a good one.
🇳🇱 Vica K. – The beginning of the song is interesting. But after that it's not lifting me up. The beat is good for dancing, but I won't set it on repeat.
🇳🇴 Robert I. – This song is an OK pop song. Although it's not bad, it's not so good that I will have it on my playlists
🇷🇴 Mihai D. – I have no problem with Efendi, listening to her singing in Russian. I also like that in Eurovision, the fact that performers can sing in the languages of their countries of origin. English is optional ! Efendi is a beautiful girl, with dynamic songs from the dance area. I don't know how much of what we hear is natural and how much is processed in the studio "from the buttons". As an audio-visual impact it is a pleasant, interesting product. The screen and the cameras love her, and her songs try to get the attention of the radio stations. She is a singer of the moment. Time will tell how solid her career is, whether she is a solid singer or a meteoric appearance.
🇨🇿 Josef S. – This song is very repetitive and boring, but at least shows one thing. That Efendi feels more comfortable in Russian (or her native Azerbaijani as well) than English in which she is not fluent at all, so she should have stayed loyal to what she knows best. I think that after Aisel and Chingiz, Efendi is another example of an Azeri artist that is very good but is forced for Eurovision in something different from what she is best in.
Enjoy Efendi's Dans Ediyorum in the embedded video. Below the video, you can read more about her.
Efendi – a mini biography
Samira Efendiyeva was born on the 17th of April 1991 in Baku Azerbaijan. She showed up in talent shows and contests like Böyük Sehne (2014), The Voice of Azerbaijan (2015-2016), and Silky Way Star (2017, she became 3rd).
She was chosen internally by Ictimai TV in 2020 to represent Azerbaijan in Rotterdam in the Eurovision Song Contest with her song Cleopatra. As the contest was cancelled due to pandemic in 2020, she couldn't sing Cleopatra on stage. However, for 2021, Ictimai TV chose her again to sing in the Eurovision Song Contest this time with her song Mata Hari. She passed the first semi-final with 138 points. In the grand final, despite a great performance on stage, she collected a mere 65 points and finished 20th. She will be remembered among Eurovision fans for her cute interactions with the Norwegian representative, TIX.