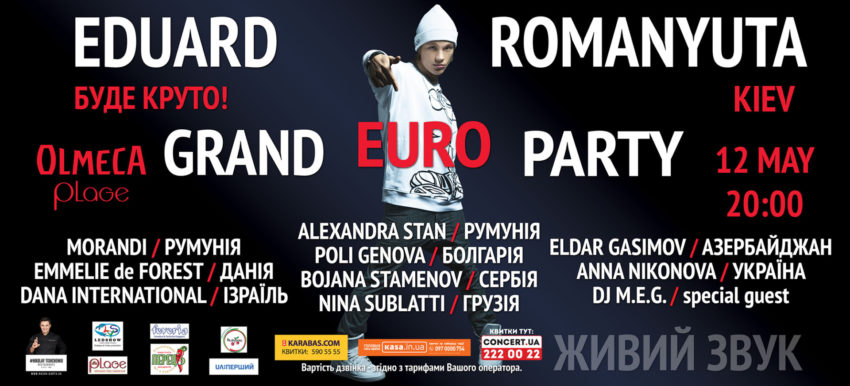 Three Eurovision winners, and further three former Eurovision participants. That's the current line-up for a party, 2015 participant Eduard Romanyuta is hosting in Kyiv the day before the final.
If you are in Kyiv for the Eurovision Song Contest and unsure what to do on the 12th of May, 2015 Eurovision participant Eduard Romanyuta invites you to the Grand Euro Party. It takes place at the same time as the jury final for the grand final, so don't expect to see any of this year's finalists there. The acts who doesn't make it to the final might however turn up. The current line-up itself however should be enough to guarantee a great party.
Emmelie de Forest (Denmark 2013 winner)
Eldar Gasimov (Azerbaijan 2011  winner)
Dana International (Israel 1998 winner and 2011 participant)
Poli Genova (Bulgaria 2011 and 2016 participant)
Nina Sublatti (Georgia 2015 participant)
Bojana Stamenov (Serbia 2015 participant)
A couple of special guests will join the line-up, just as we can expect the organiser of the event Eduard Romanyuta to also perform. He is Ukrainian, but represented Moldova at the Eurovision Song Contest in 2015 with the song I Want Your Love. He finished 11th and as such just outside the qualifiers.
The Grand Euro Party will be held on the 12th of May 2017 at 20:00 at the large entertainment complex Olmeca plage. Tickets can be purchased online for prices between 250 and 6500 UAH. A short promo video is available on YouTube.
In the video below, you can refresh yourself of Eduard Romanyuta's Eurovision entry from 2015: