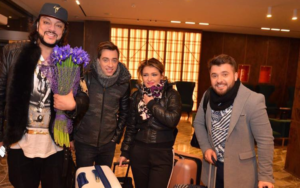 Due to visa issues, Moldova's DoReDos have had to cancel part of their promotion tour. The sad news came this evening from the organisers of London's Eurovision party. With the song "My Lucky Day", the band will represent Moldova at this year's Eurovision Song Contest.
DoReDos have not yet commented on the situation, but this evening London Eurovision Party broke the sad news on their Facebook page: "It is with regret that the London Eurovision Party has to announce that due to issues obtaining visas, DoReDoS from Moldova have had to withdraw from our event."
They followed it up with the good news that Stella Mwangi (Norway 2011) will join the party together with her partner from this year's Norwegian final Alexandra, and also Swedish Benjamin Ingrosso. They have previously already added this year's acts from Romania, Lithuania, Australia, Poland, Denmark, Switzerland, Montenegro, Czech Republic, Germany, Spain, Austria, Ireland, Albania, France and of course United Kingdom, so there will still be plenty of 2018 acts to enjoy.
DoReDos is also scheduled to perform at the Latvian pre-party in Riga on the 24th of March, which seems unaffected from the visa issues in relation to the band travelling to the United Kingdom.
In the video below take a look at this year's Moldova entry My Lucky Day by DoReDos: