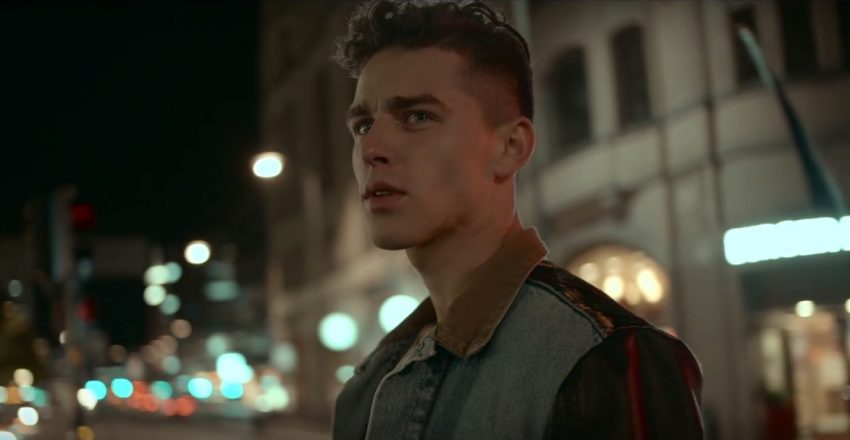 Ten weeks, twenty eights songs, but we've been waiting for this night, and finally Lithuania has chosen its song for Stockholm. Tonight six competitors sang for the honour knowing only one would make it and Donny Montell and I've Been Waiting for This Night  has been chosen.
Like last year, Lithuania will sing in the first half of the second semi final.
The Songs
Ruslanas Kirilkinas – In My World 
It took fifteen minutes before the dramatic video to introduce Ruslanas started. Then the rascal had the gall to sing in Lithuanian. Great stage effects, but Ruslanas chose to sing the song with no frills, which was very refreshing. The ballad sounded more heart felt in Lithuanian, but seems more suited to a musical than the Eurovision stage. However good opening to the contest.
Ieva Zasimauskaitė – Life (Not That Beautiful) 
Very Blair Witch project video to introduce Ieva. The backing music to this song gives it a more modern feel. The "Life Could Be A Waterfall"  line is a great start to the chorus. This is another song that would fit well into a musical. Very under-rated, it's a super little song.
Aistė Pilvelytė – You Bet
The show has now been on for forty four minutes and here comes the video to introduce Aistė. What on earth, we've had suitcases. wigs, tears and drama in the past, yet here we are at the final and Aistė looks as if she's just about to head to the gym for a workout, in a pair of red shoes. The drama was still there in the song and it appears this and the previous two songs are writing the perfect stage show. Perhaps tonight will not be the last we hear of them, check next week's T.V schedule for "Lithuania – Eurovision 2016 – the musical". Well Mamma Mia's had it's run.
 
Erica Jennings – Leading Me Home 
Erica is sent out to the snow for her video. The poor girl must be freezing. Let's hope the producers were ready with a bowl of soup for her. Seems though that she didn't catch a cold, as she sang this the best she has ever done. The backing singers were also on point. The only thing to fault with this song is that it just doesn't have a big climax, it meanders all the way to the end. Heavenly nonetheless. The judges didn't seem to be too pleased though for some reason. Erica looked as if she wanted to run of the stage.
Rūta Ščiogolevaitė – United
Total sweetness of course in the video to introduce Rūta, all puppies and babies. Rūta was in strong voice as well tonight, Russia perhaps should have sought her out instead of Sergey this year. It really doesn't get more Eurovision as this one, every one dressed in their crispy clean white outfits. The performance has been polished and re-polished to a glossy shine. Sure it's a perfect song to send to Stockholm. Why not?
Donny Montell – I've Been Waiting for This Night  
Donny's video had him out clubbing it at the night clubs of Vilnius. Donny's performance started a little manic, as if someone has put itching powder down his back, surely not the fellow contestants. The whole performance was on overdrive, but who can blame him, it's the last song of the evening, they're celebrating the end of ten weeks. Let's say it, of course this is going to be a great entry for Lithuania to send to Sweden, and the judges know it too.
The Show
Naturally, the show opened with Monika Linkytė and Vaidas Baumila singing This Time, but no kiss, have they fallen out.
Andrius Rožickas and Gerūtai Griniūtei  returned to host the final knowing that next week they will be collecting their pensions. The hosts have grown up with the contest, they will be missed. The national jury were introduced consisting of music reviewer Ramūnas Zilnys, opera singer Nomeda Kazlaus, playwright Dalia Ibelhauptaitė, singer Justė Arlauskaitė, musician Tomas Sinickis and one half of last year's happy Eurovision couple, Vaidas Baumila. They looked worn out.
The international panel was for the final time, Fools Garden's Peter Freudenthaler, producer Denis Ingoldsby and singer Syron. It is obvious that the trio have loved being part of the show.
All nine sat at a long desk to critique the unfortunate artists, who were very brave to stand and listen to them all.
After song two, our friendly score board made its first appearance. At this point Donny is miles in the lead. Andrius interviewed Erica, Rūta and Donny and it was at this point, that you felt, can't Lithuania find a place for them all at Eurovision. Smiles are going to turn to tears later and it's going to be too much to take. The scoreboard appeared again and now at this point Donny has a lead of double the points of second placed, Erica.
After Rūta performed the scoreboard made another showing and at this point, 75 minutes into the show Erica is only 400 votes behind Donny. The harsh judges and excellent singing has worked in her favour.
When all six songs had been sung they went to a commercial break. It is too much, the show needs to be back, a winner needs to be chosen. Prior to the results, Syron performed a song.
The Results
The combined jury added their votes together and then the public votes were converted into points.
| | | | | | |
| --- | --- | --- | --- | --- | --- |
| | Jury | Public Vote | Converted Public Points | Total | Position |
|  Ruslanas Kirilkinas |  5 |  1756 |  5 |  10 |  6 |
|  Ieva Zasimauskaitė |  7 |  3558 |  6 |  13 |  4 |
|  Aistė Pilvelytė |  6 |  4826 |  7 | 13 |  5 |
|  Erica Jennings | 10 |  13854 |  10 |  20 |  2 |
| Rūta Ščiogolevaitė |  8 |  7293 |  8 |  16 |  3 |
|  Donny Montell |  12 |  18962 |  12 |  24 |  1 |
You can watch Lithuania's entry below.
Lithuania In The Eurovision Song Contest
Here's a message to you Lithuania, if you don't do well after ten shows this year, when will you ever. This will be the seventeenth entry for Lithuania, five songs have failed to qualify since the introduction of the semi finals and their debut in 1994, Ovidijus Vyšniauskas and Lopšinė mylimai scored nil points.
So only ten songs have ever scored any points and by far and away the highest was the novelty number We Are The Winners by LT United who came sixth in 2006 with 162 points. Lithuania have finished 19th, 20th, 21st, 22nd, 23rd and 25th – they will be hoping not to fill that 24th slot this year.
SKAMP and You've Got Style in 13th place in 2001 and Donny Montell with Love Is Blind, 14th in 2012  are the only other two songs to break away from the bottom cluster.
This is it, then, the highlight video from Lithuania is making its last appearance, barring any nomination for short film live action at next year's Academy Awards. Good luck Lithuania in the 2016 Eurovision Song Contest.