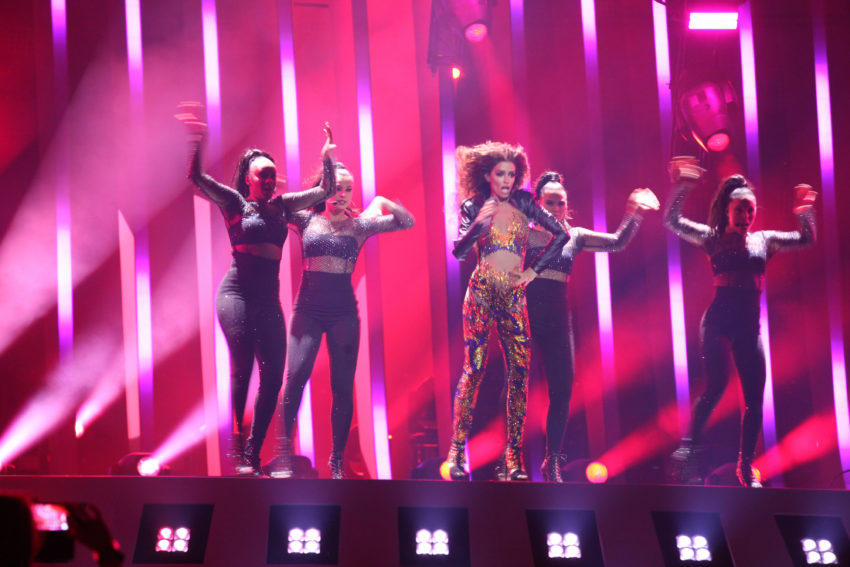 Did you ever dream of rehearsing the choreography of "Fuego" with Eleni Foureira herself? Now you can begin practicing the moves from this year's Eurovision runner-up.
Eleni Foureira has been one of this year's Eurovision acts that has mostly benefited from the show's exposure. Not only did she get exposure for her Cypriot entry Fuego in many European and South American countries, she is now travelling Europe for promotional purposes. Her first stop is Spain. The Greek singer has been invited to perform her Eurovision hit at Fama a Bailar – a dancing talent show similar to So You Think You Can Dance – but not alone.
Instead, Eleni took the stage with the TV show's cast and, because of that, she spent some time rehearsing with the team. The program has a live YouTube channel that airs 24 hours a day. An hour of rehearsal is available online. In the video, Eleni performs the song more than three times with several breaks for specific moves, making it easier for everyone to learn and practice the routine.
With this being said, if you haven't had the chance of learning the choreography just yet, here's your chance. You can also take a look at the final performance of Fuego that aired in last night's live show.
Eleni Foureira is Greek, but represented Cyprus at the 2018 Eurovision Song Contest. She came second, only losing out to Israel's Netta in the final.