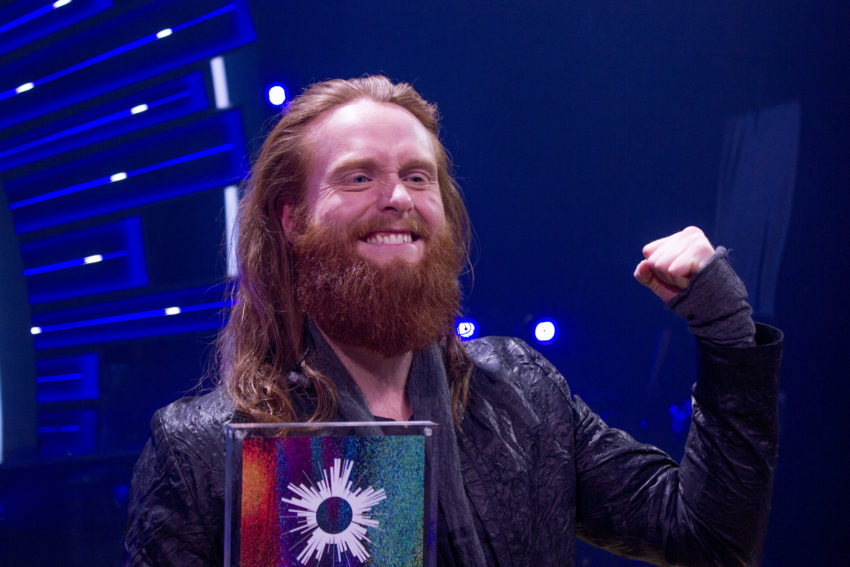 Viking power, a Game of Thrones look, a great voice and finally a positive message through the song, that convinced the Danes. Tonight, they asked Rasmussen to represent them at the 2018 Eurovision Song Contest in Lisbon.
After struggling the past few years, Denmark aim at getting back to minimum top 10 at the Eurovision Song Contest. First step was taken this evening where they selected their representative for the 2018 Eurovision Song Contest held in Lisbon.
Denmark offered variety, and contrary to other years, it was hard to predict just what the Danes would vote for tonight. Watch images from the 2018 Danish final in our gallery.
How the Danes chose
The Danish result were determined by 50% televoting (and via APP) and 50% fan jury. In the fan jury were Julie Lund Mikkelsen 31, Morten Madsen 36, Christian Kaad 42, Anna Bennike 19 and Jens Erik Møller 37. The last mentioned has on several occasions helped out the EuroVisionary team.
After the performance of all ten songs, first round of voting ended. Through to second round, the super final, went three songs:
Albin Fredy – Music For The Road
Rasmussen – Higher Ground
Anna Ritsmar – Starlight
In the second round, it was once again the jury and the televoters who voted to a combined result.
3rd place Albin with 19%
2nd place Anna Ritsmar 31 %
1st place Rasmussen 50%
Below, take a closer look at what happened during the show, as your reporter experienced it.
The songs
You can read more about the participants and their songwriters in our Get to know article from the other day, where we go though each act and tell you, all you need to know.
Ditte Marie – Riot
It's Ditte Marie's third Melodi Grand Prix participation, and as such she is a perfect opener as she appears comfortable on stage. It is hard to tell that she gave birth just two months ago. Maybe to make sure she isn't moving around too much, she has five dancers with her on stage to give the song just an extra bit of energy.
Anna Ritsmar – Starlight
This is Lise Cabble's Danish final entry number 15, but the first one she wrote alone. If you are familiar with her, you can tell that this one is quite typical in its sound for Ms Cabble. It is easy to love and impossible not be charmed by. Anne's innocence shines through when she comes on stage dressed in a pyjamas. The song title appears at the background as stars, and written in letters as well. Charming, and it looks to be a serious contender as well.
Rasmussen – Higher Ground
Vikings are a big part of the Danish history, and just by the look of Rasmussen, you can tell he is a viking. As the song also gives a clear resemblance to this period in the history, it of course had to be incorporated into tonight's performance. The performance is kept in a dark style, referring to dark ages when the Vikings had their rule. He is joined on stage by four other vikings. It looks awesome in the arena as well on TV, but it has to be added that as it is quite dark, maybe older TV's can't show the same contrast. Followers of "Game of Thrones" will notice his similarity to Tormund Giantsbane.
Sannie – Boys On Girls
The biggest name tonight is without a doubt Sannie, although it was under the name Whigfield the whole world got to know her in the 1990's. This is no Saturday Night, but with a chorus that goes "boys on girls and girls on boys, girls on girls and boys on boys", it is still a catchy song with lyrics that gets attention.
Sannie is an experienced performer, something that was easy to tell in tonight's performance that had sex written all over it. The five dancers, dressed in skin-toned underwear, perform a sensual dance on a mattress resembling stage. The cameras appear a bit off in the first half of the show. Will anyone notice this?
Sandra – Angels To My Battlefield
Pressure was high on 20 year old Sandra. One of her songwriters, Chief 1, has had four songs in the Danish selection before, and won with three of them – and as if that wasn't enough, bookmakers started out tipping Sandra for the win, though it dropped in the past few days. She's alone on stage during her entire performance, or is she? Angel-like contours are visible behind red and blue lit white panels, being there for her on the battlefield during her solo performance.
Lasse Meling – Unfound
Almost on home field tonight, we have 19 year old Lasse. He starts is performance sitting down, alone in the dark. He's joined on stage by five dancers without interaction with them. Lasse's playful young look may appear to the younger audience of the opposite sex, but he might struggle to win the attention from the broader audience. In this competition, it appear's like he doesn't stand out, despite the song being quite modern compared to others.
Carlsen – Standing Up For Love
Last year, the Dutch sister trio O'G3NE charmed Europe with its harmonies and beautiful vocals. Tonight, these Faroese sisters did the same to the Danes. The flowers on stage and on the backdrop, may even remind some viewers of The Netherlands. They bring the song home with their strong voices, which will appeal widely to both the Danes and, not to be underestimated, the Faroese votes.
KARUI – Signals
Annelie Karui Saemala performs under here middle name, KARUI. Her song is a solid R&B tune, and her performance reflects that. She's dressed in a sexy glitter top and dances enthusiastically to the music mimed by the musicians who've joined her on stage. Red half circles are visible behind her, symbolizing an endless tunnel.
Rikke Ganer-Tolsøe – Holder Fast I Ingenting
And now it's time for the only song tonight performed in the native Danish language. The title translates to 'Holding On To Nothing', and poor Rikke was by bookmarkers deemed last with no chance of winning. She however does what she can to shine through to the TV viewers in her red dress, red lips, bare legs and black boots up against the mainly red, white and black changing backdrop, and the two dancers in white. A very solid performance. Question is just, is it enough?
Albin Fredy – Music For The Road
We have seen and heard a bit of everything tonight, but not yet country music. That we however get from Swedish born Albin Fredy who is taking part in the Danish final for the second time. The highway shown on the backdrop behind him seems inspired by The Common Linnets. When the highway is not showing, we see him in front large red and orange panels. He's alone on stage, though the panels do seem to "dance" a bit around him. It is a strong song, and a solid performance and it is hard to predict how this will do. It can win in Denmark.
The show
Fans in North Jutland were holding their breath in July last year. Gigantium, tonight's arena were on fire. Everyone knew the city was one of the top candidates to host this year's Danish final, something the big fire could destroy. Luckily it turned out that the entire arena didn't burn down, and though there were big damages done, they could be repaired in time.
When the show kicked off live from Gigantium arena in Aalborg tonight at 20:00 local time, there were no sign of a big fire, and everything was ready for a great show. Some might spot that the stage is the same as used for the Danish final in 2016 and 2017. A stage is expensive, so if it ain't broken, why fix it? We open with another thing seen before; Te Deum played by an orchestra.
This year, Danish broadcaster DR, had made one small, yet significant change in their show. Gone was the usual postcards to introduce the next act. The TV viewers didn't meet the participants before they started their show on stage. Instead, small interviews took place on stage right after each performance.
At a big national final, a former Eurovision winner is often used as guest act, and Denmark is not holding back. They have previously presented Brotherhood Of Man, Herreys, Johnny Logan, Linda Martin, Charlotte Perrelli, Alexander Rybak, Loreen and their own ones Emmelie de Forest and Olsen Brothers. This year, it was Austria's winner Conchita who turned up to entertain, and to see another part of the country where she won in 2014.
Through the show, the Eurovision history is told both via video clips and talks to commentator Ole Tøpholm, songwriter Keld Heick, Triple Eurovision participant Kirsten Siggaard, and former commentator and Danish final host Jørgen De Mylius. And finally, via the hosts who performs a Eurovision medley, with clothes changes in a speed you have never seen before.
Why, Sweden, why?
People who watched last year's show will recognise the character Pia. This super fan, which DR first introduced to the Danes in the 2004 Danish final, had it 2017 lost her job as a journalist after a scandal, and worked as a taxi driver. Now, she has gotten another chance at journalism in a correspondent job. She is reporting from Sweden about why the Swedes are so ungenerous with their Eurovision points to Denmark. This is a never ending topic in Denmark. In fact, back in 2009, a media launched a campaign to attack Sweden due to lack of points. This time, DR however first underplays it in the way that she is several times asking to come in, but is refused. Finally allowed, she shows the Swedish population a survey saying Denmark through a period of years gave Sweden 94 points, and Sweden only returned with 37 points. At the end, she tries to convince a Swedish man to vote for Denmark, if she then allows that he smack her butt…. the poor Swede refused.
Denmark at the Eurovision Song Contest
In recent years, the Danish fans haven't had much to cheer for. The country failed to reach the final in 2015 and 2016, and last year Anja's Where I Am scored below expectations with a 20th place.
Before the 2015 failure by Anti Social Media, Denmark had qualified for the final seven years in a row and three times secured a top 5 result including their 2013 Only Teardrops victory.
The country had a long absence of 12 years before they re-joined the Eurovision Song Contest in 1978, and they have been faithful ever since, although it has been reported several times that they were close to pulling out again in 2000. Whether it was faith, God, or a big coincidence, things played out so well that Denmark won with Olsen Brothers and their Fly On The Wings Of Love, and of course, all talk about a possible withdrawal vanished, and have not been heard in Denmark since.
Denmark has now three Eurovision victories and 15 top 5 positions in its 46 appearances. If these vikings are to keep their heads high, they however need to get back on that track again soon before a negative spiral kicks in.