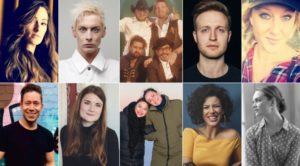 Well known songwriters, a few established performers and some newcomers hoping for a break-through, that's what Denmark today presented as their 10 acts for the national final to take place on the 23rd of February.
After some poor years lately, Rasmussen secured Denmark yet another top 10 result as he finished 9th in Lisbon, Portugal last May. His song Higher Ground however stands as an example of juries and televoting being quite far from each other. In the final, the jury only awarded him with 38 points whereas he received 188 points from the public vote who had the song as their 5th favourite.
On Saturday the 23rd of February, Herning, Jutland will host this year's Danish Melodi Grand Prix final. As in previous years, 10 songs will compete to represent Denmark at the Eurovision Song Contest. Today, local broadcaster DR presented the participants. Hosts of the show will be Johannes Nymark (Former Eurovision participant from Lighthouse X) and Kristian Gintberg.
Melodi Grand Prix 2019 participants
(The songs can be heard on broadcaster DR's website)
Simone Emelie – Anywhere (Written by Jeanette Bonde, Fred Miller og Fredrik Sonefors)
Jasmin Gabay – Kiss Like This (Written by Lise Cabble, Clara Sofie Fabricius, Fredrik Sonefors)
Rasmus Faartoft – Hold My Breath (Written by Martin Skriver, Tim Schou, Thomas Agerholm, Sebastian Owens, Benjamin Rønn, Marcus Elkjer)
Marie Isabell – Dancing With You In My Heart (Written by Greg C. Curtis, Miguel Garcia, Petrus Wessman, John Ballard)
Sigmund – Say My Name (Written by Christoffer Stjerne, Abigail F. Jones)
Humørekspressen – Dronning Af Baren (Written by Christian Kroman, Søren Schou, Chang Il Kim, Peter Lützen)
Julie & Nina – League Of Light (Written by Julie Berthelsen, Nina Kreutzmann Jørgensen, Marcus Winther-John, Joachim Ersgaard)
Teit Samsø – Step It Up (Written by Christoffer Stjerne, Lise Cabble, Nanna Larsen)
Leonora – Love Is Forever (Written by Lise Cabble, Melanie Wehbe, Emil Lei)
LeeLoo – That Vibe (Written by Laurell Barker, Ludvig Hilarius Brygmann, Maria Marcus)
Denmark at the Eurovision Song Contest
When Emmelie de Forest won the contest in 2013, she secured Denmark their third victory after Grethe and Jørgen Ingmann's Dansevise from 1963, and Olsen Brothers' Fly One The Wings Of Love from 2000.
After the 2013 victory, the Danish fans didn't have much to cheer for. Both Anti Social Media (2015) and Lighthouse X (2016) failed to reach the final, and in 2017, Anja Nissen came 20th in the final, although it has to be added that in the running order, she was sandwiched in between the two favourites Italy and Portugal.
Denmark has taken part 47 times – with a break from 1966 to 1978. Since the introduction of televised semi-finals one could be eliminated from in 2007, the country has missed the final four times. Their 43 appearances in the final has resulted in 26 top 10 results.
In the video below you can enjoy Rasmussen perform his Higher Ground at the Eurovision Village in Lisbon, Portugal: