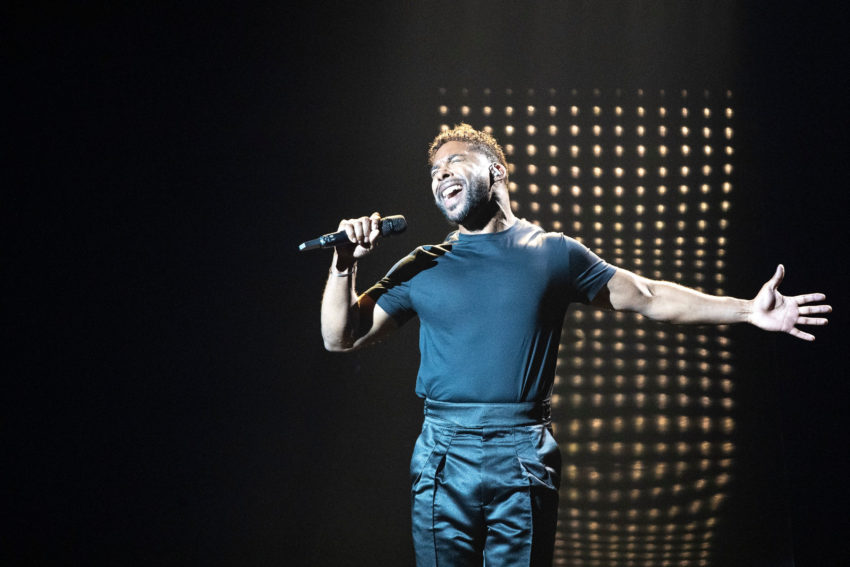 For some reason the rehearsals for Austria and Sweden have been swapped. Although PÆNDA is rehearsing before John Lundvik, she will be on after him in this semi final.
What a great way to end a semi final rehearsal session with these two acts.
Austria: PÆNDA – Limits
Simplicity sometimes works best and this is definitely the case for Austria this year, from the song to the staging, nothing is too minimalistic and it works really well. PÆNDA appears on stage alone with her natural blue hair, wearing the same costume she does in the official video. Parts of the staging are in black and white, but that could be a problem with the screen, so we will need to wait and see.
A further screening shows that PÆNDA sings the first part of the song sitting down, and it will indeed be in black and white. It is not until the second chorus that some colour is added to the performance, with hues of silver and yellow. Some metallic pipes protrude up from the stage and PÆNDA finishes the song hidden amongst them. More vocalists can be heard, but not seen, towards the end of the song.
Sweden: John Lundvik – Too Late For Love
There hasn't been a lot of changes to this performance from Melodifestivalen but then when it's perfect what more is there to do. Some of the lights may be a little brighter but not that anyone would notice.
John's moves and camera angles are exactly the same as they were last March and the Mamas have the same winning formula they has back in these winter days.
The biggest change is to the Mama's costumes. Since this song has become such a huge hit in Sweden, more budget has been found and the ladies were wearing flashy dresses.
This is Sweden. They can do no wrong, and with this performance, they have everything right once again.