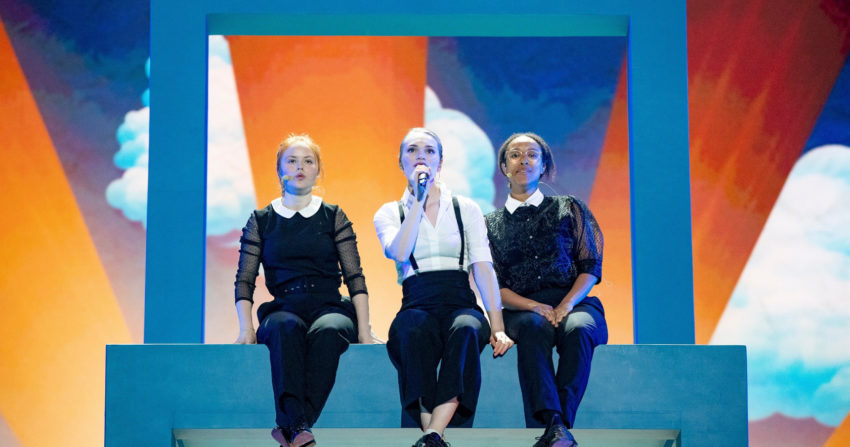 This morning saw the first four second semi final countries rehearse and now another three will entertain us this afternoon – Moldova, Romania and Denmark.
All three ladies have entirely different songs so let's see how it goes for them.
Moldova – Anna Odobaescu – Stay
The sand artistry is back and how good it is to see it again. This really elevates Moldova's entry to top notch and Anna's vocals are rising to the occasion. The staging is spectacular even if we have seen this trick before.
Anna is wearing a white dress made from lace and the sand artist is a little behind her. She creates a church, a moon, animals, humans and candles. It is very effective.
Whenever Anna gets close to the end of the song, the camera keeps switching off and indeed her music suddenly stopped too, during one of the rehearsals. The word Stay is created at the end of the song and it has to be said it is captivating, probably exceeding all expectations.
UPDATE : After the press conference it was confirmed that it was not sand, but snow – so there.
Romania – Ester Peony – On A Sunday
The staging of this song really goes with its New Orleans feel, and the haunted house elements it portrays. Ester is joined by two female singers, dressed a little like school girls. Her guitarist returns, but new for this Eurovision performance are two male dancers. They need to work on their stage entrance.
All the elements from her Romanian final win are here. She starts on a red chair, before releasing the black birds from the temple in the back ground, Ester is in black and sounding well vocally. It is hard to tell how the running order will sound here, since Moldova will be on third on the night, and Latvia will precede Romania.
Ester seems to be suffering from a bit carpel tunnel when her dancers join her on the stage. The performance finishes with blasts of fire which turns into large pink roses.
Denmark – Leonora – Love Is Forever
The large Danish chair is back for this semi final performance, and it took the stage hands forever to get it set up, so expect an extended break before this point in the contest.
Leonora sings that Love Is Forever and as is so often with Denmark, so is the staging from their Melodi Gran Prix. The biggest change is that there is a lot more colour in the background with lots of fluffy clouds and rays of sunshine. Leonora is also joined by four people now, at the top of the chair.
The song starts with a close up of Leonora singing the first verse. Leonora actually uses a ladder to climb to the top of the large chair. Her two female backing singers dressed in black sweaters are already at the top to greet her. Two men join the line up, and we can but hope that as they sing and sway in a row, that they don't suffer the same fate as Humpty Dumpty and have a great fall.