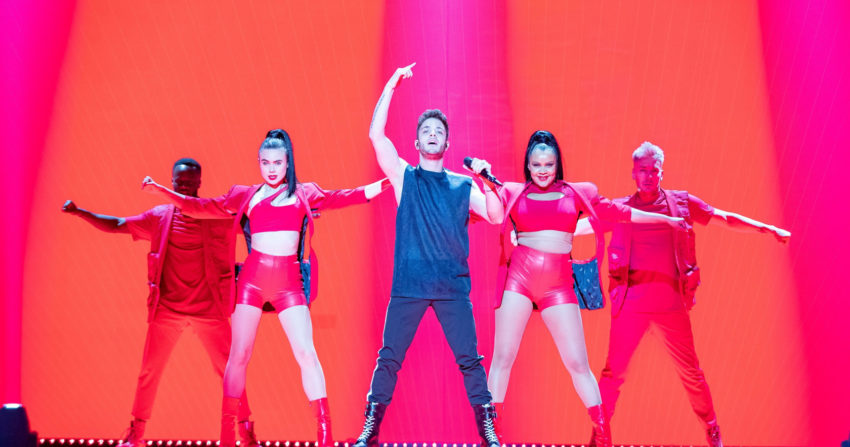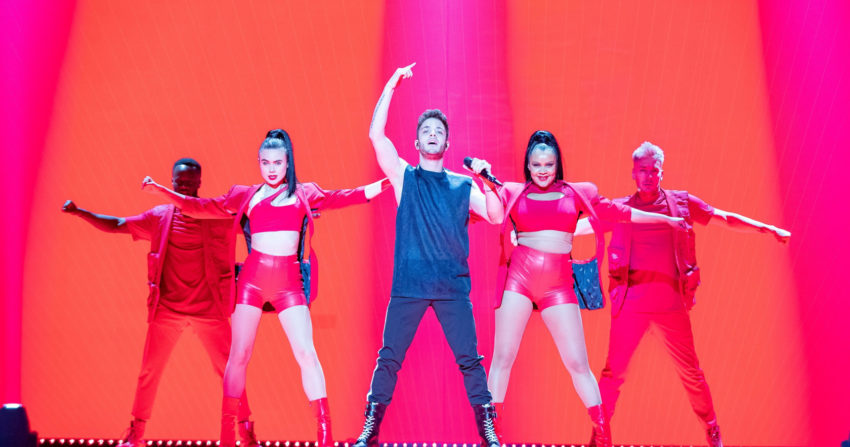 It's now the third day of rehearsals for the Eurovision Song Contest 2019 in Tel Aviv and this morning it's Armenia, Ireland, Latvia and Switzerland's turn to show us what they've got.
First up this morning in the thirty degree heat is Srbuk for Armenia.
Armenia: Srbuk – Walking Out
Armenia's first rehearsal came with no sound, so it sounded exactly the same as Tamta's Replay for Cyprus. Visually though Srbuk had the longest pair of black boots which almost reached the bottom of her  black short dress. There are lots of flashing lights and broken glass effects.
The next problem was the big screen broke in the press centre so now we have sound but there is no picture. However a smaller TV was working and what a show Srbuk put on. The music is really infectious and she is on top form vocal wise. She has no-one to help her with the vocals and she doesn't need them, The standard has been set for the rest of the day.
The flaming fires are used for extra effect in the last verse. Very impressive.
Ireland: Sarah McTernan – 22
Next up is the lovely Sarah with possibly the catchiest song in Eurovision this year. We're at the diner and Sarah is all in red. She is accompanied by two backing singers and while the waiter is getting their order, they might as well sing their Eurovision entry.
A number is plastered in many colours all over the wall, can you guess which one it is. The floor is also full of many colours, while Sarah ignores any of the diner's hygiene rules by laying down and singing on the table. After three minutes, her order is ready, coincidentally number 22 and the girls are of to enjoy a burger and shake.
Sarah will need to watch her breathing technique because when she runs out of breath she is prone to not sing some of the lines. We don't want another Yulia happening from last year.
Latvia: Carousel – That Night
Swapping with Moldova for today, next up was Latvia. The staging was full of pulsating lights and was literally jumping, but then I woke up and we are back in a dark little lounge Our lead singer, Sabīne Žuga was all dressed in a nice hippy style white dress and green hat, appropriate for the mood of the song.
The three musicians, Mārcis, Mareks and Staņislavs played their acoustic instruments in the background. There was a crescent moon at the beginning which turned into a bright full one at the end of the song. The stage was full of yellow lights at the end of the song, with a similar effect to Lucie Jones in 2017.
Switzerland: Luca Hänni- She Got Me
Last up this morning was Switzerland and they have high hopes for this entry. They have every right to think that way as this has been polished until it shines. Luca is in black, while four dancers , two female, two male are in red.  It seems some of the dancers are providing backing vocals too. The stage is also mainly red and while there are lots of flashing lights, it is quite classy, rather than over the top.
Luca starts walking forward on the stage at the start of the song and is framed in a red square. The cameras pull back and his dancers join him with grey and red lights everywhere.
The totally radio friendly song comes to life, live on stage and it would be a shame if Switzerland was left in the semis again as then they'd wonder what do they have to do to make the finals ever again. This should do it for them though.