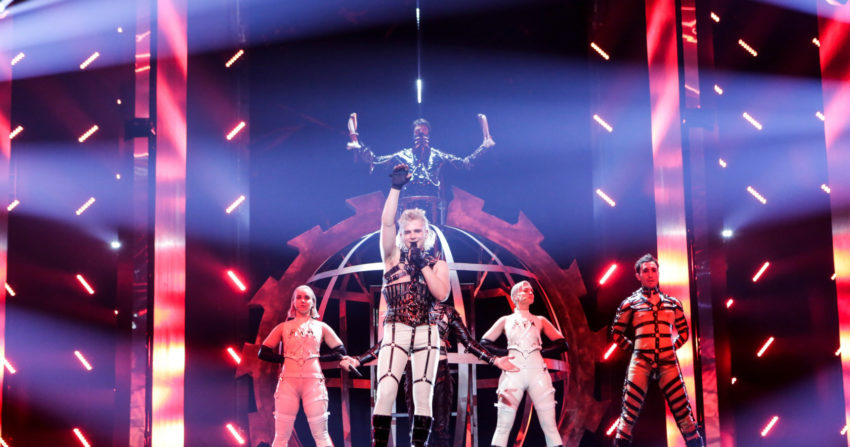 A bad start for Hatari as while they were singing all you could hear was Kate Perry's Roar. After the sound technician got a roaring at, things resumed again. What a powerful performance was to come.
The afternoon sessions continued with Iceland, Estonia and Portugal having their first rehearsals and sound checks.
Iceland: Hatari – Hatrið mun sigra
No matter what they proclaim, Iceland and their representatives, Hatari want to win Eurovision this year. This song and performance grabbed everyone's attention, even though we've seen it now quite a few times.
The music just bursts out and fills the stage, and if you can call it vocals, they are all  more in tune. The dancers are on point and it's hard to imagine that this won't make the final. The bondage is all over the stage and we are all going to start wearing it in the press centre.
Estonia: Victor Crone – Storm
Victor did not seem pleased with this first rehearsal even though he was singing really well. No, the issue seems to be with the special effects, when half way through another singer appeared for no obvious reason, but he is there for some purpose. There is a lot of talking back and forth about camera angles. The green screen is having issues and Victor is suggesting they change the lead singer – fun and games.
The sound started up again and Victor brought it to an abrupt halt after only one note, then the music blasted into a disco version of the song. Victor must have some patience and for all we know Conan must be waiting patiently for his turn too. There then followed, visuals of only a green screen while they decide where to start again. They started two minutes into the song and now all seems relatively well. Spoke too soon, this is not going well at all. Sounds as if the rehearsal is going to be cancelled.
Portugal: Conan Osiris – Telemóveis
Green is the colour for Conan and his side kick. The same costume was worn by Slovakia 2010. Some people seem to love this song. others don't even hear a song in it and wonder if he is just mocking us for our lack of art culture. There are no problems with the vocals and it must get points from the crowd who can't believe what they've just seen and need to see it again. We are told Conan is going to drop his cell phone on then floor next time round. The excitement for that is unbearable.
So the song starts up again with the chime of the bell and of Conan goes again with the signing. He has two backing vocalists, unseen. Oh the face mask has been removed, very important, although there is an over large ear piece. The slithering continues a pace and Conan's dancer, João drops to the floor. There was no cell phone drop – what a prankster.