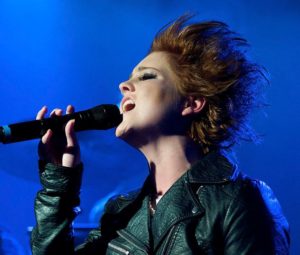 All 10 songs for this year's Danish final are now available for online listening. Two wildcards and five pre-qualified acts join the three semi-final winners.
On the 7th of March, Denmark will select its representive for this year's Eurovision Song Contest in Rotterdam, the Netherlands. As usual, the population will have ten acts to choose between. Untraditionally though is the way these acts were selected.
9 acts took part in an online semi-final – divided into groups of three with the country also divided into three geographical areas. People could only vote for the three songs in their area. The winner in each area qualified for the final. Two wildcards, among the six "losers", were selected by a jury. Before all this started, five acts had however been pre-selected for the final – but until now their identity kept secret.
At midnight, Spotify released the five pre-qualifiers just as they previously listed two of the "losing semi-finalists" as finalists. Depending on your location, you might not be able to listen to the songs on Spotify just yet – if you are in Denmark at least you can. In case you can't, you can hear them DR's Eurovision site.
Dansk Melodi Grand Prix 2020 participants
Pre-qualified: Isam B – Bølger (waves)(Written by Morten Woods, Babak Vakili, Troels Kampmann Kjær and Isam B)
Pre-qualified: Maja og de sarte sjæle – Den eneste goth i Vejle (The only goth in Vejle) (Written by Timo Mastrup-Andersen)
Pre-qualified: Benjamin Kissi – Faith (Written by Benjamin Kissi, Gisli Gislason and Frederik Tao Nordsøe Schjoldan)
Pre-qualified: Sys Bjerre – Honestly (Written by Lasse Lyngbo og Sys Bjerre)
Pre-qualified: Jasmin Rose – Human feat. RoxorLoops (Written by Lise Cabble, Grace Risch, Gavin Jones and Erik Smaaland
Winner of South: Kenny Duerlund – Forget It All (Written by Henrik Tala, Mila Falls, Patrick Jean and Kenny Duerlund)
Winner of East: Ben & Tan – Yes (Written by Emil Adler Lei, Jimmy Jansson and Linnea Deb)
Winner of North: Sander Sanchez – Screens (Written by Jonas Thander, Liam Craig and Christopher Wortley)
Wildcard: Emil – Ville Ønske Jeg Havde Kendt Dig (Wish I had known you) (Written by Esben Svane, Emil Vestergaard Klausen, Gavyn Matthew Bailey and Tim Schou)
Wildcard: Jamie Talbot – Bye Bye Heaven (Written by Tom Oehler, Hampus Eurenius and Aron Blom)
As the songtitles indicates, this means we will see three songs performed in Danish in the national final. We haven't had that many since 2015.
Well known names
There are two really well known established artists among the 5 pre-qualifed acts; Isam B and Sys Bjerre. To Eurovision fans, Beatboxer RoxorLoops might ring a bell with some. He joined Withloof Bay (Belgium 2011) for the Eurovision Song Contest with the song With Love Baby.
Among the well known songwriters we find Esben Svane and Tim Schou from the band A Friend In London, who represented Denmark at the 2011 Eurovision Song Contest with the song New Tomorrow, which finished 5th.
Lise Cabble doesn't need much introduction to Eurovision fans either. She has won the Danish final with four of her songs – and won Eurovision with one of them; in 1995, 2011, 2013 (Emmelie de Forest's Only Teardrops) and 2019.
Swedish singer and songwriter Jimmy Jansson is also worth noticing. He took part as a singer in Melodifestivalen in 2005 and 2007, and many other times as a songwriter. This year, he will even break the record with non less than six songs in the Swedish selection! So far, none of Jimmy's songs made it to Eurovision though contrary to Linnea Deb who also has an almost uncountable national final entries, and even won Eurovision in 2015 when she was a part of the songwriter team who wrote Måns Zelmerlöw's Heroes.
This year's Danish final will be held in Royal Arena, Copenhagen on the 7th of March. Hosts will be actors Hella Joof and Rasmus Bjerg.