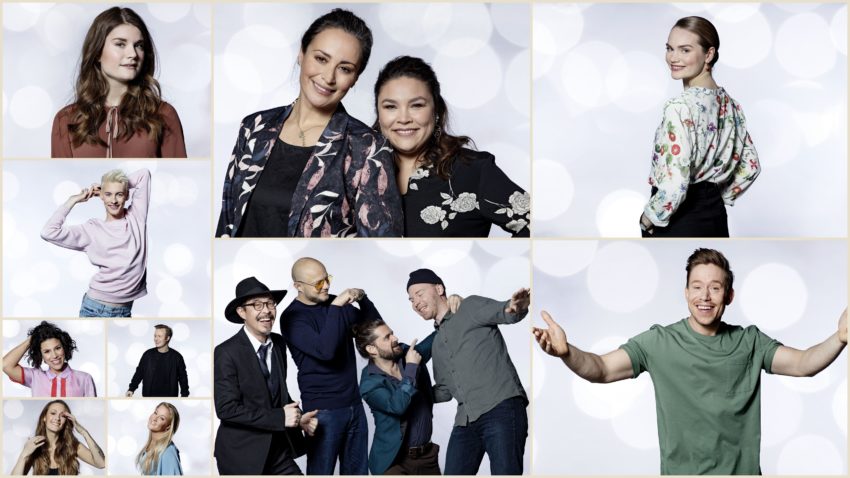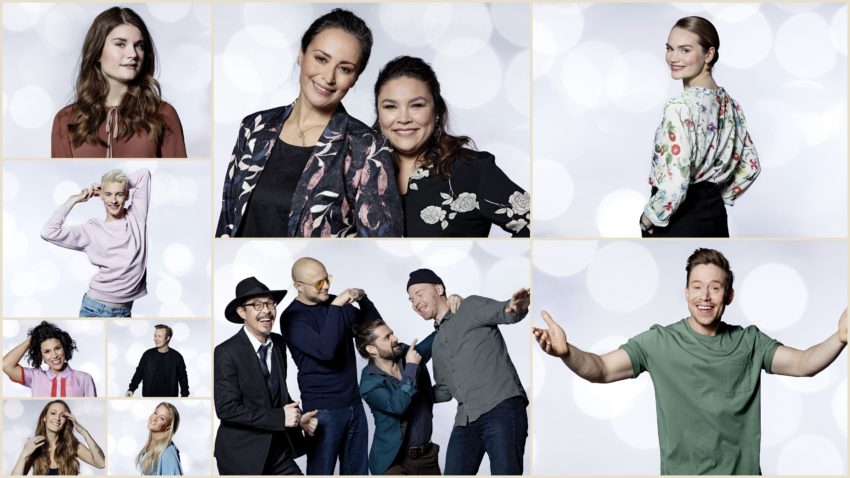 Well known names mixed with talented new comers – and experienced songwriters who knows how to write a good song. Take a closer look at the competitors for this year's Danish final. How do the Danes know these names? 
Let it be said right away; many Danes did ask a 'who?' to most of the acts in this year's Danish national final. One you can consider a household name, a few which extensive TV viewers will know and then a whole bunch of people, the majority never heard of before. It's clear that the 1980's where Melodi Grand Prix mainly consisted of well-known established names regularly seen on TV and heard on radio, is long gone.
Simone Emelie – Anywhere 
23 year old Simone Emilie Holm kicks off the 2019 Danish final. She studies International Business, but music takes up a great part of her spare time. In high school, Simone was a part of the school's girl choir with which she performed in countries such as Singapore, US and Spain. Over the years, she has performed solo and with various bands, but is yet to get her break through.
Anywhere is written by Jeanette Bonde, Fred Miller and Fredrik Sonefors. The first one is a familiar name to the Danish fans as she in 2017 sang Hurricane in the Danish final. Swedish Fredrik has worked with Eurovision names such as Helena Paparizou, Måns Zelmerlöw and then he co-wrote the 2014 official theme song Rainmaker.
Jasmin Gabay – Kiss Like This
Many Danes will know Jasmin from the reality DR TV program "Den Store Bagedyst" where amateur bakers compete on their abilities to bake. She reached the final and as such is familiar to the Danes. Some Eurovision fans might recognise her as well as she provided backing for Anja Nissen at the 2017 Eurovision Song Contest in Ukraine. Jasmin is 31 years old and is now trying to get a solo career started.
Kiss Like This is written by Lise Cabble, Clara Sofie Fabricius and Fredrik Sonefors. Lise Cabble needs little introduction as a songwriter as she has written many national final entries and so far, her songs made it to Eurovision three times (Denmark 1995, 2011 and 2013). This year, she also has songs in the national selection in Sweden, UK and Lithuania.
Rasmus Faartoft – Hold My Breath
He is basically on homefield, 23 year old Rasmus Faartoft. He is born in this year's host city Herning and educated at the Musical Academy in Fredericia, just an hour away. In his career so far, he has played in various musicals – of which, one gave him a little bit of Melodi Grand Prix feeling; the musical Seebach about Tommy (Denmark 1979, 1981 and 1993) and his son Rasmus Seebach. In that musical, Rasmus played former Danish final host Erling Bundgaard.
Hold My Breath is written by Martin Skriver, Tim Schou, Thomas Agerholm, Sebastian Owens, Benjamin Rønn and Marcus Elkjer. The first two names in particular will ring a bell with many. Martin Skriver was a part of Lighthouse X who represented Denmark in 2016 whereas Tim Schou was lead singer in A Friend In London (Denmark 2011). Tim also has a song in the German selection this year. Sebastian Owens also co-wrote Lighthouse X' Eurovision entry.
Marie Isabell – Dancing With You In My Heart
For 33 year old Marie Isabell Reinhold, her life consisted on her daily job working with elderly care, and her son. From time to time, she uploaded a few short videos of herself singing to Instagram – and suddenly she was asked if she wanted to sing in the Danish national final. She fell in the love with the song, which reminds her of her son, and said yes.
Dancing With You In My Heart is written by Greg C. Curtis, Miguel Garcia, Petrus Wessman and John Ballard. The latter has co-written five Eurovision entries so far of which four finished in top 10: Azerbaijan 2013 – 2nd place, Russia 2014 – 7th place, Russia 2016 – 3rd place, Greece 2017 – 19th place and Moldova 2018 – 10th place.
Sigmund – Say My Name
23 year old Sigmund Trondheim got his breakthrough last year as he took part in X-Factor and reach the semi-final. Since then, he has been WebTV host, had a TV documentary made about him and written his own autobiography – and again, he is just 23 and just started his career. Sigmund is – as many will notice – one of a kind. He is colourful, loves make-up and is what some would describe as flamboyant.
Say My Name is written by Christoffer Stjerne and Abigail F. Jones. Christoffer Stjerne has taken part in The Voice and previously written several songs for the Danish Melodi Grand Prix final, but not yet won.
Humørekspressen – Dronning Af Baren
For those who don't understand Danish, Humørekspressen translates to "The humour/mood express". The band members have each been more or less successful in other constellations. They got together in 2017, and last year they won an award for their debut album.
Dronning Af Baren is written by the band members itself whose real names are Christian Kroman, Søren Schou, Chang Il Kim and Peter Lützen. They call themselves Frandsen (aka Pharfar), Krølstrup (aka Klumben), Strejferen (aka Chapper) og Peber (aka Peter Lützen). Dronning af Baren translates to 'The queen of the bar'. In the song they sing about a young woman working at a bar – and attracts men who she 'chews on and spit them out'. They come to the bar just to see her – hoping they might be the lucky and become her king.
Julie & Nina – League Of Light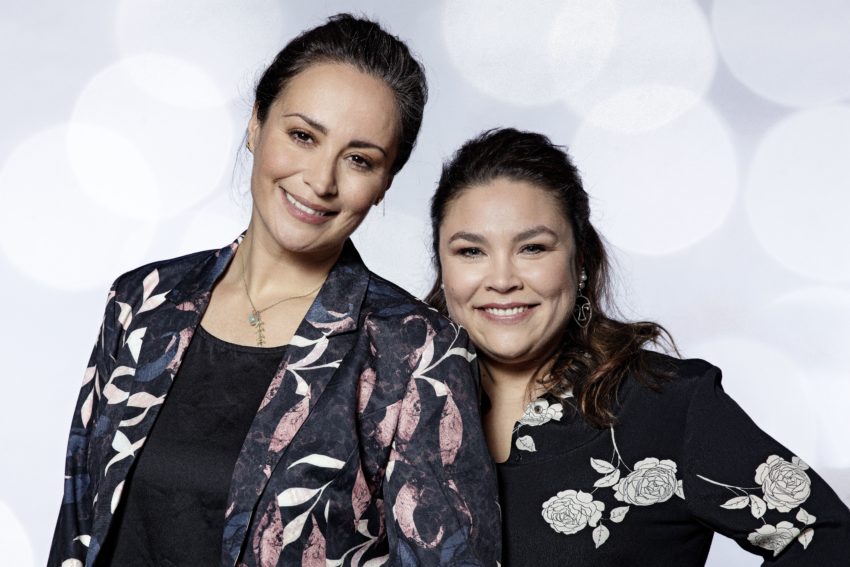 If being a household name is an advantage, Julie got it. Everyone knows her, she is always smiling and extremely likeable. In 2002, she came second in a talent show, and since then – she has released several albums, won awards and also worked as TV host. In 2010, she hosted the Danish Melodi Grand Prix final. Julie is half Greenlandic and half Danish.
This time, Julie brings her friend through 20 years Nina Kreutzmann Jørgensen with her on stage. Nina is Greenlandic with a mother who is half Danish. Nina is a well known singer on Greenland and has released albums in both Greenlandic and Danish.
League Of Light is written by Julie and Nina themselves together with Marcus Winther-John and Joachim Ersgaard. The song includes Greenlandic which would be the first time heard on the Eurovision stage, if they are to win.
Teit Samsø – Step It Up
37 year old Teit Samsø is, just like Rasmus Faartoft, educated at the Musical Academy in Fredericia. Today, he is working as a musical actress at Fredericia Theatre. Just like Rasmus, he also played in the very popular Seebach musical. Teit played the role as Tommy Seebach (Denmark 1979, 1981 and 1993) himself. He has also been a part of shows like Aladdin and Tarzan.
Step It Up is written by Christoffer Stjerne, Lise Cabble and Nanna Larsen. Christoffer also wrote Sigmund's song in this year's Danish final, while Lise also wrote Jasmin Gabay's and Leonora's songs.
Leonora – Love Is Forever
20 year old Leonora has something to live up to. Since the songs were released, she has been called 'The new Emmelie (Danish 2013 Eurovision winner) and 'The Danish Lena' (German 2010 Eurovision winner). Leonora Colmor Jepsen is however use to the spotlight and to competitions, so she can probably handle the comparisons. She is a former elite skater and have won medals as a junior. Now, she works as a skating coach and a choreographer. Her passion for music has however resulted in a few songs which she hopes to be released on an album.
Love Is Forever is written by Lise Cabble, Melanie Wehbe, Emil Lei. This is the third song Danish Eurovision songwriting star Lise Cabble has in this year's Danish final.
Leeloo – That vibe
Pernille-Leeloo is 34 years old. She is, to most Danes, rather unknown despite that she wrote a song featured on the soundtrack to a popular movie, and in 2010, she released her debut album titled I Am What You Want. The album was recorded in the US, and after its release she toured in the States as well as in Europe. LeeLoo also performed at festivals and as warm up to Sanne Salomonsen on a tour in 2017.
That Vibe is written by Laurell Barker, Ludvig Hilarius Brygmann and Maria Marcus. Laurell Barker is Canadian and wrote the Swiss Eurovision entry last year; Stones.
Don't miss out on the Danish final, which takes place on Saturday the 23rd of February – live from Boxen, Herning at 20:00 CET. A short compilation of all ten songs can be heard in the video below: