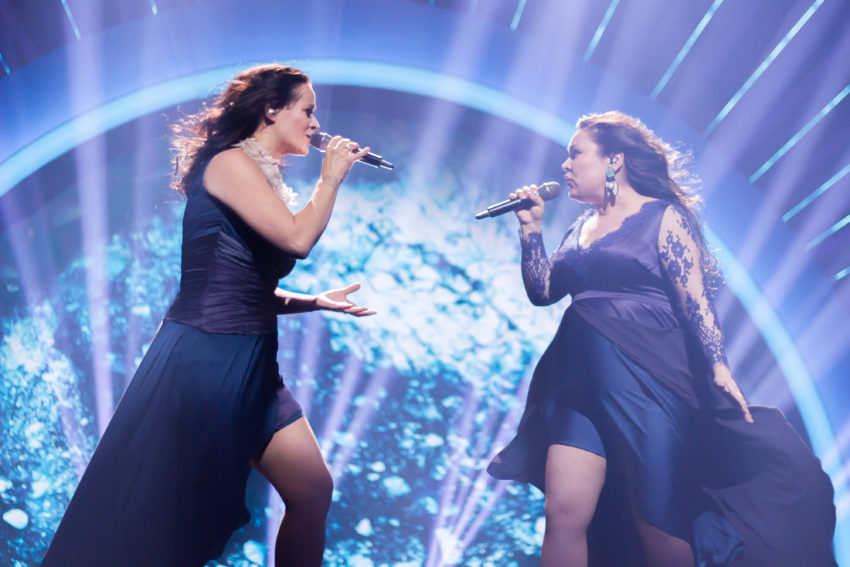 Julie & Nina won the televoting in the Danish final, while Leonora was carried through to victory via the jury votes. That was revealed today when the broadcaster published the split result for the super final.
Denmark use the traditional Eurovision combination with 50% televoting and 50% jury. Sometimes the two parts are in agreement and other times they are not. The latter happened last night in the Danish Melodi Grand Prix final.
Leonora won with 42% of the votes. Those 42% came from 24% from the jury and 18% from televoting. When it came to Julie & Nina, it is clear that they were a lot more popular with the TV viewers than from the jury. Their combined 35% came from 23% televoting and only 12% from the jury.
From the beginning this year's Danish final looked to be a race between Julie & Nina and Leonora while it was a lot more open who would get the third and last place in the super final with the three most popular acts. With combined 23% Sigmund got that spot. Quite surprisingly however, the split result reveals that the jury awarded him with 14% while he only got 9% from televoting.
| | | | |
| --- | --- | --- | --- |
| Act | Jury | Televoting | Total |
| Leonora | 24% | 18% | 42% |
| Julie & Nina | 12% | 23% | 35% |
| Sigmund | 14% | 9% | 23% |
The Danish broadcaster has not revealed the split result from first round of voting so we don't know if there was any disagreement between which three songs should advance to the super final.
In 2015, Denmark had a big disagreement between jury and televoting which resulted in DR changing the rules so that the jury in 2016 only voted in the first round. After just one year with 100% televoting in the super final, the broadcaster in 2017 went back to the previous system.
DR's Head of Entertainment and member of the Eurovision Song Contest Reference Group Jan Lagermand Lundme says: "This system is best in terms of reaching far in Eurovision. The people and the jury might focus on different things, and that gives a broad focus".
The jury in the Danish final consisted of fanclub members Peter Bach, Anette Ljunberg Kjeldsen, Kristina Møller Karlsen, Benjamin Holstebro, Jonas Leth-Jensen, Clara Amalie Singerholm Christiansen, Christina Janus, Jonas Jacobsen, Mila Milica Kovaljm and Danish commentator Ole Tøpholm.
In the video below take a look at Leonora performing her winning song Love Is Forever at the Afterparty shortly after her Melodi Grand Prix victory last night:
24/2-2019 – 20:30 CET correction: Clarification of the jury power in the super final in previous years.