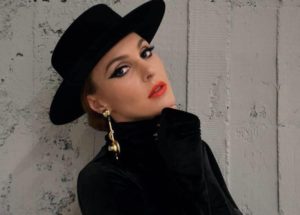 After Eleni Foureira's second place last year, Cyprus seems to have thrown all in to win it this time. Is it too soon as many countries fail to do well two years in a row? 
Cyprus made their debut in the Eurovision Song Contest in 1981, they have had mixed levels of success but never won. Over the past decade the country have failed to qualify for the grand final 3 times and until this year, had not earned a top ten position. The change in Cyprus' luck came from Eleni Foureira who brought her Fuego to Lisbon and earned Cyprus their best result in the contest ever; a 2nd place. It seems like Cyprus want to keep up the momentum as they have chosen another powerhouse to the Eurovision stage; Tamta.
Tamta, who was born in Georgia, first came to prominence in 2003 when she entered Greek Super Idol finishing in 2nd place. Since then she has had a successful career in Greece and Cyprus releasing several albums before being asked to join The X Factor Georgia and The X Factor Greece, but this time as a mentor. This year, she was internally selected to fly the Cypriot flag in Tel Aviv with the song Replay.
In Eurovision, it is rather unusual for a nation to score highly at the contest two years in a row, at least in recent years. We have seen this with Russia when in 2016 Sergey Lazarev finished in 3rd place, his successor, Julia Samoylova who competed in 2018 (due to her being withdrawn from the 2017 contest) failed to qualify for the grand final.
Bulgaria came close in 2017 when Kristian Kostov and his Beautiful Mess finished in 2nd, Bulgaria pulled out all of the stops the following year to create super-group Equiniox but sadly they failed to hit the mark and finished in 14th place. A little earlier in 2014, The Common Linnets were pipped to the post by Austria's Conchita Wurst and were succeeded by Trijntje Oosterhuis who failed to qualify for the grand final.
More often than not, the winning song tends to be from a country who has 'come out nowhere' with a great song that has taken everyone by surprise. Portugal is a perfect example of this as in 2017 after failing to qualify for four years prior. Austria had failed to qualify for two consecutive years before their 2014 victory. Denmark who won in 2013 had finished in 23rd place in the year prior to their win with Germany, Finland and Turkey also having a series of bad spells in the years recent to their victory.
However, it isn't unheard of as Ukraine and Sweden who always tend to earn top 10 places have also won the contest recently which shows that it is not impossible, just very unlikely.
So, are Cyprus right to strike while the iron is hot? Can Tamta bring Cyprus their first ever Eurovision win?
This reflection article is based on the author's own personal experience. Views expressed belongs to him or her, and are to be seen as unrelated to EuroVisionary.com.