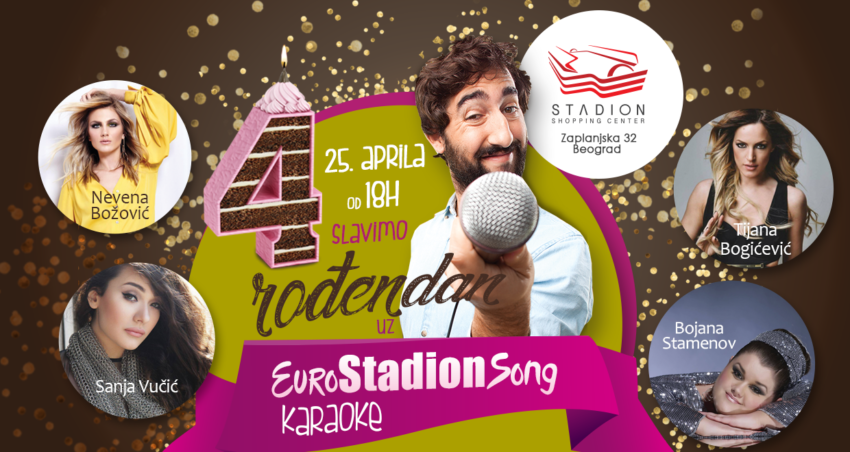 If you consider yourself a good karaoke singer and you love to sing Eurovision songs, maybe you should visit Serbia's capital Belgrade next week to take part in the annual Eurovision Karaoke Contest. At the same time you will get a opportunity to meet some of the former Serbian representatives in the Eurovision Song Contest.
Eurovision Karaoke Contest – officially EuroSTADIONsong Karaoke – is scheduled for the 25th of April at 18:00 CET. It will take place at Stadion Shopping Center, which will be organizing the event together with OGAE Serbia. It is a returning event, which was held for the first time in 2007. It is the same year that Serbia won the Eurovision Song Contest with the song Molitva performed by Marija Šerifović.
According to the existing rules of the EuroSTADIONsong Karaoke you have to be at least 16 years old in order to get access to the competition. Once you enter the contest you will be able to choose between 500 Eurovision songs to sing. Some of the songs are from this year's contest. The final round will consist of 15 contestants.
Tijana Bogićević, who will represent Serbia at Eurovision this year with the song In Too Deep, is one of the jury members, who will pick the winner of the karaoke competition. The remaining jury members are all former representatives of Serbia in the Eurovision Song Contest:
• Bojana Stamenov (2015)
• Sanja Vučić ZAA (2016)
• Nevena Božović (2013)
If you want to sign up for Eurovision Karaoke Contest you can do so online before 24th of April at 19:00 CET. Good luck!
Should you wish to impress Tijana Bogićević with your version of In Too Deep, you can practice watching her performance from Amsterdam from a few weeks ago.