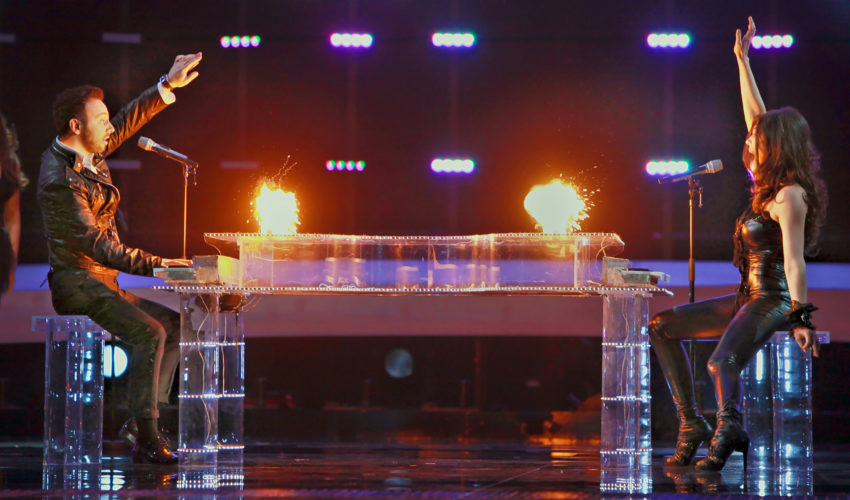 The list of countries that are yet to win the Eurovision Song Contest is still long, though Portugal fell off the list with their first victory last year. Can any of the 20 remaining countries make it this year? We take a look at their best and worst results.
When Salvador Sobral took home the trophy in May 2017, he wasn't just securing Portugal their first Eurovision win. He also left another country, Cyprus, as the country with most participations without a victory.
Though Malta debuted 10 years before Cyprus, it is currently Cyprus that holds the less nicer record of most appearances without a win. For the Greek language island, the number is 34 appearances while it for Malta is 30, which it also is for Iceland. Those three countries have been now waiting than most others. Where Iceland and Malta both have two second places as best result, Cyprus has however never finished better than a fifth place.
In the video below, take a look at the best and worst (according to results) from the 20 countries still to win the Eurovision Song Contest. The article continues after the video.
Five countries with less than 10 appearances
Among the countries without a victory, we find five "newer" countries that have taken part 10 times or less; Australia (3), Czech Republic (6), San Marino (8), Montenegro (9) and Georgian (10). Of these, San Marino and Czech Republic only made it to the final once, and both finished in the bottom. Montenegro qualified twice, and have a 13th place from 2015 as their best result. Georgia made it on seven out of 10 attempts with their best result being two 9th places. Australia is in a whole other league than the other non winners. As a special guest, they were automatically qualified for the final in 2015. On their other two participations, they easily qualfied from their semi-finals, and came second and 9th in the final.
Countries like Slovenia and Croatia have also been waiting quite a long time with 23 appearances each. They are followed by Poland with 20 participations, and Romania and Lithuania who each have taken part 18 times. Slovenia have never finished better than a 7th place, which they achieved twice. Croatia however have two fourth places as their best result.
Romania twice coming third
Poland had a fantastic debut coming in second in their debut year in 1994! Since that time, Poland has however never again went home with a top 5 result. Romania have twice ended third, and with a few other good years, fans have been expecting them to soon win. It's different for Lithuania. Despite a 6th place from 2006, very few expect much from the country that have quite mixed results in terms of qualifying for the final, and once even left with no points at all.
With 17 appearances, FYR Macedonia is also still waiting for their first win. They have a 12th place as best result, and as such never tried to finish in top 10. The same doesn't count for Hungary. They have acieved both 4th and 5th places, but in 15 attempts not yet won. Albania and Belarus follows right after with 14 appearances each. Albania finished 5th in 2012, which is their best result. Belarus has a 6th place as best result, which is also the only time they were in top 10.
Moldova best result in 2017
Three more countries yet to win are Moldova, Bulgaria and Armenia. Moldova achieved their best result last year when SunStroke Project returned to the contest, blew everyone away and came in third. That's Moldova best result in their now 13 participations. Just before Moldova in the scoreboard was Bulgaria. That second place is the best result so far for them. They have participated 12 times, made it to the final three times, and finished in top 5 all three times. Armenia with 11 participations are more successful than most other countries, despite not winning yet. They only missed the final once, and finished in top 10 seven times, with a 4th place secured twice, as best result.
You might also be interested in our article about the six countries hoping to reach the final for the first time in quite a while, or the five that never failed to qualify for the final.