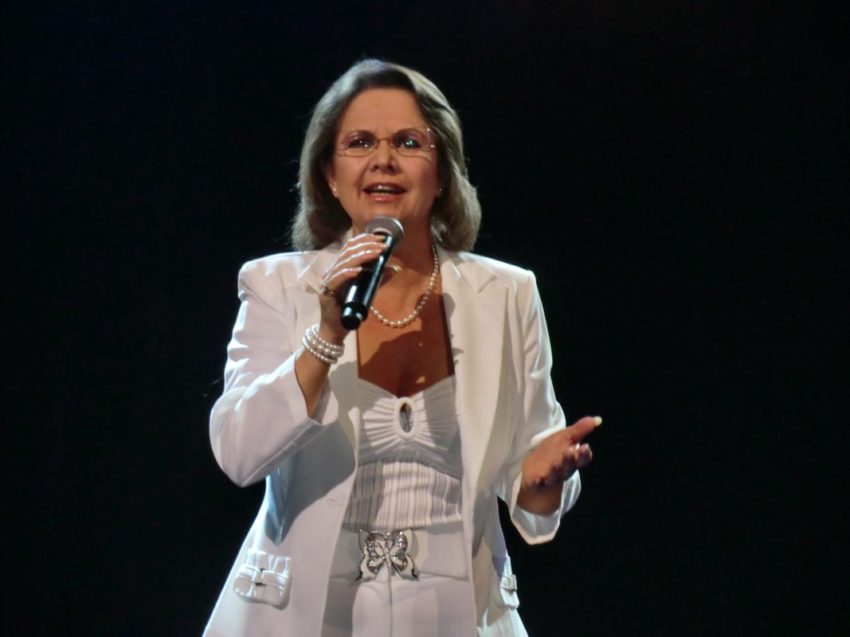 1973 Eurovision Song Contest winner for Luxembourg, Anne Marie David is currently in a heated debate with many of her fans. It all started as she recently received a special award for her career in Kyrenia, Cyprus. The singer is now more than busy deleting angry comments and defending herself.
Since the 1970s, Anne Marie David has had a long career in the music industry. It Includes taking part in the French production of Jesus Christ Superstar, winning the 1973 Eurovision Song Contest for Luxembourg, and representing her home country France at the 1979 Eurovision Song Contest, finishing 3rd.
It's no surprise with such a long career that she'd be recognized for her work as it touches many people around the world.
Two days ago, the singer was in Kyrenia, Cyprus to receive a special award for her career. However, when she shared some of the details about it on her Facebook account, some users were very quick to correct her on some facts.
It all started with the post, which translates to:
A hello from KYRENIA, a city in the Turkish part of Cyprus. This dress is an original creation by Turkish designer ENGIN TERZI. He made it in 24 hours! For the ceremonies I am currently attending… It's a bit different from what I normally wear… kisses
Anne Marie was very quick to be told by Greek and Cypriot fans that there is no such thing as a Turkish Cyprus. One fan wrote: '[…] I am really sorry to see your post referring to the Northern Part of Cyprus (which is invaded by the Turks since 1974) as the "Turkish Part" of Cyprus. It's so offensive and also shows that you are ignorant about the real situation in Cyprus. There is no Turkish Cyprus. […]'
Looking at the Greek-Cypriot perspective her calling the occupied part for a country is upsetting, and as she continued and didn't just acknowledge that she made a mistake, only made things worse.
Unfortunately it seemed some people were a bit more offended than others and some rude comments were left on her account, which were then removed. Yesterday, she then published another statement, which translates to:
UPDATE. This is MY page. I put up what I want and published what is MY way of life – to believe and to hope. I don't receive any lessons from ANYONE and won't allow ANYONE to give me any!!! I've never been a sell out. Those who know me know that. I have always been present for those who needed me. So why ask me to solve a political problem? I sing that's it. And when the people of a country like me I do not ask their political opinion, their skin colour or religion … It's not my job. And since 1970 I have had a career without worrying about anything else than to do my job. So yes, I am proud of the trophies that I received because they represent years of work … Sorry if this offends you. FOR THE RECORD: I participated as a jury member at a festival in Cyprus a few years ago with a French artist and Turks did not speak to me the way you talked to me … When I was in Turkey my orchestra conductor was Armenian – some of the musicians Turkish or Jewish – one of my back up singers, English — and we created a magnificent album in joy and sharing. What are you talking about? Who do you think I am? Politics, I am content to do in France by voting because that is MY country … Elsewhere I shut up and do my job. If your "LOVE" for me is up to nothing but a conflict in which I can do absolutely nothing … I am sad for you. Leave my page since you forced me to delete your insulting comments, but at the same time I had to delete the image from your flag … and for that I won't forgive you. I have the greatest respect for the symbolic of flags. When we touch the French flag, it strikes me and makes me ill. I never imagined having to take an action that I'll always condemn.
Looking at the situation from a Greek-Cypriot perspective, her calling the occupied part for a country is upsetting, and as she continued and didn't just acknowledge that she made a mistake, only made things worse. Posting a picture of the award with what isn't a recognised flag by the UN, the upset fans saw no sign of her wanting to settle things.
Why are people so offended?
Cyprus was originally populated mainly by Greeks but around 1570, the Ottoman empire which later became Turkey conquered the island and Turks migrated there.
Britain ruled Cyprus from 1878 until 1960 when it declared independence, but this ruling resulted in the Turkish and Greek communities to be split based on their religious and ethnic backgrounds.
In 1974, the military junta governing Greece at the time and Greek Cypriot nationalists staged a coup d'état to allegedly incorporate Cyprus into Greece. This resulted in the Turkish invasion of Cyprus and the capture of the Northern Cyprus territory. Over 150 000 Greek Cypriots were displaced as well as 50 000 Turkish Cypriots.
The Turkish Republic of Northern Cyprus is now only recognized by Turkey. The international community at large still considers the northern part of the island to be a territory of the Republic of Cyprus occupied by Turkish forces.
So what do you think? Should we expect our artists and public figures to be aware of foreign politics and history in the areas they travel to? Or should we give Anne Marie David a break for this as she probably didn't mean to offend anyone?