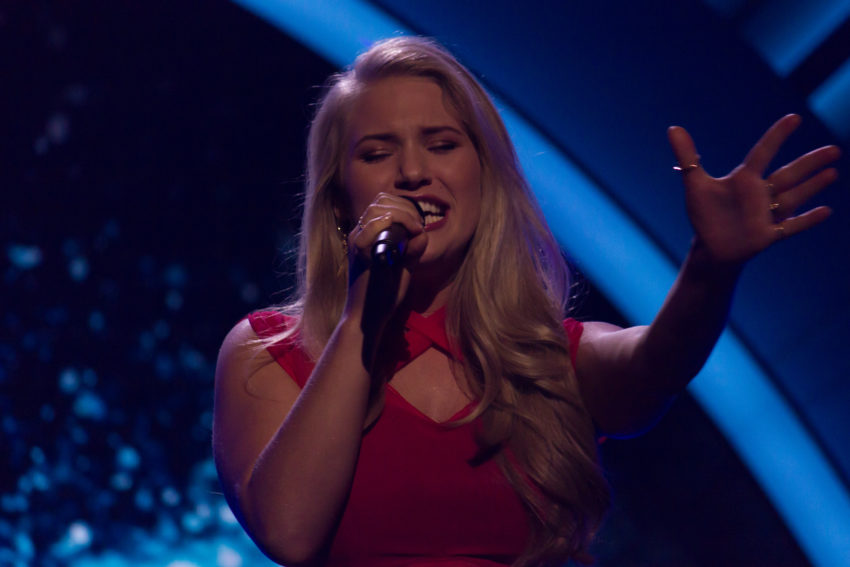 The Danish contribution to the 2017 Eurovision Song Contest will be Anja Nissen. That is clear after tonight's national Melodi Grand Prix final. A fantastic show of high quality set the frame for a final which was exciting right to the end.
Danish broadcaster DR received back in September a record number of 1115 submissions. This breaks the record set in 2016 with 982 songs. Interestingly then both records follows a bad Eurovision result as Denmark didn't qualify for the final in 2015 and 2016. With two years out, pressure is high on this year's representative.
Let's take a look at what happened in tonight's national final. Don't miss our gallery from the dress rehearsal which guides you through the show – in photos.
How the songs came across
(Personal opinion from the author who watched the dress rehearsal from the press balcony in the arena, and the live show from the screens in the press centre).
Song no 1: Ida Una – One (Written by Peter Bjørnskov and Lene Dissing)
Opening the show is never easy, and certainly not if you are one of the favourites to win, but it looked like Ida didn't let that affect her. She came across as very sesure in her performance – and vocal wise, it was spot on. This is quite close to perfect on stage, so much that one who didn't spot the potential in the studio version, will have to surrender now, your author admitting she is one ;-).
Song no 2: Thomas Ring – Vesterbro (Written by Thomas Ring)
If anyone tonight should be the odd one in this field tonight, it is this one. Not only is it the only song in Danish, the music also differs a lot from the other pop songs. It is interesting, but not something which will appeal to the TV viewers and certainly not to the fan jury. Thomas is one of the more experienced acts in this line-up and he does deliver a very secure performance.
Song no 3: Rikke Skytte – Color My World (Written by Mads Løkkegaard, Joël Pagiël MacDonald, Mohamed Alitou and Laura Kloos)
In the introduction video, Rikke is described as perfect by a jealous female taxi driver, and performance wise, we aren't too far off from the perfect either. It is well delivered, but from time to time a bit too busy on stage, and when the confetti starts to rain, her voice slips. Maybe she was hit by the confetti in the face? What a shame on an other wise good performance from Rikke.
Song no 4: Anja – Where I Am (Written by Anja Nissen, Angel Tupai and Michael D'Arcy)
Last year's runner up Australian born, of Danish origin, Anja is back for a second attempt of making it to the Eurovision Song Contest. She is one of the strongest vocalists in this field, and this time she delivers an even stronger performance than last year. It is not without reason, she is one of the top favourites to win tonight.
Song no 5: Calling Mercury – Big Little Lies (Written by Thomas Sardorf, Rune Braager and Martin Luke Brown)
On stage they play on a theremin, a quite rare instrument which we have never seen used before on Eurovision stage, should they make it there. This song had the potential to do "a Netherlands 2014", come from behind as one the fans didn't like at first, to become loved by most and at the end do extremely well in Eurovision. Unfortunately this performance won't bring them there. They don't connect well with the TV viewers, which is a shame. A song with a lot of potential, which unfortunately was wasted a bit.
Song no 6: Anthony – Smoke In My Eyes (Written by Kim Nowak-Zorde, Kasper Larsen, Hans Petersen, Ollie Marland and Phil Plested)
A catchy pop song delivered by Anthony who is now going solo after winning X-Factor as part of a duo some years ago. Judging from this song, he should have no problem to launch a great career. He has a great voice, and and where he in today's dress rehearsal didn't quite manage to shine through and grab the attention of the viewers, it looked a lot better in the live show. Maybe he was holding back in order to perform when needed?
Song no 7: René Machon – Warriors (Written by Astrid Cordes, Alexander Grandjean, Hans Petersen and Lars Andersen)
In Eurovision circles this song probably won't appeal to the fans. René however is the born entertainer. He sings it very well, and boy, does he manage to get out to the audience. The song doesn't have what it takes to win tonight, but René sure looks like a winner tonight.
Song no 8: Sada Vidoo – Northern Lights (Written by Christoffer Lauridsen, Andreas Öhrn and Alessandra Günthardt)
An outstanding act, that we already knew beforehand this would be. Question was more, if this might be too much for some TV viewers. Probably still, but it wasn't as "odd" as one could have feared though. Sada do sing well, but it is also a bit too static. Maybe she tried too much to appeal to the wider audience so that she lost herself? Let's see.
Song no 9: Jeanette Bonde – Hurricane (Written by Jeanette Bonde, Alexander Grandjean, Jeppe Pilgaard Ulrichsen and Nermin Harambasic)
This song works surprisingly well. It certainly was delivered with a power and an appearance which went far over what we expected from the studio version. Jeanette wasn't in any prediction mentioned as a likely super finalist, meaning top 3, but she might just make it after this flawless performance. She came from almost nowhere, but really pulled through.
Song no 10:  Johanna Beijbom – A.S.A.P (Written by Peter Wallevik, Daniel Heløy Davidsen, Patrick Devine, Christian Fast, Dimitri Stassos and Freja Jonsson Blomberg)
Do you want modern disco pop, then this is the song for you. Johanna and the taxi driver discuss whether or not La' Det Swinge (Eurovision 2985) was Norwegian or Swedish, naturally Johanne was right when she claimed it was Norwegian. Hopefully it will be less discussed how Johanna did. A fine closure to tonight's Danish finalists. She is sweet, and do deliver a really great performance, showing that this four times Eurovision backing singer is ready to make it there a front singer. But is the song strong enough?
Tonight's final opened with a reference back to the 2004 Danish final. Actress Mia Lyhne appeared back then as the nerdy, but enthusiastic fan Pia. Now she is back. Pia has been fired as a journalist and is now working as a taxi driver. In the opening she drives for the hosts Annette Heick and Johannes Nymark from Lighthouse X. She suggests to let the participants sing a classic song together, "just have a door open and they sing", and that is exactly what happens. The participants walk in a door two and two and sings a bit from the Danish 1963 Eurovision winner Dansevise. At the end, they are joined by the the hosts.
Before each act appear on stage, Pia is back – as the one driving the participants to Boxen, the arena tonight. She is lovely towards the men she likes, and a bit nasty towards the young beautiful women who have the breasts and the butts she no longer has.
Here in 2017, it is 60 years ago since the first Danish Melodi Grand Prix was held, and that is being celebrated in the show with several clips as well as the two hosts singing some of the old classic songs. One of the three Danish winners also performed in the show; Olsen Brothers won the Eurovision Song Contest in 2000 with the song Fly On The Wings Of Love. The audience really went crazy to this one. They received the biggest applause of the evening, which left most of us with goosebumps. Seeing this from the balcony with an fantastic full view over the arena was an amazing moment. Everyone in the audience really sent a lot of love in the direction of the brothers.
All through the show, the theme "Vote for Denmark" explains how the Danes are deeply ashamed of having been out in the cold for the past two years, and that they desperately need help to once again grow as a nation.
The voting
After two years not qualifying for the final of the Eurovision Song Contest, broadcaster DR changed the voting in the national final. Their philosophy is that the hard core fans knows better what works in Eurovision than experts like songwriters, producers, radio hosts etc. A jury consisting of five fans were therefore set in place to decide 50% of the outcome. Unfortunately the jury members were quite similar and likely to vote the same. It was also a shame tonight that no actual points was seen. Three names were announced for the super final, they performed again and number three, two and finally announced with percentages.
3rd place: Johanna Beijbom 10%
2nd place: Ida Una 26%
and winner: Anja 64%
Three Danish victories
Denmark has won the Eurovision three times:
1963: Dansevise by Grethe og Jørgen Ingmann
2000: Fly On The Wings Of Love by Olsen Brothers
2013: Only Teardrops by Emmelie de Forest