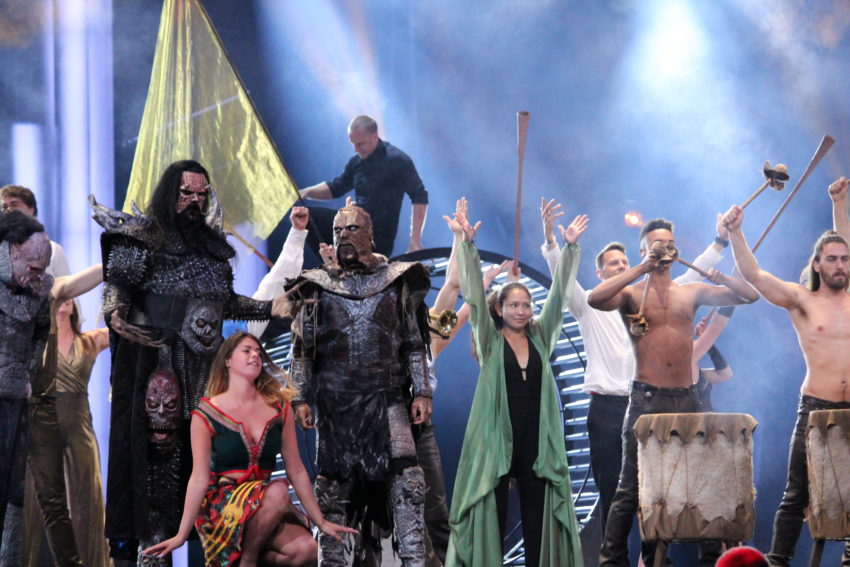 What we have seen so far from the dress rehearsals is a truly enjoyable show. Apart from the competing songs, a really memorable section involves a tune sung by the presenters, Måns Zelmerlöw and Petra Mede, that includes guest appearances by former Eurovision entrants as well as references to previous entries.
OK, I have to come clean and say that it is only former Eurovision winners Lordi and Alexander Rybak (Finland 2006 and Norway 2009 respectively) who will be actually guest appearing on stage tonight.
For the rest of the former Eurovision participants, you will have to rely on presenters Måns Zelmerlöw and Petra Mede as well as large group of dancers and actors who do a fantastic job in summarizing years of the contest's history in a witty number appropriately titled How To Win Eurovision.
Think of topless drummers in the style of Only Love Survives (Ireland 2013) surrounded by Russian grannies and their freshly baked bread (a reference to Party For Everybody, Russia 2012), Carola's 2006 flags making a comeback as well as the presenters having their clothes torn apart (in true Eurovision style) to reveal a Charlotte Perrelli circa 1999 painted bodysuit for Mede and a Sakis Rouvas-style white suit for a bare-chested Zelmerlöw.
There are many more references to spot but we would not like to spoil the element of surprise for you. Just make sure that you do not miss it and have fun with your friends trying to identify them in a few hours' time!