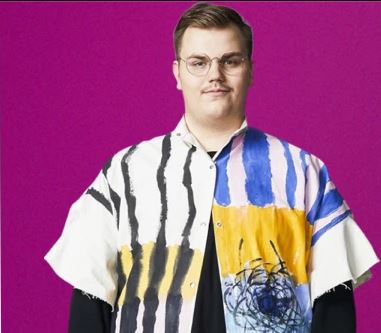 The Finnish national final Uuden Musiikin Kilpailu has just taken place and the country will be sending Aksel Kankaanranta with the song Looking Back to Rotterdam. After a year's absence, will Finland manage to qualify through to the Eurovision Grand Final this May?
Uuden Musiikin Kilpailu 2020
This was the ninth edition of Uuden Musiikin Kilpailu (UMK). The name translates as 'Contest for New Music' and was conceived as a revamped way to select the Finnish entry for Eurovision through a contest that would showcase new music and talent.
Tonight's show came from Tampere. The main presenter was Krista Siegfrids, who represented Finland at Eurovision in 2013. Siegfrids also opened the night, descending onto the stage sitting on a giant white anchor and performing amongst scantily dressed sailors.
The six competing songs had been selected internally by a special committee set up by Finnish national broadcaster Yleisradio (Yle).
After every second performance, there were backstage links with the contestants seeminly being tested for their Eurovision knowledge.
The interval acts were 2017 UMK veteran Behm, who performed her 2019 single Hei Rakas, and Finnish rapper Mikael Gabriel.
The Entries
Eternity – Catharina Zühlke
Eternity starts as a slow ballad with a strings baseline. The song soon changes, however, into a dance number with Catharina singing about the loss of a loved one who will be part of her 'till eternity'.
This is a vocally demanding song and Catharina's performance was up to the challenge despite, one would assume, the strain of performing a difficult song again and again during rehearsals.
Visually, the entry was quite sleek. To start with, the singer appeared to be floating on white dry ice 'clouds' against a light blue background, Her choice of dress was quite daring – a white long dress with a deep cut on the front exposing her legs and long – Melania Trump-type – slitted sleeves.
There is nothing wrong about this entry though one feels that it would be easily lost amongst forty other entries at Eurovision.
Cicciolina – Erika Vikman
This is a Europop/disco number, complete with an imposing synthesizer intro and a catchy chorus. Both the title of the song and the characteristic flower wreath on Erika's head for the promotional material can be taken as references to Hungarian-born pornstar, politician and singer Ilona Staller. The song's message is apparently that 'bold' femininity and feminism are not mutually exclusive.
The live vocal performance was a bit thinner than the recorded version. The presentation showed Erika in a pink rubber bodysuit, flanked by two dancers dressed as brown bears and against a backdrop impression of flames. At some point, real flames appeared at the front of the stage. The performance was met with enthusiastic applause.
It is the kind of entry that, depending on where one stands, could be taken to be verging on the kitsch – and tonight's presentation would probably support such a view – or, on the other hand, being cult and fun. This might actually be one of the most tantalizing features of the song. I happen to view it as iconic in a tongue-in-cheek way and, in order to maintain its cult status, one feels that keeping the song in Finnish would be essential.
The video of the song has already over 1 million views on YouTube, too, which points that this might be a suprise contender in Rotterdam if it gets selected tonight.
Looking Back – Aksel Kankaanranta
Looking Back is a contemporary ballad, sensitively sung by Aksel Kankaanranta, the runner-up of The Voice of Finland 2017. The title and lyrics refer to looking back at one's early youth.
This is a good song that starts softly but builds larger with extra percussion towards the end. Aksel's vocal performance was spotless tonight. A key component of the presentation was a black backdrop on which roughly- sketched animations of couples by a tree were shown.
A sleek performance, though one still wonders if it would all be enough to really stand out in a year when quite a few similar entries have been selected already by other countries for Eurovision.
Bananas – F3M
This is a rhythmic, percussion-based song with the F3M trio singing about a girl's night out and going 'bananas', though the deeper meaning of the song is apparently that everyone should be able to have fun as equals and exactly as they are.
The performance started with F3M standing on a platform displaying pixelated blocks of colour matching those of the backdrop. Words from the lyrics were also shown on the backdrop and pyrotechnics were used for the finale. This looked colourful and quite well-worked as a presentation
This is fairly pleasant and catchy entry, albeit a little predictable.
Lover View – Sansa
Lover View is an electro-pop, mid-tempo number with quite an atmospheric intro and a nice House sound throughout. The track is well-matched by Sansa's soft delivery, who, having released her first album as far back as 2005, is one of the most experienced artists competing tonight.
A blue backdrop is used with Sansa standing on a platform and wearing a bodysuit that exposes her right leg. Every so often, the screen splits into two or more windows, in which there are either shots of Sansa from a different angle or the shadow of a male dancer mirroring her dance routine. A good idea that could perhaps have benefited by some fine-tuning.
Due to its laid-back ambience, it might be a risky selection for Rotterdam in the sense that it might not be memorable enough amongst forty other entries. Given a solid and exciting presentation that builds on tonight's performance however, this could be a pleasant addition to Eurovision 2020.
I Let My Heart Break – Tika
Tika was the 2018 X-Factor winner in her country and it shows. She gives a solid vocal performance to I Let My Heart Break, another contemporary ballad tonight. There is nothing really missing from the song, which is well-crafted and builds to a strong chorus, both in terms of melody and powerful musical production.
This was a solid performance and presentation. There was a dreamy impression of Tika floating against a red and black background for some sections, and Tika against red lighting with a male dancer carrying out a dance routine around/with her for some other. The chorus was accented by a shower of fireworks. The singer herself looked classy, with her trademark ponytail and wearing a shiny red dress, though her face could have been more relaxed during the performance.
Should it win tonight, the challenge would be (again) to win the impressions battle against numerous songs that will be stylistically similar in Rotterdam this May. Her performance tonight however hints that Tika might be up to the challenge.
The Result
The result was determined by a 50-50 combination of a public 'televote' and an international jury vote consisting of four-member juries from Bulgaria (including 2011 and 2016 ESC Bulgarian participant Poli Genova), Estonia (including 2005 and 2017 ESC Estonian participant Laura Põldvere), Germany, the Netherlands, Sweden, Spain and the United Kingdom.
The result was as follows:
Combined vote
Draw
Act
Song
Composer(s)
Jury
Televote
Total
Place
1
Catharina Zühlke
Eternity
Marcia 'Misha' Sondeijker, Roel Rats, Josefine Myrberg, Henrik Tala, Catharina Zühlke
42
24
66
5th
2
Erika Vikman
Cicciolina
Janne Rintala, Mika Laakkonen, Erika Vikman, Saskia Vanhalakka
58
99
157
runner up
3
Aksel Kankaanranta
Looking Back
Joonas Angeria, Connor McDonough
76
94
170
WINNER
4
F3M
Bananas
Olli Äkräs, Hanna Ollikainen, Rafael Elivuo
64
20
84
4th
5
Sansa
Lover View
Sansa, Yotto, Anton Sonin
30
6
36
6th
6
Tika
I Let My Heart Break
Neea Jokinen, Timo Oiva, Oliver@ i-One Music, Lotus Wang
50
77
127
3rd
Detailed International Jury
Draw
Song
Bulgaria
Estonia
Germany
Netherlands
Sweden
Spain
Russia
United Kingdom
Total
1
Eternity
–
6
10
4
6
10
6
–
42
2
Cicciolina
4
4
8
10
4
12
4
12
58
3
Looking Back
12
12
12
6
8
4
12
10
76
4
Bananas
8
8
4
8
12
8
8
8
64
5
Lover View
10
10
–
–
–
6
–
4
30
6
I Let My Heart Break
6
–
6
12
10
–
10
6
50
Aksel Kankaanranta with Looking Back will therefore represent Finland in Rotterdam this May.
Finland in the Eurovision Song Contest
This will be Finland's 54th entry since the country first participated in the Eurovision Song Contest back in 1961. Its only win to date occured in 2006 when, on the country's 40th attempt, Lordi raised the Eurovision trophy with Hard Rock Halleluja in Athens.
Finland has finished last eleven times in its Eurovision history, three of which (1963, 1965 and 1982) were 'nul points' occasions.
The country has also failed to qualify to the Grand Final eight out of the sixteen times it had to go through any kind of semi-final round. One such occasion was last year when Finland finished 17th in its semi-final, thus failing to make it to the Grand Final in Tel Aviv.
Will the 2020 Finish entry manage to bring the country back to the Grand Final this May?
In the following video, you can watch Aksel Kankaanranta performing live tonight his winning Looking Back, which will represent Finland in Rotterdam.