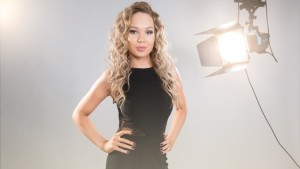 Norway, became the fifth country tonight to pick their entry for the Eurovision Song Contest 2016, to be held in neighbouring Sweden on May 10th, 12th and 14th. After an exciting final, the Norwegian public have chosen to send Agnete with the song Icebreaker.
Norway will perform in the second half of the second semi final on May 12th and will hope to make it to the finals for the fifth successive year.
The Songs
The Hungry Hearts feat. Lisa Dillan – Laika
Marching on to the stage in electric pink dresses and silver sun-glasses, the word tacky was made for this seventies disco number. Totally ignoring the six person rule, eight saucy cougars pranced and danced, joined by four black gimps, making a total of twelve people on stage. This is the stuff we expect from Ukraine. Yet it was highly enjoyable but it would be a stretch to think this would win Eurovision.
Stage Dolls – Into the Fire
These stage dolls aren't quite as glamorous as their name suggests, looking as if they'd just come from a beer in the pub. The three piece aging rock band, continued the seventies feel, with two lovely dollie-de-luxes dancing about in the background. A few oh-oh-oh's in the chorus kept it moving along, the lyrics said they were raised on rock and roll as a fire burned in the background.
Stine Hole Ulla – Traces
Elaine Paige is sitting at home gnashing her teeth and wondering why Andrew Lloyd-Webber is not writing songs like this for her anymore. This was a tear jerker song that wouldn't be out of place as the last song in act one in a musical, which you want to hurry up and end, so you get to the bathroom first. Very Disney, very nice, the full cast soundtrack must be coming soon. Beautifully sung.
Makeda – Stand Up
So far the 21st century hasn't reached Norway yet, as this time it was back to the sixties and ten people on stage, these Norwegians laugh in the face of rules. However this catchy little Motown type number certainly makes you long for the days you could go to the record shop and buy that new 45rpm single. Very catchy, the song belongs in the musical Hairspray.
Pegasus – Anyway
Dark power ballad, performed practically with the lights out, at one point all you could see was the backing girl's flashy green skirts. Three female violinists made a nice contrast to the rock guitar band, they were accompanying, who better hope Aerosmith don't come a-listening or they may hear traces of I Don't Want To Miss A Thing.
Freddy Kalas – Feel Da Rush
The Eurovision police need to move in now, as eight cheeky souls have now taken to the stage to perform that happy summery song that always starts of the summer music festivals. Dressed in Hawaiian shirts and banging on steel drums, all that was missing were cocktails and drunks, though there seemed to be some pina coladas in the background. A nice way to heat up these cold winter nights, till the song won't leave your head and drives you insane.
Laila Samuels – Afterglow
Laila's on next and she's cleared out all the party revelers from the last song. Heading through a whirl of fog, this ice maiden is making sure a chill remains on stage. An arty dancer is gyrating off stage while Laila performs her no nonsense and in places no tune song, to spectacular scenery flashing in the back ground.
Elouiz – History
Flame haired Elouiz has a nice little song which she could have performed quite well on stage by herself, but she seemed to be singing with eight showroom dummies on stage with her. However at the second verse they moved and showed they were human. Did Norway hold a contest that the audience could be on stage with the singers. Still good song.
Suite 16 – Anna Lee
Suite 16 proclaimed they were like One Direction – no. This was a teeny bopper song all right but more like Viktor and Samir and their Groupie number. At least they kept to the allowed number on stage. The song bounced along but it is doubtful it will become a future classic. Surely a qualifier though with all those screaming girls.
Agnete – Icebreaker
This was the most modern sound of the ten with a bit of electronic music going on in the background. It didn't quite reach energetic dance levels, but it had a bit of a beat. In fact it was a little like Sia's Chandelier in the chorus. A girl in a tube danced along, though she had problems keeping up at times due to the many tempo changes.
The Show
Tonight's show took place in the Oslo Spektrum and was hosted by Silya Nymoen and Kåre Magnus Bergh, who begun the show in a submarine with several previous Norwegian contestants. Staying way too long under the surface, they eventually surfaced to the stage to perform an opening number, which even out-schlagered Sweden for cheesiness, if that's possible. The audience loved it, cheeringly loudly, though debatable whether they were cheering the performance, or that they were glad it ended. Sanity soon returned as the acts were introduced.
After all the songs had been sung and reprised, what a treat was to come. Kate Gulbrandsen came on to sing Mit Liv, and managed to keep her hair under control. Great Stuff.
The piece de resistance was to follow with the return of Mørland and Debrah Scarlett to perform A Monster Like Me. What a production with an extra verse and a backing choir of what seems liked a thousand people. Terrific.
During the voting for the second time, Silya sang Voi Voi along with a video of  Nora Brockstedt, followed by ex-Eurovision host and 1966 entrant Åse Kleveland performing Intet er nytt under solen. Things then went way above and beyond with 2004 Norwegian entrant Knut Anders Sørum, and Reidun Sæther covering Jahn Teigen and Anita Skorgan's Adieu, and Mil Etter Mil and Optimist.
Finally Jahn then went on to perform Voodoo, with a group of dancers, what sounded like songs from Jahn – The Musical.
.
The Results
The four finalists were chosen in random order to perform again. The Norwegian public were calling in to pick their favourite four. The order the acts were announced are in the table below.
| | | | | | | | |
| --- | --- | --- | --- | --- | --- | --- | --- |
| | Eastern Norway | Northern Norway | Central Norway | Southern Norway | Western Norway | Total | Place |
| Laila Samuels |  25374 |  4851 | 6479 | 5937 | 6224 |  48865 |  4 |
| Suite 16 |  31003 |  5548 |  6667 |  4881 |  8572 |  56671 |  3 |
| Agnete |  67334 | 51097 | 14898 | 14825 | 48574 | 166728 |  Winner |
| Freddy Kalas |  48154 | 11616 | 8562 | 8998 | 10798 | 88128 | 2 |
Watch the winning song below.
Norway In The Eurovision Song Contest
Norway have appeared in the Eurovision fifty four times, debuting in 1960 with Nora Brockstedt and Voi Voi, Her fourth place must have encouraged her to return the following year, when she was rewarded 7th with Sommer i Palma. Future Eurovision hostess, Åse Kleveland gave Norway their first top three placing in 1966 with Intet er nytt under solen.
In the seventies, Norway ended up last, three times. poor Anne-Karine Strøm being responsible for two of these placings. Jahn Teigen made a career out of his nil points in 1978, resurfacing in 1982 and 1983 to slightly better results.
Norway finally celebrated in 1985 when Bobbysox took the gold with the now classic La det swinge. It was ten years before Norway won again in 1995 with Secret Garden and Nocturne, although within that decade, Kate Gulbrandsen, Karoline Krüger and Silje Vige all placed in the top ten. Hosting in 1996, Norway gained their only second place with Elisabeth Andreassen and I Evighet.
It wasn't until 2009 that Norway won again with Alexander Rybak's Fairytale. Since then they have only failed to qualify for the final once, in 2011, with Stella Mwangi and Haba Haba.
Below enjoy clips from Norway behind the scenes with exclusive content you may not have seen before.