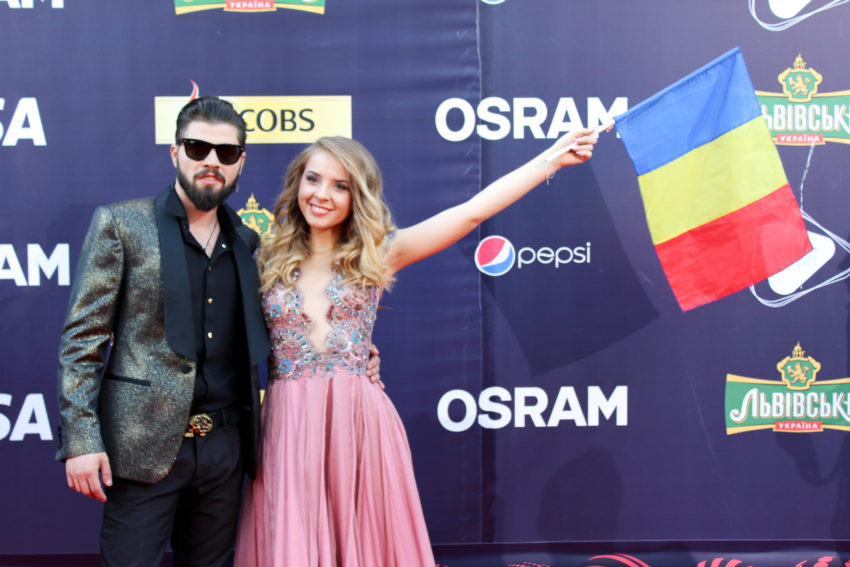 TVR has unveiled the 60 songs that will compete to represent Romania in the Eurovision Song Contest 2018. The list is long and not all are great. We made your job easier by selecting 20 tracks worth listening to.
Romania's road to Lisbon started with a total amount of 72 songs that were cut down to 60 by Selectia Nationala's juries – composed by five members including last year's participant Ilinca Bacila.
Now the broadcaster has made the audios for the songs available on their official website. As listening to 60 songs isn't an easy task, I selected the 20 main entries you should pay attention to the most – taking into consideration the song's sound, lyrics, singer or meaning despite the low quality of TVR's stream service.
Alex Florea presents solo entry
It's impossible not to start this opinion article with Alex Florea's submission for Selectia Nationala 2018. While Nobody Told Me It Would Hurt ends up being an extremely generic and weak song, we're pretty sure a Eurovision fan wouldn't want to miss out the opportunity of hearing Alex going solo. Despite my opinion about the song, it wouldn't be surprising if Florea ended up competing in the finals next 25th of February.
If you're already feeling nostalgic with Alex Florea, something common and quite curious about Romania's national selection is the amount of songs that sonically remind the listener of older Eurovision times. Waleska's Reborn is the most obvious one that could do wonders for Romania if we were in 2005, followed by the generic Pop tune sung by Jessie Banes (Lightning Strikes) that can still make it for the Eurovision fans that love a good electropop tune. While the violins make it sound fresher, Zavera's Come Back To Me ends up taking the same route.
While some acts decided to go with nostalgic Eurovision sounds, others such as Aurel Dinca decided to take on an old rock sound. Fire In The Sky easily reminds us of an older Bon Jovi classic. Also within the rock department we find Lion's Roar Rekindle The Flame. It's impossible not to think of Lordi's Eurovision winner Hard Rock Hallelujah during its chorus.
Space for newer sounds
Just like there are some old sounds among Romania's national selection, it's quite easy to find some more modern tunes. Alessandro Dănescu (Breaking Up) and Manuel Chivari (Somebody To Love) both attempt to bring into the competition the New Pop genre popularized by Justin Bieber. While I wouldn't pay attention to it for a second time, after Lithuania's unexpected high rank at the 2016 Eurovision Song Contest, one has to start being careful with words.
Pop productions are definitely not lacking during this year's Selectia Nationala. Besides the two just mentioned, Teodora Dinu's Fly is another great addition to the list along with M I H A I's Heaven, which is surely one of the main productions of the event. I Won't Lie sung by Iliana is another good Pop song that while sounding good and modern may not be the best fit for Eurovision.
Slower songs were not forgetten as well. Even though most of the ballads presented fail to create an impact, I would highlight a couple: Denisa Trofin's Tears and Xandra's Try. While Denisa's song takes in a sadder route that ends up reminding us of a good Disney soundtrack, Xandra brings back the flavour and fierceness Maja Keuc brought to the 2011 Eurovision stage with No One.
Hard to define, on the other hand, are the entries from Jukebox that teamed up with Bella Santiago for Auzi Cumb Bate, a very out of the box song that delivers an interesting and original instrumental that surely could fit within the Electronic music genre. Bringing similarities to Moby's music genre we also have a quite unique song coming from Zoltan.
Selectia Nationala's top five
Out of the 60 entries, I have presented 15 that I believe are within the competition's most unique sounds. From Pop to Rock, Romania is making sure there's space for everyone but I have yet to present the five best songs that caused the best impression to my ears.
Back in 2012, Mandiga represented Romania with a Spanish song. In this year's Selectia Nationala, Feli is going to attempt the same with her song Buna De Iubit that besides bringing the latin flavour to the stage will also include a few Arabic sounds – they always elevate a song, right?
Too Busy For My Heart, sung by Bernice Chiţiul, brings a completely new sound to the competition by exploring a sort of Gothic Metal that has yet to cause an impact in Eurovision. It surely is a highlight and considering that Romania likes to take risks (Yodel It!), this wouldn't be bad choice for Lisbon.
While we have already discussed good Pop productions with modern sounds, nothing beats Alexia & Matei's Walking On Water that besides exploring such sounds do bring Paula & Ovi back to our minds. We love Romanian duos, don't we?
Leaving the best for last, Serena and Mariem take the cake. Both of the singers are ready to bring into the stage good Pop Dance productions with catchy choruses that tend to do good in the competition. Mariem's End of Game is quite a breath of fresh air among so many entries as it sounds fierce, fresh and – again – brings the Arabic flavour into the mix during the song's break. On the other hand, Serena's Safari sounds more gentle and less traditional which make it lose points as it becomes less unique.
Overall, there will be five semi-finals where the jury will select three from each show to advance into the main final on the 25th of February. In the final, these 15 acts will compete to conquer the public's heart and win the televote. If you still want to take a listen to the remaining 40 songs, you can find them on TVR's Eurovision site.
While waiting, remind yourself of Romania's 2017 entry Yodel It! which finished 7th in the Eurovision final. in the video below you find it in a special Full Stage View where you can see how they used the stage and the graphics to accomplish the song.
This article includes the personal opinion of the writer, and does not necessarily reflects EuroVisionary.com.
This reflection article is based on the author's own personal experience. Views expressed belongs to him or her, and are to be seen as unrelated to EuroVisionary.com.