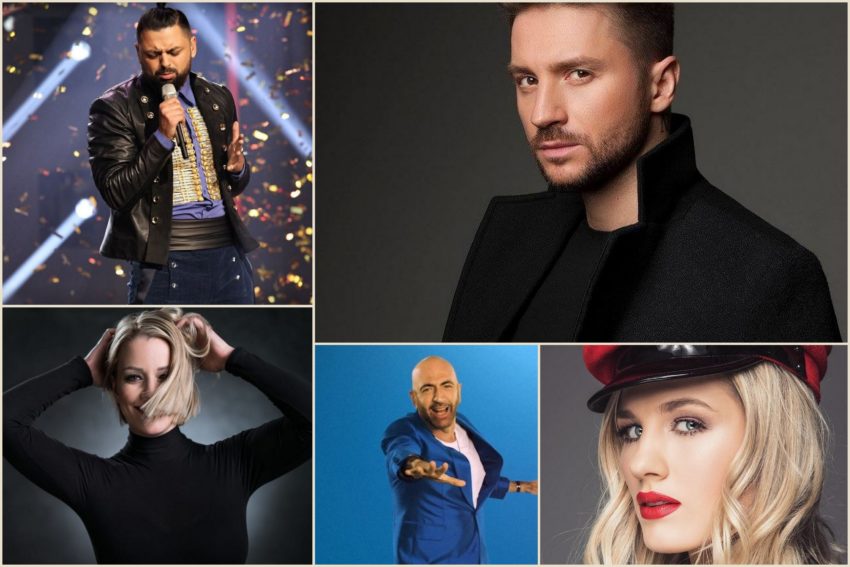 Sergey Lazarev, Tamara Todevska, Joci Pápai, Serhat and Nevena Božović. Those five artists will return to the Eurovision Song Contest this year. Are they likely to get a better result this time? We take a closer look at these five artists and their entries.
The 2016 Eurovision Song Contest featured seven returning artists. This year, we have yet a high number of comebacks, though it's "only" five. It could easily have been higher though as Sweden in their national final, the last one this year, had Anna Bergendahl (2010) and Arvingarne (1993) in the final 12.
In Iceland Hera Björk (2010) and Friðrik Ómar (2008) were among the last five and in Norway, Kjetil Mørland took part in the national Melodi Grand Prix final. In Estonia, two of the 12 finalist acts featured former Eurovision participants (Sandra Nurmsalu 2009 and Tanja & Birgit (2014 and 2013). We have also seen former participants being eliminated earlier in the process in various countries for a comeback.
Are the five artists who return to the contest this year likely to achieve a better result than at their previous participation? For some, it's looking good, while it might be more difficult for others.
🇷🇺 Sergey Lazarev (Russia)
Let's be honest, Sergey Lazarev's return to the Eurovision Song Contest received more attention than any of the other returnees did. He finished third at the 2016 contest, and as such it was expected he would only come back if he had a song with which he could win. The bookmakers had Russia tipped as top favourite to win before the song was release. After the release, they changed the odds placing Sergey second. But is Scream good enough to win?
Wouter (The Netherlands)
If it wants to go down in Eurovision history as one of the weaker winners, then yes. It certainly has an appeal and I could  see it receiving many points across the board, but I think in the end someone else will take the victory.
Charlotte (Denmark)
I do like the song, but I don't see it as a 2019 winner. In 2018, it probably would have been my favourite to win the contest as it was quite a weak year, but there are other stronger songs this year, which in my opinion are more worthy winners. But I do like it, so I won't complain too much if it ends up winning… just a little bit.
Theo (United Kingdom)
In short, yes, I think it is. What it may be lacking in sounding distinctly contemporary, it makes up for by being a well-crafted song that would not sound out of place in a West End musical. Sergey Lazarev's vocals blew me away, too. It is however a vocally demanding song and it would make sense to save voice during rehearsals. Provided that the live performance and the artistic direction come nicely together, we might be in for something epic!
Josef (Czech Republic)
If Russia didn't win with You Are the Only One, they will definitely not win with Scream. It is good, powerful, but too much theatrical. I have no doubt we'll see a perfect staging and live performance which will bring Russia a TOP 5 placing probably.
🇭🇺 Joci Pápai (Hungary)
Two years ago, at the 2017 Eurovision Song Contest, Joci Pápai charmed his way into the hearts of many Eurovision viewers. He finished 8th with the song Origo. Can he improve that result here in 2019 – and perhaps even reach top 5?
Wouter (The Netherlands)
Joci's charataristic voice hasn't changed and Az Én Apám is on par with Origo, so I would expect it to do just as good. But I wouldn't rule out a 5th place entirely.
Charlotte (Denmark)
I don't see Joci finishing even in top 10 this time. I wasn't a fan of his 2017 entry, but I do see it's charm. However, this time, I don't see anything which can bring him a good result. Unfortunately. I am not even convinced, it will qualify for the final.
Theo (United Kingdom)
Az Én Apám is one of the good songs this year. My impression is that Joci Pápai is well-respected among Eurovision fans for his consistency with quality, too. Having said that, I fear that the song is not as captivating as 2017's Origo. Improving on an eighth place thus seems unlikely to me at this point in time. Then again, I may change my mind when I see it staged – Hungary usually comes up with decent staging.
Josef (Czech Republic)
I don't think that Joci's song is better than in 2017. For me, the song should not even qualify even though it is expected to do so. But then I would bet my money that this year's result will not beat his 8th place from Kyiv. I didn't like Origo neither but it was much better than Az Én Apám.
🇸🇲 Serhat (San Marino)
It came as quite a surprise when San Marino's broadcaster presented Turkish singer Serhat as their 2019 representative. The 54 year old singer finished 12th in his semi-final at the 2016 Eurovision Song Contest. He received 68 points and needed 134 to make it. Question is if he can make it to the final this time?
Wouter (The Netherlands)
Absolutely yes. I wasn't convinced until I woke up one morning humming the song – completely unprovoked. In all it's simplicity, it just works.
Charlotte (Denmark)
This is one of my guilty pleasures this year. It makes me want to get up and dance – and I can't help singing a long to it with a smile on my face. Admitted, musically it may not be a masterpiece, but it brings me in a good mood, and isn't Eurovision suppose to do that? I can't be the only one, so I hope – and believe – that Serhat will qualify for the final this year.
Theo (United Kingdom)
Say Na Na Na delivers quite a catchy tune actually. It's just that, while others strive to sound contemporary, San Marino sounds oddly anachronistic – not so much like 1970/80s disco as a 90s remix of 1970/80s disco! The whole thing is so unapologetically 'wrong' that could prove right though – performing last is advantageous, too. Not sure that Serhat will qualify but it would be an amusing Eurovision twist if he did.
Josef (Czech Republic)
Serhat ended at the gates of final in Stockholm and I am afraid he will not be better in Tel Aviv. But he was an outsider in 2016 and still reached respectable 12th place in the semi-final, who knows what may happen. This retro disco vibes appeals to a lot of televoters and even some jurors, so this qualification would not be such a big surprise, because first semi-final may have some of those surprises.
🇲🇰 Tamara Todevska (North Macedonia)
It's Tamara's fourth Eurovision experience, but first time as a solo singer. In 2004 and 2014 she was backing singer, and in 2008, she took part together with Rade Vrchakovski and Adrian Gaxha. The trio failed to reach the final. North Macedonia (previously FYR Macedonia) aren't blessed with many qualifications. After reaching the final in 2007, their next appearance would be in 2012 with Kaliopi – and since then, all their artists failed. Can Tamara bring the country back into the final this year?
Wouter (The Netherlands)
Maybe. It really could go either way. I expect the song to end up somewhere between a 7th and a 12th place in the semi-final. Reaching the final would be a great way for the country to celebrate their new name, so let's hope they do.
Charlotte (Denmark)
Whether or not, she will reach the final depends a lot on the performance. One can mention six or seven sure qualifiers from this semi-final, and she is not one of them. As 10 of them will reach the final, she might just still do so, but the performance will need to be spot on and her vocals 110% for her to make it.
Theo (United Kingdom)
It might do. I like Tamara and Proud's message even though the melody left me indifferent at first. Its running order could prove a mixed bag – second to last but right after the Netherlands, arguably a much stronger ballad (and thus not ideal). A lot will depend on whether the song's poignant message is communicated as effectually onstage as it is in the video.
Josef (Czech Republic)
It will be a tough quest to do so, but I believe Tamara and her song have the chance to succeed. Second semi-final is a difficult to qualify from this year, but I believe that the performance will be good enough to aim high. Tamara and North Macedonia definitely deserve to qualify this year.
🇷🇸 Nevena Božović (Serbia)
Few artists gets to represent their country at both the junior contest as well as the Eurovision Song Contest itself. This year's Serbian artist have tried both. In 2007, she came third at the Junior Eurovision Song Contest. In 2013, she was part of the trio Moje 3 that represented Serbia. They finished 11th in the semi-final and as such just narrowly missed out of the final. Will she make it this time?
Wouter (The Netherlands)
Every Eurovision final deserves a strong Balkan ballad. That fact alone should earn her a qualification. If this doesn't reach the final, I'll eat my metaphorical hat.
Charlotte (Denmark)
Unfortunately, I am not convinced. I like her voice and the song has its moments where I think that now it will really kick off. Somehow It just never delivers what I expect from it. I am left thinking that the song doesn't quite live up to its potential and that disappoints me. If others fail to impress on stage, it might just sneak into the final, but I don't see it as a sure qualifier.
Theo (United Kingdom)
The outfits must have contributed to Moje 3's undoing in 2013 – the wrong kind of 'original'. In 2019, Nevena sounds and looks better than ever. The change of style after Belarus' upbeat tune should benefit Serbia, though, had it drawn later in the running order, the ballad would probably have more impact. I expect it to satisfy those seeking a 'typical' Eurovision ballad entry so I would not be too surprised if it qualified.
Josef (Czech Republic)
A similar case as with San Marino, but this time, Nevena has bigger chances. Kruna is a powerful rock-ballad that will gather most of the Balkan and ex-Yugo votes. I think it is highly possible to see Nevena finally reach final in Tel Aviv.
Bookmaker prediction
Three of these five acts are located in the first semi-final; Hungary, Serbia and San Marino. Russia and North Macedonia competes in the second semi-final.
Current odds shows that the bookmakers believe Hungary (4th) and Serbia (8th) will be among the ten who qualifies from the first semi-final. San Marino is 13th and as such not one the bookmakers have faith in. From the second semi-final, they believe that both Russia (3rd) and North Macedonia (9th) will make it.
Rehearsals in Tel Aviv starts Saturday morning. They will affect odds just as they might affect our opinions. A lot can be gained or lost depending on the performance.