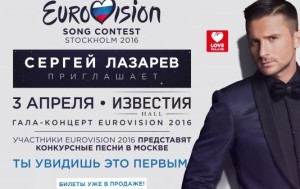 After last night's first 2016 preview party, Moscow is second stop on the tour. 12 of this year's participants will appear on stage tonight warming up the Russian audience and the international fans who made it there.
April is an extremely busy month for the Eurovision artists, and this year is no exception with even more and larger preview parties taking place. Last night, the first of them was held in Riga, Latvia with 10 participants + the 1984 winners Herrey's on stage, and tonight four of the ones from Riga will be on stage in Moscow joined by another six of their competitors for Stockholm next month.
The 2016 participants appearing at the Moscow preview party are:
Armenia: Iveta Mukuchyan
Azerbaijan: Samra
Belarus: Ivan
Cyprus: Minus One
Israel: Hovi Star
FYR Macedonia: Kaliopi
Malta: Ira Losco
Moldova: Lidia Isac
Romania: Ovidiu Anton
Russia: Sergey Lazarev
Spain: Barei
Switzerland: Rykka
In Moscow, they start the party at 19.00 local time, 17.00 CET.
Test your knowledge about these 12 participants in the series of quizzes below. If you do well, don't forget to brag about your result.
Iveta Mukuchyan (Armenia 2016)
In which country did Iveta Mukuchyan grow up? Take this quiz to find out if you know that and other questions about her.
Samra (Azerbaijan 2016)
When did Samra take part in the Azerbaijani national selection in the past? Check your knowledge about Samra in this quiz.
IVAN (Belarus 2016)
Which former Eurovision entry was written by the same composer as who wrote IVAN's entry? Check the answer in this quiz.
Minus One (Cyprus 2016)
Minus One took part in last year's Cypriot Eurovision selection, but with which song? Check your knowledge about the band in this quiz.
Hovi Star (Israel 2016)
Which reality show did Hovi Star compete in before Rising Star for Eurovision? Check the answer in the quiz.
Kaliopi (FYR Macedonia 2016)
How many times do the word "Dona" appear in the lyrics of the chorus of her 2016 entry? Take the quiz!
Ira Losco (Malta 2016)
Do you know what Ira Losco do just before she goes on stage? Check your knowledge about Ira Losco in this quiz.
Lidia Isac (Moldova 2016)
Which musical instrument did Lidia learn to play? This quiz will show you how much you know her.
Ovidiu Anton (Romania 2016)
How was Ovidiu Anton chosen to represent Romania at the 2016 Eurovision Song Contest? Take the quiz to prove your knowledge about him.
Sergey Lazarev (Russia 2016)
Whats the name of the band Sergey founded at the age of 17? This quiz will test your knowledge about the Russian representative.
Barei (Spain 2016)
Which famous artist influenced Barei? Check if you are right in this quiz.
Rykka (Switzerland 2016)
Under which name did Rykka start her career of a folk artist? Check your knowledge in this quiz.
A playlist with the official videos for all the acts appearing at the Moscow preview party 2016 can be seen below. Watch them all, or skip straight to your favourite song.