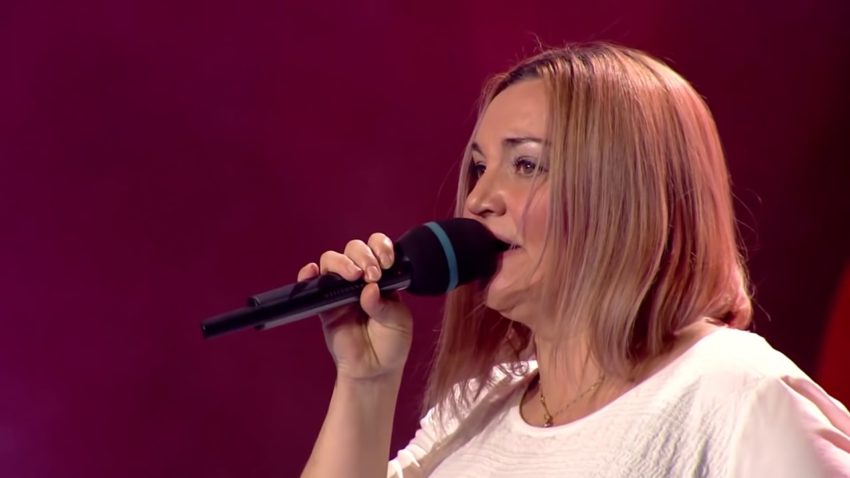 Tonight, Romania continued their search to find their representative for the Eurovision Song Contest 2018. This week, three more contestants will join the previous weeks nine choices in the final.
The final of the Selecția Națională 2018 for Romania will be held on February 25 in Sala Polivalentă in Bucharest. For now, heat four of five takes place in Salina Turda salt mine.
The Hosts
Our hosts for all six shows are Diana Dumitrescu and Cezar Ouatu. Both hosts are doing very well but we are still waiting for Cezar, who represented Romania in 2013 with It's My Life, to burst into song. The green room was hosted by Loredana Corchiș, who kept events ticking over backstage.
The Show
The show was opened by the operatic act, Ad Libitum and Katia Cărbune.
The interval act was the highlight of tonight. A flame-haired, Elena Gheorghe gave a performance of her 2009 entry The Balkan Girls as part of her interval act. She also sang Disco Romancing, Amar Tu Vida, Perna Mea, Jumatate, Soarele Meu, Vocea Te, Până La Stele, Ecou, Mamma Mia and Midnight Sun. The Latin and flamenco inspired mini-concert featured a full show band. Elena was also accompanied by two female dancers. With four costume changes, it was over too soon.
The Songs
Bernice Chitiul – Too Busy for My Heart
It sounded as if this would be a bit of a dance song, but it loses its direction right after the introduction. With at least ten tunes and every possible note in the musical scale used, it was hard to grab where this was going. Bernice wore a flashy aqua blue dress and was accompanied by four school girl type backing singers.
Cristian Simionescu – Nirvana 
This starts out as a euro disco number. Made for dancing although Cristian didn't move about much. White shoes and a blue suit was the outfit of choice. A turning wheel flashing out a sunset featured on the back wall. Very eighties but needed more punch to be memorable.
 Nicoleta Țicală – Una oportunidad
Visually this was the most appealing of the evening. However this would struggle to qualify in the seventies, so should flounder tonight too. The piano doesn't really help the song that much. A very bland tune all the way through. Nicoleta was in a lacy red dress, with three backing female vocalists, in matching black lacy nightgowns.
ZØLTAN – Dacă dragostea e oarbă
ZØLTAN and his two-piece band should learn to smile a bit more. With a slow song performed with two guitars and a drum, the group looked as if they were totally bored with the whole thing. Ironically their black and white video wall attempted some humour with a large cuddly bunny causing mishaps everywhere it went.
Alice Jeckel – Out of the Dark
A lady with a very good stage presence. The song has a pounding piano playing throughout. As each instrument is introduced the song gets louder and louder. This was a very strong entry although Alice did miss a few notes. Backed by an all-female backing band, including a long-haired blonde guitarist.
Dan Manciulea – Rază de soare
Dan stood and played his guitar to a song with a little sound of the Andes influence.  A tapping wood block kept time. Again not a lot of movement, but sung well enough. A strong voiced male singer added harmony in the background.
Lion's Roar – Rekindle the Flame,
Described as symphonic metal this six-piece band are exactly what the judges are loving this year. So this should have nothing to worry about. Of course, it's a load of nonsense that no other country would dare to enter. Sure enough the judges are praising it wildly. Hey, since its Romania, its OK.
Ioana Ciornea – Time After Time
You can't go wrong with a song with that title. A nice beginning with the verses leading into a memorable chorus. Pipes add some extra class to the song.  Violins are added to the end of the song, and with searing singing at the end, another good one, the judges will likely ignore.Ioana wore a long flowing cream coloured dress, to match her hair.
TIRI – Deșert de sentimente
TIRI had the hair of the evening, which made you pay a bit more attention. However, the song was another slow thing, although TIRI was quite powerful as a singer. A mournful violin played all the way through akin to something the Balkan countries are prone to send. Two dancers filled up the stage, while a female backing singer helped the song along.
Feli – Bună de iubit
A jungle beat stays throughout this song. The drum never changes its rhythm and Spanish influences abound. One for wiggling around the room to, Feli enjoyed dancing to it and the right moments. Three other backing vocalists swayed in rhythm.
Paula Crișan – I Am Here
Another very good female singer. A slow ballad typical of some of Albania's past entries. In fact, it could be Eneda Tarifa with dark hair. The chorus has a good hook which adds a little depth to the song. Nothing amazing but nothing to dislike about it either.
Claudia Andas – The One
Starting quiet, Romania's very own Claudia Faniello belts out her song. This Claudia puts every ounce of her emotion into this song. Every note is heartfelt and you get sucked in. One of the best in this year's Romanian selection, which with these crazy judges will likely doom it. Four backing singers accompanied Claudia.However, it does have a rather cheesy twist at the end.
The Judges
There has been some mention that the judges are not picking the correct songs to go to the final. These are the five people responsible. Tonight Marian seemed thoroughly bored. Ilanca was more concerned with staying warm.
Liliana Ștefan who wrote the 1998 Romanian entry Eu cred by the late Mălina Olinescu.
Viorel Gavril a famous composer and conductor.
Ilinca Băcilă the Yodel It Romanian singer from last year.
Nicu Patoi who accompanied Mălina Olinescu on the guitar at the Eurovision 1998.
Marian Ionescu member of the band Direcția 5.
The Results
| | | | | | | | |
| --- | --- | --- | --- | --- | --- | --- | --- |
| | Liliana | Viorel | Ilinca | Nicu | Marain | Total | Position |
| Bernice Chitiul |  2 | 3 |  3 |  3 | |  11 | 10 |
|  Cristian Simionescu | | | | | | 0 | 12 |
| Nicoleta Țicală | 7 | 10 | 6 | 7 | 10 | 40 |  4 |
| ZØLTAN | 1 | | 4 | 1 | 6 | 12 | 8 |
| Alice Jeckel | 3 | 1 | 2 | 4 | 2 | 12 | 9 |
| Dan Manciulea | | 2 | | | 1 | 3 |  11 |
| Lion's Roar | 6 | 7 | 5 | 6 | 5 | 29 | 5 |
| Ioana Ciornea | 5 | 4 | 7 | 5 | 3 | 24 |  6 |
| TIRI | 10 | 5 | 12 | 8 | 8 | 43 | 2 |
|  Feli | 8 | 8 | 10 | 10 | 7 | 43 | 3 |
| Paula Crișan | 4 | 6 | 1 | 2 | 4 | 17 | 7 |
| Claudia Andas | 12 | 12 | 8 | 12 | 12 | 56 |  1 |
Romania At The Eurovision Song Contest
Another country with 100 percent qualification rate since semi-final introduction, it is safe to say despite the judges, Romania likely will be in the 2018 final.
Romania was riding high in 2010 when Paula Seling and Ovi took Playing With Fire to 3rd place. With a slight dip out of the top ten in the next three years, Paula and Ovi were sent back for another attempt in 2014. However, the song Miracle didn't quite connect with the audience so much and it finished in 12th place.
Romania's track record is 6 top 10 results, and another 10 songs making the top 20.
Listen to the winning song Claudia Andas, The One below