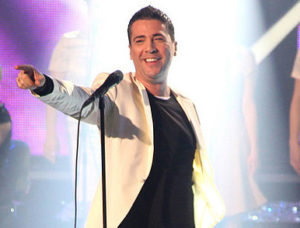 Back in 2006 they co-worked on the song "Lejla", performed by Hari Mata Hari, which gave Bosnia and Herzegovina their best result in the Eurovision Song Contest ever, finishing third. Now Željko Joksimović and Fahrudin Pecikoza are back with a new song – a beautiful ballad – just in time for Valentines Day. 
One of the most famous names in the Eurovision Song Contest in modern time, Željko Joksimović, released today a new song titled Možda Je To Ljubav, which translates to 'Maybe It Is Love' in English. The song is written by Fahrudin Pecikoza, who together with Dino Merlin wrote Bosnia and Herzegovina's first Eurovision entry as an independent country – Sva Bol Svijeta – back in 1993. Pecikoza also penned Lejla in 2006 as mentioned above. 
Možda Je To Ljubav is a classic Balkan ballad about being unhappy in love. It is a song about how difficult it can be to go on with your life after a relationship break up – especially if you can't get your ex partner out of your head as you still hope that you can win her or him back. 
Željko Joksimović in the Eurovision Song Contest
Željko Joksimović debuted in the contest back in 2004 in Istanbul, when he represented Serbia and Montenegro. He finished 2nd with his song Lane Moje.
In 2006 he composed Bosnia and Herzegovina's entry Lejla – performed by Hari Mata Hari – which finished 3rd. In 2008 he wrote the Serbian entry Oro, which was performed by Jelena Tomašević. The song came 6th in the grand final.
Joksimović returned to the Eurovision stage as an artist in Baku in 2012. He performed the song Nije Ljubav Stvar, which he also composed, and scored a 3rd place. In 2015 he co-wrote and composed Montenegro's entry Adio. Knez, who performed the song, finished 13th, which is Montenegro's best result in the contest.
You can listen to Željko Joksimović's latest release in the video below: