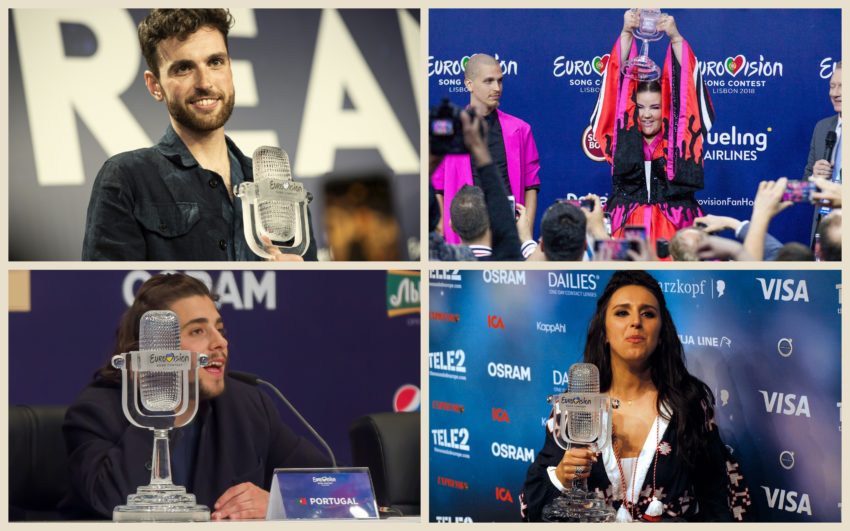 In recent years, most winners have been deeply engaged with the song they were performing. They either wrote the song, had it written specifically for them – or otherwise managed to take it in so much that it became their song.
Last night's Dutch winner, Duncan Laurence, wrote his song Arcade himself. The song tells a very personal story. He was deeply in love, the girl shared his feelings, but before they could get together she tragically died. His sorrow brought him to write Arcade. Both TV viewers and juries felt it to such a degree, that he today can travel home to the Netherlands with the Eurovision trophy.
Such a personal story works well in general, and at Eurovision in particular. Recent winners have all been engaged in their songs one way or another. They do more than just get on a stage to sing a song handed to them.
2018 winner Toy was not written by Netta, but by Doron Medalie and Stav Beger. They wrote the song to Netta with her girl power attitude in mind. As they started to write, Netta had not yet won the national selection process, where each participant sang cover versions, but they were fascinated by her and knew that no matter what happened, this would be a song for her.
Toy's #MeToo theme fitted perfectly with Netta. It became her song.
When Salvador Sobral in 2017 brought Portugal their first ever Eurovision victory, it was also with a personal song. Amar Pelos Dois is written by Luísa Sobral, Salvador's sister. On invitation from broadcaster RTP, she wrote the song for the national Festival da Canção selection. Right from the beginning this song had been a joined project between the two of them. Luísa wrote the song, Salvador performed it.
That they were equally involved was also seen when she appeared at Eurovision as stand-in for Salvador. His health issues prevented him from taking on the many rehearsals in the first week of the contest. Luísa was stand-in – and after Salvador's victory, they took the stage together and performed the song as a duet.
Whether or not 1944 was too political for the Eurovision Song Contest, we won't go into here, but the song certainly was personal. On several levels indeed. The song was written by Jamala herself and tells the story about the deportation of the Crimean Tatars. Jamala was inspired by her grandmother's story, who was one of the deported ones. Without it being a direct topic in the song, Jamala told that it also reminded her of the current situation in Crimea where she still has family.
Arcade, Toy, Amar Pelos Dois and 1944 are not only Eurovision winners from the past four years. They are all very personal. Maybe that is something to be inspired by for the countries still struggling to get it right at the Eurovision Song Contest. A personal connection to the song sells. If you are a singer and songwriter, consider writing a song that is personal to you, and perform it yourself as only you can do as it is your story. If you are a songwriter, finding a singer that can sing the song is one thing. Finding a singer who can make it THEIR song is something else. If you get it right, you might just win the 2020 Eurovision Song Contest.
While you may not win the Eurovision Song Contest on a personal connection alone, the lack of one would almost certainly achieve the opposite.
You might also want to read:
This reflection article is based on the author's own personal experience. Views expressed belongs to him or her, and are to be seen as unrelated to EuroVisionary.com.