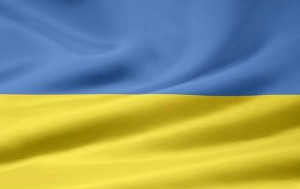 With a publication from EBU saying that the Ukrainian broadcaster UA:PBC may have to close down by the end of April this year, it is suddenly unsure whether or not Ukraine can actually take part at the 2018 Eurovision Song Contest.
According to schedule, Mélovin will represent Ukraine at this year's Eurovision Song Contest with the song Under The Ladder, but now, that might not happen.
Today, the European Broadcasting Union, EBU released a statement saying that the Ukranian broadcaster could be forced to close down by the end of April this year due to financial difficulties. They don't mention how this could affect the Ukrainian participation, but as it is member broadcasters who take part, it could mean that there is no one present to represent Ukraine this year.
Back in 2016, Romania's Eurovision participant was disqualified from the contest with just a few weeks to go, as the broadcaster had depth to EBU, which they couldn't pay. That brought the number of participants down from 43 to 42, just like it happened last year when Russia withdrew from the contest.
Last year when Ukraine hosted the Eurovision Song Contest, things were problematic and not just in relation to Russian withdrawing. Money did play a big part in the Ukrainian preparations. Check our timeline below:
Timeline of events
14th May 2016 – Jamala was crowned the winner of the Eurovision Song Contest 2016. Her song 1944 placed second in both the jury and the televote. However, combining these scores together it scored more points than Dami Im's Sound of Silence  and was declared the winner of the competition.
22nd July 2016 – Out of the six cities that had expressed an interest to host the contest, just three were shortlisted. These were Kyiv, Dnipro and Odessa.
27th July 2016 – The date when the host city was to be confirmed. However, this was delayed due to concerns about suitable venues.
9th September 2016 – After three sets of delays and a war of words between officials from Kyiv and Odessa, Kyiv was finally selected to host Eurovision in 2017.
 1st November 2016 – Things were thrown into even more dispute in October when Zurab Alasania, Director General of the NTU resigned over budget concerns.
4th November 2016– Following Albania's resignation just days before, it was expected that his deputy and head of delegation Victoria Romanova would step into his shoes. However Yevhen Nyschuk, Ukraine's Minister of Culture stepped in and took over the responsibility of organizing the contest.
14th November 2016 – A key press conference with the EBU was cancelled. The cause of cancellation was due to severe and unexpected snow fall in the capital. Some felt this was a tactic delay as even though there were some cancelled flights, public transport was back up and running within a couple of hours. The press conference took place the following day.
27th November 2016 – Oleksandr Kherabin, Acting Director General at NTU announced that the EBU may decide to take the 2017 contest away from Ukraine.
1st December 2016 – The executive producers of the contest were announced by the EBU. These were confirmed to be Victoria Romanova, Aleksandr Kherabin, Stuart Barlow. Denis Bloschinskiy was announced as the local event manager.
4th December 2016 –  An anonymous member of the reference group spoke to German newspaper Bild. It was reported that the contest could be moved to Russia if Ukraine can not handle the preparations.
5th December 2016 – The 2004 Eurovision winner Ruslana and Prime Minister of Ukraine Volodymyr Groysman hit back at the 'propaganda' and stated that Ukraine are ready to host Eurovision.
7th December 2016 – It was reported that the EBU were in negotiations with Ukraine to reverse the decision to 'black list' certain Russian artists to enter Ukraine.
8th December 2016 – The European Broadcasting Union announced that Ukraine will host the Eurovision Song Contest in 2017.
30th of December 2016 – NTU signed contract with Eurovision host venue.
10th of February 2017– NTU Eurovision Core Team informs EBU about their decision to resign.
13th of February 2017– The decision from the NTU Eurovision Core Team is publicly announced.
22nd of March 2017 – Ukraine refuse to give Russian participant Julia access to Ukraine.
13th of April 2017 – After a drama back and forward, where EBU tried to negotiate a compromise, Russia withdrew from the 2018 Eurovision Song Contest.
12th of June 2017 – the interval acts such as former winner Ukraine had not yet received payment for their interval act performances.
29th of June 2017 – EBU sanctions Ukraine with a heavy fine. No sanctions towards Russia.
30th of June 2017 – Ruslana and the other interval acts finally recieve their payments.
Statement from UA:PBC
Ukrainian broadcaster says on Twitter that they continue their preparations, but they acknowledge the difficulties they face by stating that their future depends on the government being able to finance them. In a later statement they add that the current situation isn't related to their participation. We'll wait and see what will happen.
UA:PBC is continuing all the preparations for the Eurovision Song Contest. The latest news aren't related with our participation in the contest.

— UA:Eurovision 🇺🇦 (@uapbc) March 6, 2018
We are continuing all the preparations for the Eurovision Song Contest. And we're not going to withdraw! ☝🏻
But the entire future of UA:PBC depends on the government's financing of the broadcaster.

— UA:Eurovision 🇺🇦 (@uapbc) March 6, 2018