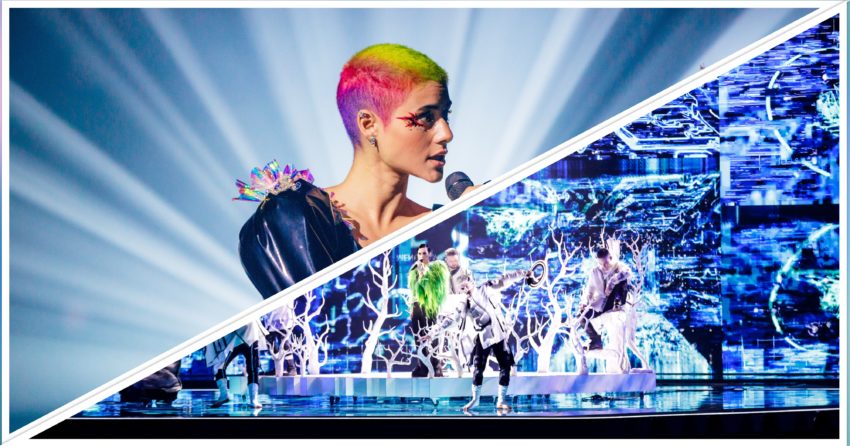 Only two countries are left with a 'perfect strike'. This means that they have always managed to qualify from the semi-finals to the final. Can the 2021 Eurovision Song Contest change that?
Going into the 2018 Eurovision Song Contest a total of five countries had a perfect strike. After the first semi-final, only four was left as Azerbaijan for the first time ever didn't advance to the final. Two days later, the same faith happened to Russia and Romania leaving only two countries with a perfect strike; Ukraine and Australia. Both countries still hold that, but question is, will they also have it after the 2021 contest?
Both countries will compete in the first semi-final on Tuesday the 18th of May. As such, we know the result to both of them in just a few days.
Ukraine's recent semi-final journey
In the past ten years Ukraine has never really actually been in danger of not reaching the final. Their worst semi-final result in this period is an 8th place from the second semi-final in 2012 where Gaitana represented the country with the Be My Guest. She received 64 points and had quite a bit of margin down to Bulgaria in 11th place and just outside the ten qualifiers. Bulgaria's Sofi Marinova finished with 45 points. That's the same amount of points as Tooji, representing Norway, in 10th place.
Mélovin (2018) and Mika Newton (2011) both finished 6th in their semi-finals. In 2016, when Jamala won for Ukraine with the song 1944, she had come second in her semi-final. Zlata Ognevich had finished in 3rd place in her semi-final in 2013, and that was also to be her result for the final.
Just before rehearsals started for this 2021 Eurovision Song Contest, Saturday the 8th of May, Ukraine was by the bookmakers tipped 9th. As such, just within the qualifiers. During the rehearsals, Go_A have however impressed with one solid performance after the other. As a result, they are now 4th with the bookmakers. Of course, these can be wrong, but right now, it appears the most logical conclusion that Ukraine will keep their perfect strike after this year's Eurovision Song Contest.
In the video below, you can watch a clip from Ukraine's second rehearsal. This was done with a stand-in for lead singer Kateryna Pavlenko, who was awaiting the result of a PCR test.
Australia's recent semi-final journey
In their Eurovision debut in 2015, which was supposed to be a one-time-participation, Australia was pre-qualfied for the final. When they returned the year after, they had to compete in the semi-finals like all others none Big 5 acts. It has never been an issue whether Australia would qualify. They have always been rather safe to do so.
Both in 2016 and in 2019, the participants from Australia actually won their semi-finals. Eventually, Dami Im finished 2nd in the final behind Jamala in 2016, while Kate Miller-Heidke only finished in 9th place in 2019. In 2018, Jessica Mauboy came 4th in the semi-final with the song We Got Love and in 2017, Isaiah Firebrace achieved the so far worst Australian semi-final result with his 6th place.
As the rehearsals for the 2021 Eurovision Song Contest started, Australia was 13th with the bookmakers to qualify for the final. Now that all regular rehearsals are over and some countries have gone up and down, Australia is still 13th. If that result remains, the country will lose their perfect strike.
In the video below, you can hear Australia's best result to date, Dami Im's second place in 2016 with the song Sound Of Silence.