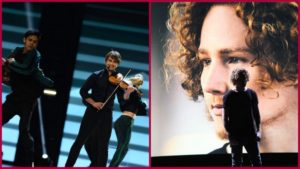 The representatives from Norway and Germany respectively that they know the songs from their Eurovision competitors. While Alexander Rybak added his very own violin touch to five entries, Michael Schulte sang a medley of nine of this year's Eurovision entries.
By interaction on the pre- party tour, on their social media and even through homages that some pay to others, Eurovision participants usually only show healthy competition and no big rivalry. In the past few days, Alexander Rybak – Norway's representative – and Michael Schulte, this year's German act, have proved that.
Through YouTube, the 2009 Eurovision Song Contest winner uploaded a video of what he called an "Eurovision 2018 Violin Jam". In this compilation of moments, Rybak played the violin to five of this year's competing songs: The Netherlands, Croatia, Portugal, France and Australia. In the comments of the video, Alexander stated: "Some Eurovision songs are so irresistible for the violin that I can't keep my hands off them." In the same comment, Rybak asked the viewers to let him know which jam they liked the most.
Going acapella, Michael Schulte, this year's Germany representative, covered nine of this year's competing songs. Maybe to avoid singing in a foreign language in fear of getting the words wrong – something Saara Aalto wasn't scared of – Michael decided to only cover songs in English: his own, Bulgaria, Austria, Australia, Sweden, Czech Republic, Denmark, Finland and, of course, Israel.