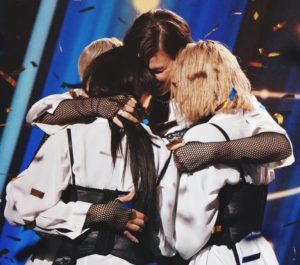 Things haven't been easy for the Ukrainian broadcaster this year and today the broadcaster announced that the coming contest in Tel Aviv will be without a Ukrainian participant. This comes after a scandalous national final where hot favourite Tayanna withdrew, Maruv won, but was too Russian friendly and finally several other artists said no to take her place.
Maruv won the democratic voting in this year's Ukrainian national final. During the show, the broadcaster announced that they remained the right to reject the result – and afterwards they presented the winner with a set of rules, she was unable to accept. She felt she  was forced to withdraw due to her relationship to Russia. She was simply too Russian friendly.
It's easy to blame the broadcaster here as it is unacceptable to have a democratic voting and then change things when you realise that your population might vote for 'the wrong one. While the broadcaster didn't handle that very well, it's however also needed to understand that Ukraine is at war with Russia. They have a part of their country occupied by Russia, and from that perspective it is understandable that they don't feel that an artist who earns money by performing for the occupying power can represent them at the Eurovision Song Contest. They want to be sure that the artist representing them is totally loyal towards Ukraine, and against the Russian occupation. This is in particular seen as needed with a national election coming up very soon, and a political climate where you are either 100% loyal to Ukraine or seen as an enemy which can't be trusted.
Maruv got into the national selection in Ukraine as Tayanna withdrew for unknown reasons. Why the broadcaster selected Maruv if they couldn't live with her winning, is an open question which probably won't be answered, but the singer took the Ukrainian population by storm and won both her semi-final as well as the final. As she then couldn't go to Eurovision, TV stations around the word had their Ukrainian based correspondents report about a national Eurovision selection instead of war and politics! This wasn't pretty to watch.
As it stood clear that Maruv would not represent Ukraine at the 2019 Eurovision Song Contest, broadcaster UA:PBC first asked Freedom Jazz, who finished second in the national final, to accept the offer instead. They declined, and afterwards third place KAZKA also refused. Brunettes Shoot Blondes in 4th place rejected too – which meant two acts from the national selection were left: A band with one who has Russian citizenship and twin sisters whose parents live in Crimea and are politically active – for the Russian side! In the national final the one with Russian citizenship were asked if she was willing to give up her citizenship to become Ukrainian and the twins were asked to take a clear stand against their parents and their political views.
The broadcaster held a meeting today which then resulted in Ukraine withdrawing from taking part at the 2019 Eurovision Song Contest. Thereby they follow what Russia did in 2017 after selecting an artist which Ukraine – as host country – refused to give access to. The drama between Ukraine and Russia back then took quite a while, and EBU tried to negotiate a solution, but failed.
Before coming to the conclusion that it was best to withdraw, the broadcaster showed their total desperation (and lack of a communication consultant!) when they made a Facebook poll asking if people thought "it was worth it" to still seek participation or if they should withdraw. Thereby the showed total lack of judgement.