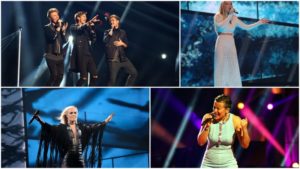 First semi-final saw Finland and Iceland kicked out, and in tonight's second semi-final, Norway and Denmark suffered the same faith. Only Nordic country represented in the final is Sweden, which as host country can praise themselves lucky they are automatically qualified for the final.
In Sweden they are probably happy that they as host country is guaranteed a spot in the final, as this year's Eurovision Song Contest can well be described in four words: A true Nordic massacre.
Finland and Iceland were kicked out in the first semi-final, and tonight's second semi-final saw Norway and Denmark not qualifying either.
Lately the Nordic countries have been doing quite well, and it has never happened before that we only had one or none Nordic country in the final. What do you think – is it well deserved that they are all out?
Check the performances of Finland, Iceland, Norway and Denmark who were all kicked out, in the playlist below: