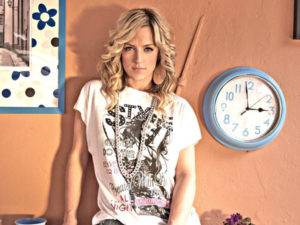 Serbian National Public Broadcaster, RTS (Radio Televizija Srbije), has just announced, that Tijana Bogićević will represent them at the Eurovision Song Contest in Kyiv. The decision was made by the music editors working within RTS.
Tijana Bogićević is 35 years old and born i Novi Sad. She started her music career in 2001 as the backing vocalist for the famous Serbian singer Vlado Georgiev. Since then she was working together with many musicians from Serbia as the backing vocalist.
Tijana's first appearance as a solo artist took place in 2009, when she participated in the Serbian selection for the Eurovision Song Contest called Beovizija. Tijana already has experienced the atmosphere of Eurovision as she was one of the backing vocalist for Serbia's Nina in 2011 in Düsseldorf. For the moment she lives and works in the United States in Boston.
Beside the name of their entrant RTS has also revealed the team, that had written the Serbian entry for Kyiv. Their names are Borislav Milanov, Bo Persson, Johan Alkenas and Lisa Ann-Mari Linder. They were a part of Conchita's winning team in 2014 in Copenhagen. Furthermore it is the same composer team, that wrote If Love Was A Crime, which was performed by Poli Genova last year in Stockholm. The song came in 4th place in the final becoming the highest placing in the contest for Bulgaria.
It is still unknown when this year's Serbian entry will be presented for the public. This year the country will participate in the second semi-final, which is scheduled on May 11th. While waiting you can watch Serbia's performance from last year, when Sanja Vučić finished 18th in the final with the song Goodbye (Shelter):