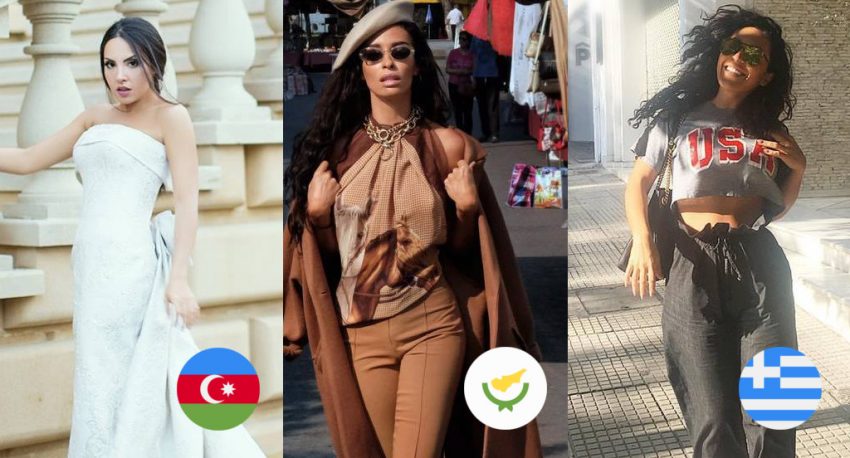 Azerbaijan, Greece and Cyprus are the three countries which this year take part with a Greek, or partly Greek written song. We take a closer look at Aisel, Eleni Foureira and Yianna Terzi. Who of them will bring home the best result from the contest in Lisbon?
This year, three countries are coming to the Eurovision Song Contest with a song written by Greeks – and all three will be performed by ladies. Who of them will do best? Once we have looked at little bit at their entries, we'll ask that question.
Greece
Things didn't go as planned this year for Greece. A national selection was planned with five acts. As two were quickly pulled out of the competition, only three was left. And then, another two were disqualified leaving Yianna Terzi as the only act left. With no competitors for her, the national final was dropped, and she selected as the Greek participant.
Yianna is 37 years old. She wanted to follow in the footstep of her dad, singer Paschalis Terzis. Her first album was released in 2006, the second one in 2008, but then things led her to United States putting her own music on hold, working as talent scout for a record company. Now she is back in Greece representing her country at the Eurovision Song Contest.
The Greek entry, Oniro Mou (My dream) is written by Terzi herself along with Aris Kalimeris, Dimitris Stamatiou, and Mihalis Papathanasiou.
Cyprus
It wasn't easy either for Cyprus to find their 2018 participant. At first, the broadcaster signed a contract with Alex Papaconstantinou to write a good song for them. Then, they began searching for the right singer. That wasn't easy as the first two asked said no. Finally Eleni Foureira said yes.
31 year old Elini is born in Albania, but the family moved to Greece due to the civil war in their home country. In Greece, her music career started. First, in the girl group Mystique, which she left after two years to kick off her solo career. In 2010, she took part in the Greek national selection, where she finished second. She is the fourth Greek singer to represent Cyprus at the Eurovision Song Contest.
Fuego, Elini's Eurovision entry, is written by Alex Papaconstantinou (Alex P), a Greek-Swedish songwriter and producer. It's Alex's fourth Eurovision entry, also having written Yassou Maria (Greece 2007), Always (Azerbaijan 2009) and La La Love (Cyprus 2012).
Azerbaijan
For the 2018 Eurovision Song Contest, Azerbaijan internally selected Aisel to represent them. The announcement came back in November 2017 where Azerbaijan were the third country to present their artist, but it wasn't until early March, the song was released.
Aisel, with the birth name Aysel Mammadova, is a 28 year old singer mainly known for singing jazz and a bit of soul. She is local, being born in Baku and is trained at the Azerbaijani State Conservatory.
The song which Aisel will sing in Lisbon is titled X My Heart, with X pronounced as 'cross'. It's written by Greek Dimitris Kontopoulos and Swedish Sandra Bjurman. Both have previous Eurovision experience. Dimitris co-wrote the Russian 2016 runner-up entry You Are The Only One performed by Sergey Lazarev. Sandra can write Eurovision winner on the track list, as she was one of the two Swedish songwriters behind Azerbaijan's 2011 winner Running Scared.
Poll
Azerbaijan, Greece and Cyprus are all taking part in the first semi-finals of the 2018 Eurovision Song Contest. Currently, the bookmakers only believe in Greece and Azerbaijan to reach the final, but we are still more a month away from the rehearsals in Lisbon to start, so anything can still happen.
Who of them do you think will bring home the best result from Portugal?