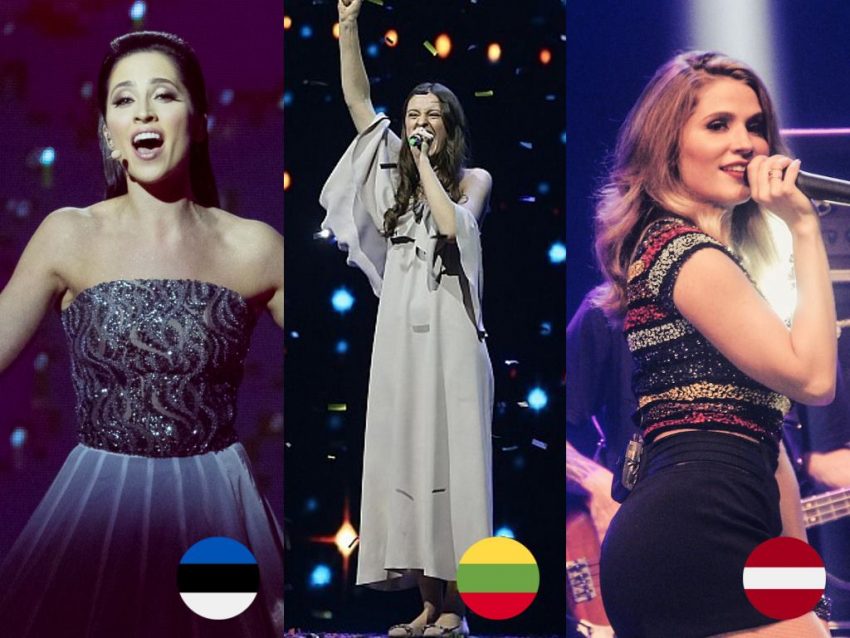 Laura Rizzotto, Elina Nechayeva and Ieva Zasimauskaitė. Those are the names of the three female singers who will each represent their Baltic country at the 2018 Eurovision Song Contest. Who will bring home the best result to their country?
The three Baltic countries, Estonia, Latvia and Lithuania, have all chosen a female singer to represent them at this year's Eurovision Song Contest. We take a closer look at the entries, and then we ask you – which of them will do best in Lisbon, Portugal in May.
Estonia
On the third of March, Estonia selected their Eurovision participant. Through two semi-finals, a total of ten entries had made it to the final of Eesti Laul 2018. With 70% of the votes, Elina Nechayeva won a landslide victory with 2015 Eurovision participant Stig Rästa as runner up.
26 year old Elina is a soprano singer from Tallinn, Estonia. She has a master degree from 2016 in classical singing from Estonian Academy of Music and Theatre. Where many after winning a national selection goes on to hosting it, she went the other way being one of the hosts of the 2017 edition of Eesti Laul.
Elina's winning entry La Forza is written by Ksenia Kuchukova, Elina Nechayeva, Mihkel Mattisen and Timo Vendt. The last two have previous Eurovision experience as Mattisen also wrote Et Uus Saaks Alguse (Estonia 2013) while Vendt wrote Amazing for Tanay (Estonia 2014).
Latvia
For the fourth time, Latvia used Supernova as their method for choosing their Eurovision participant. After three preliminary heats, they had reached the final on the 24th of February. A jury of music professionals and public voting crowned Laura Rizzotto as winner.
Laura Rizzotto is 23 years old is quite international being born in Brazil, grown up in the US by a father who is Latvian and Brazillian, and a Brazillian mother of Portuguese descent. Laura has a degree in Musical Art from California, and last year, she earned a master degree in music from Columbia University in New York.
The title of Laura's Eurovision entry is Funny Girl, and she wrote the song herself.
Lithuania
After six heats, an online wildcard rounds and two semi-finals, Lithuania reached the end of a long selection process on the 11th of March where the final took place. The jury points placed Jurgis Brūzga ahead of Ieva Zasimauskaitė, but as tele voting placed Ieva first and Jurgis only fourth, it will be Ieva representing Lithuania at the 2018 Eurovision Song Contest.
Ieva is 24 years old, and for her five is now the magic number, as it wasn't until her fifth attempt she finally won the Eurovision ticket. She also tried out in 2013, 2014, 2016 and 2017. Though music has always been a part of her life, she has a bachelor degree in Hotel Management from International School of Law and Business in Vilnius.
When We're Old, that's the title of Ieva's entry. It is written by Vytautas Bikus.
Poll
Estonia and Lithuania will both compete in the first semi-final, while Latvia has been allocated a place in the second semi-final. All three countries naturally hope to win a spot for the final on the 12th of May. But which of the three entries do you think will do best?