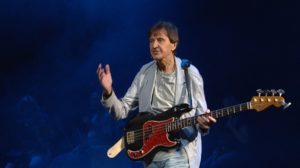 His Eurovision entry is a classic, one of those fans across the world still remembers and sing a long to. Today came the sad news from Norway that Sverre Kjelsberg passed away at the age of 69. 
Sverre Kjelsberg might not be a name that sounds all that familiar to Eurovision fans abroad, but the title of his 1980 Eurovision entry, together with Mattis Hætta, Samiid Ædnan will ring a bell at many. It finished 16th out of 19, but is today considered a classic.
The sad news about his death came today after the family had been unable to get in touch with him and he didn't show up to a family gathering. To NRK his sister Elisabeth Kjelsberg says that Sverre previously was cancer diagnosed, but that he was cleared of it last year. She has no idea about the cause of the death, but adds that "It happened suddenly and came as a chock to all of us. We are in deep sorrow".
Aside from his Eurovision entry, Sverre was known for the band The Pussycats where he was bas player and vocalist. The band became one of the biggest in Norwegian pop and rock history in the 1960's and has also been mentioned as the ones who first brought Norwegian music out of Scandinavia. NRK journalist and author Per Kristian Olsen knew Sverre on and off stage and he says about him: "He was an incredible generous person, a big and friendly man who was kind and paying attention to people around him. He was great company and a lot of people are sad about his death. He became my friend, and I am very sad about it".
In the video below you can see him in his 1980 Eurovision entry Samiid Ædnan:
EuroVisionary sends our condolences to Sverre's friends and families.