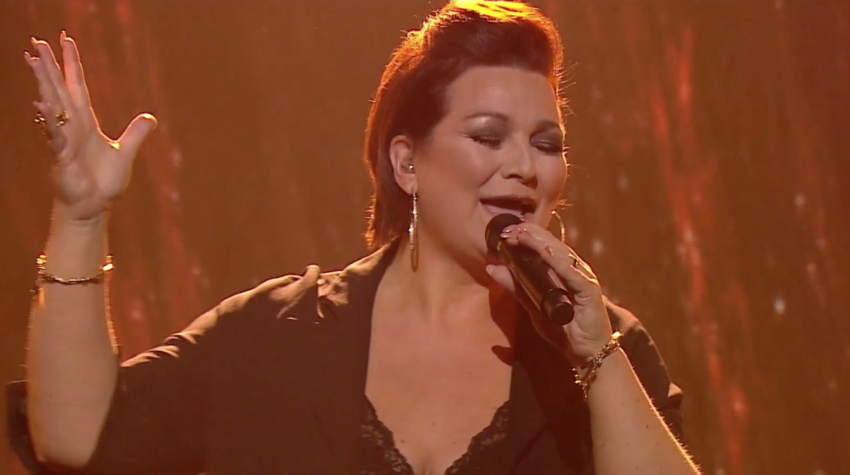 Tonight kick started Söngvakeppnin; Iceland's national selection for the Eurovision Song Contest. Five acts presented their entries and two made it to the grand final.
This year, 10 songs, as opposed to the regular 12, are taking part in Söngvakeppnin. The goal: to represent Iceland at the 2019 Eurovision Song Contest in Tel Aviv next May. Tonight, 5 of those entries competed for the goal and 2 very happy entrants are one step closer to that goal as they move forward to the grand final on March 2nd.
The first semi-final which aired lived on Saturday evening had one returning Eurovision contestant into the pool of hopefuls. Hera Bjork represented her country back in 2010. Also gathering a lot of attention tonight was band Hatari, a metal band that self-describes itself as a " multimedia performance project which aims to unveil the relentless scam that is everyday life". Imsland was a contestant on the 2016 edition of The Voice of Iceland, which explains why her song was written by 2017 Iceland representative Svala Björgvinsdóttir who was also a judge on the competition show. Daníel Óliver is another artist with experience with the Icelandic national selection. In 2015, he entered with his then band Cadem with the song Fyrir Alla (For Everybody). Finally we have Kristina Skoubo, who took part in 2017 as a duet with Páll Rósinkranz with the song You and I.
The first semi-final tonight was held at Háskólabíó in Reykjavík and was hosted by Fannar Sveinsson, Benedikt Valsson, and Björg Magnúsdóttir. Votes will be a mix of the public voting as well as an expert panel of judges. During the semi-finals, artists will all sing in Icelandic. For the grand final, they'll have the opportunity to sing their song in English if they chose.
The songs
1. Hatari –Hatrið mun sigra
First up is the techno metal band Hatari and their entry Hatrið mun sigra. The band made headlines this week as they published an official statement indicating they wished to battle Israel's prime minister Benjamin Netanyahu to an Icelandic wrestling match. The band certainly seem to be open to challenge politics so we'll have to see what happens. Speaking of their performance. First up the song itself is an interesting mess. Mixing elements of techno, metal and pop. The visual itself is also something you certainly don't see at Eurovision often. Looking more like a BDSM party filled with leather, studs and harnesses. The two lead singers went back and forth from very harsh vocals to a super high pitched/fausetto type of singing. A very bold start to tonight's show.
2. IMSLAND – Nú og hér / What are you waiting for
Next is IMSLAND. She performs this modern pop song called Nú og hér. The verses of the song start off a bit strangely but it really picks up during the chorus. One unfortunate thing is the staging, it really appears that all the thoughts were put into IMSLAND's outfit and her dancers but they really don't bring the performance to the next level. This is one of those songs that works quite well in studio format but the live performance just doesn't translate and since this is Eurovision we are aiming for, I can't see this going far.
3. Daníel Óliver – Samt ekki / Licky Licky
Third act tonight is Daníel Óliver. His pop entry is the slicker than everything we've heard so far. His choreography with the two dancers is also a lot tighter overall. The song is catchy and interesting and the way the staging is kept simple works in his favour. My only concern is that Daniel looked a tad nervous during his performance. If he can really let loose and show he's perfectly comfortable, he'll be a strong contender.
4. Kristina Skoubo – Ég á mig sjálf / Mama Said
We next have Kristina Skoubo with her song Ég á mig sjálf. Her song has a retro motown vibe. Her voice is actually quite interesting with this song. The staging also works quite well reminding me of Denmark's 2014 entry Cliché Love Song. I think it could do well but again at this point at Eurovision you really need to stand out and other than just being a very decent entry, I am not sure it stands much of a chance.
5. Hera Björk – Eitt andartak / Moving On
Last but not least is Hera. Quite a change from her 2010 Eurovision entry in Oslo, Hera is back this year with a ballad. One of the great thing of having a ballad in a smaller national selection is that you can truly bring the production and staging to a minimum and capture a very nice emotion, and this is exactly what Hera did. Previous fans of Hera hoping to find a Je Ne Sais Quoi part 2 will mostly be disappointed with this entry. Despite its somewhat dated vibe, Hera performs it beautifully.
The result
Covering this year's Icelandic national selection is a fairly simple thing with only 5 songs competing, the show itself is just over an hour long. After all 5 acts performed and we were provided some interviews with the artists.
Moving on to the grand final are:
Hera Björk and Hatari
Stay tuned for next week's second semi final as two more artists move to the grand final.
Iceland at the Eurovision Song Contest
Since their first entry back in 1986, Iceland has taken part in the Eurovision Song Contest 31 times but have yet to win it. Twice have their achieved a 2nd place. The first time in 1999 with Selma's All Out Of Luck, and 10 years later in 2009 with Yohanna's Is It True?. Unfortunately Iceland hasn't managed to qualify since 2014. Will this year change their bad luck? We will find out next May!