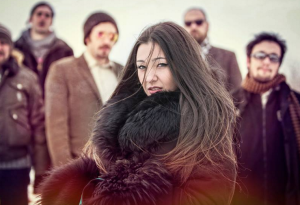 At the beginning of this week, on March 7th, Radio Televizija Srbije (RTS), the national Serbian public broadcaster, revealed that Sanja Vučić will represent Serbia in Stockholm with a song called Goodbye. This evening, the Serbian entry was premiered in a special TV show, 'Serbia's Song For Europe'.
Sanja Vučić is 23 years old and born in Kruševac in Southern Serbia, where she finished both primary and secondary music school at the department of opera singing. In Stockholm, she will perform under the stage name ZAA, which actually is the name of the band that she joined in 2012. Band ZAA used to play different musical genres from ska and dub music to post-rock, jazz and punk. Sanja lives currently in Belgrade, where she attends the Faculty of Philology at the Department of Arabic Language and Literature. She speaks several languages: English, Italian, Spanish and Arabic.
The Serbian version of this year's Eurovision entry is titled Iza Osmeha (Behind The Smile). The song is written (both music and lyrics) by Ivana Peters, the lead singer of the band Negative, and refers to violence against women. Ivan Ilić, a conductor of the RTS Big Band Jazz Orchestra, and Uroš Marković, a musician, have also made a contribution to the song.
This year's Serbian entry can be seen in the video below:
Serbia at the Eurovision Song Contest
After a one-year break, Serbia took again part in the Eurovision Song Contest last year in Vienna, where Bojana Stamenov came tenth in the final with the song Beauty Never Lies.
As an independent country, Serbia debuted at the Eurovision Song Contest in 2007 and won with the song Molitva, which was performed by Marija Šerifović. In 2009 and 2013, Serbia failed to qualify for the final. The Balkan country's next best result was achieved by Željko Joksimović, who came third in Baku (Azerbaijan) with the song Nije Ljubav Stvar.
In the video below, you can see our recent highlights of Serbia in the Eurovision Song Contest. We did our best to find some rarer clips as well that you might not have seen before: