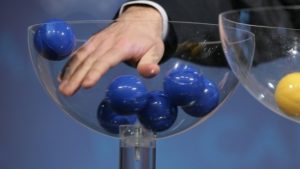 Following the result of the first semi-final, the ten lucky qualifiers made it to the press conference in which a special draw took place. It was decided whether they would perform in the first or the second half of the final on Saturday, the 22nd of May.
We already knew that host country the Netherlands would perform as #23 in the final of the 2021 Eurovision Song Contest. Saturday, we then had the draw for the remaining pre-qualified acts, the so-called Big 5 countries.
United Kingdom and Spain will perform in the first half
Germany, France and Italy will perform in the second half
This evening, in the qualifier press conference, tonight's lucky acts drew their starting half. Thursday evening, the ten qualifiers from the second semi-final will draw their half's. Once that's done, the producers will start to make the final running order. This usually takes a couple of hours, sometimes a bit faster, and other times a bit longer. It all has to be ready Friday morning though when planning for the final takes place.
Friday afternoon at 15:00 CEST, the first dress rehearsal for the final takes place.
Semi-final 1 draw result
First half:
Israel
Russia
Malta
Cyprus
Belgium
Second half:
Norway
Azerbaijan
Lithuania
Sweden
Ukraine