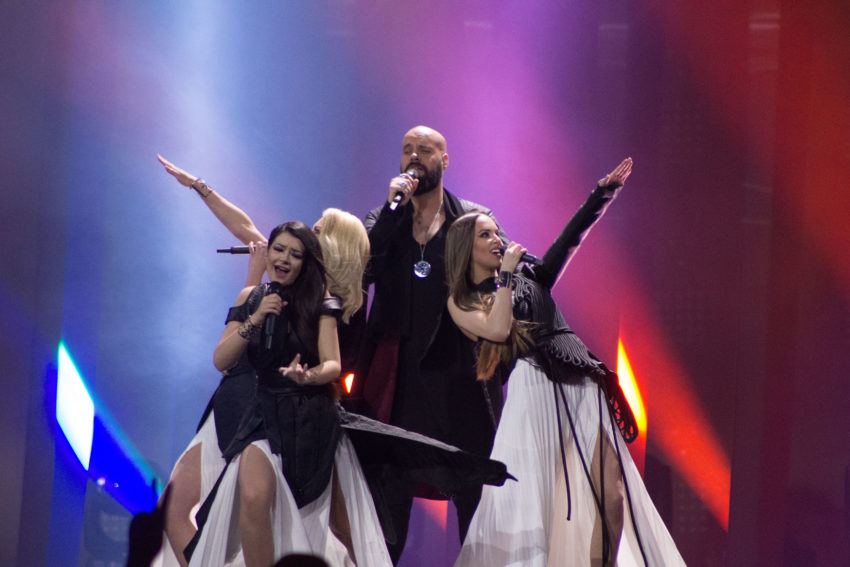 Serbian National Broadcaster, RTS (Radio Televizija Srbije), revealed today the 24 acts that will participate in the national final Beovizija. This year's field is a combination of previous participants in the Eurovision Song Contest and Beovizija and some new names. 
The 24 finalists was chosen by a special jury among 76 acts that RTS have received before the 15th of November last year. The finalists of Beovizija 2019 are:
Ivana Vladović & Wonder Strings – Moja bol (Music and Lyrics by Aleksandra Milutinović)
Extra Nena – Još ti čujem glas (Music: Ivan Akulov, Lyrics: Milena Ludajić, Snežana Berić)
Sanja Rio – Ljubimo se (Music and Lyrics: Muki Dumonjić)
Nataša & Una – Slobodna (Music: Predrag Vukčević, Marko Stojanović Luis, Petar Zorkić, Lyrics: Nataša Guberinić, Predrag Vukčević, Una Senić, Nemanja Kostić)
Jana Šušteršić – Viktorija (Music: Vladimir Graić, Lyrics: Željko Hubač)
Saška Janks – Da li čuješ moj glas (Music: Saška Janković, Marko Nikolić, Lyrics: Saška Janković)
Dženan Lončarević – Nema suza (Music: Željko Vasić, Lyrics: Dragan Čolaković)
Funked Up – Zašto da se ne desi (Music and Lyrics: Vojin Vilotijević)
Goga Stanić – Ti znaš da ne znaš me (Music: Ylva Persson, Linda Persson, Dimitri Stassos, Lyrics: Vladimir Marković Luni, Marko J. Kon, Ognjen Amidžić)
Majdan – Budim te (Music: Nemanja Erić, Lyrics: Nemanja Erić and Marija Vagner)
Sofija Perić – Aritmija (Music: Vladimir Graić, Lyrics: Snežana Vukomanović)
Ana Popović – Lutaš (Music and Lyrics: Sofija Milutinović)
Aleksandra Sekulić – Tugo (Music and Lyrics: Ana Sekulić)
Osvajači – Vatra i plamen (Music: Nebojša Jakovljević, Lyrics: Zvonko Pantović)
Džipsikord – Boje (Music: Džipsikord, Lyrics: Sanja Krstić and Milena Ludajić)
Dunja Vujadinović – 7 (Music: Boris Krstajić, Lyrics: Ljiljana Jorgovanović)
Eleonora – Samo lagano (Music and Lyrics: Eleonora Lav Jovanović)
Lord – Radnički sin (Music and Lyrics: Vladimir Preradović)
Tina & Lola Amvon – Tvoje oči (Music: Tina Amvon, Lyrics: Olgica Lola Amvon)
Mr DOO – Do 100 (Music: Sanja Ilić and Mr DOO, Lyrics: Leontina Vukomanović)
Ivan Kurtić – Bella (Music: Goran Ratković Rale, Lyrics: Radenko Mitrović)
Nevena Božović – Kruna (Music and Lyrics: Nevena Božović)
Lana & Aldo – Pogledaj u nebo (Music and Lyrics: Lana Toković)
Tamara Milanović – Reči nisu dovoljne (Music: Marcel Sprunkel, Lyrics: Marcel Sprunkel and Gavrilo Milovanović)
Well known artists 
Extra Nena was the last ever Yugoslav participant back in 1992. Nevena Božović represented Serbia on two occasions before: at 2007 Junior Eurovision 2007 in Rotterdam and at 2013 Eurovision Song Contest in Malmö as a member of the girl band Moje 3 as well. Lord, Ivan Kurtić, Lana & Aldo and Saška Janks were all taking part in Beovizija last year. Jana Šušteršić competed in the Slovenian national final  EMA back in 2015. 
Well known composers and songwriters
Aleksandra Milutinović composed Bosnia and Herzegovina's entry Rijeka bez imena back in 2007. Swedish composers Ylva and Linda Persson have delivered 30 songs in 16 countries for national selections to Eurovision and Junior Eurovision. Leontina Vukomanović, who this year participates as a songwriter, took part in 2004 Beovizija as an artist. Marko Kon, who represented Serbia at 2009 Eurovision Song Contest as an artist, has contributed a song in Beovizija this year as a songwriter. Vladimir Graić-Graja won Eurovision back in 2007 in Helsinki as he composed the winning song from Serbia, Molitva. Sanja Ilić wrote last year's Serbian entry Nova deca.
Beovizija 2019 will take place at the end of February. 
Serbia At The Eurovision Song Contest
Serbia has appeared as an independent nation at Eurovision for the first time back in 2007. Their very first entry Molitva by Marija Šerifović won the contest, which was held in Helsinki. Serbia's second best result came in 2012 with Nije ljubav stvar by Željko Joksimović, when they finished third.
Last year, Serbia finished 19th in the grand final in Lisbon with the song Nova deca performed by Balkanika. In the link below you can watch Balkanika's performance at Eurovision in Concert in Amsterdam last year: