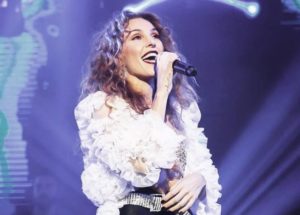 37 year old Tamta will represent Cyprus at the 2019 Eurovision Song Contest. The Georgian born singer is well known in Greece and Cyprus for various talent shows, but also the Greek national final in which she finished third. 
Today, Cypriot broadcaster CyBC presented their participant for next year's Eurovision Song Contest in Tel Aviv, Israel. They have chosen the Greek singer of Georgian origin, Tamta to represent them. On the Eurovision stage, she will sing the song Replay, which is written by Greek-Swedish Alex Papacosntantinou also known just as Alex P.
Alex also wrote last year's Cypriot entry Fuego, just as he wrote Yassou Maria (Greece 2007), Always (Azerbaijan 2009) and La La Love (Cyprus 2012). We are yet to hear his fifth – and Tamta's first Eurovision entry. The song will be released at a later point together with the video for it.
Who is Tamta
Born and raised in the Georgian capital, Tbilisi, not much looked like a big career in Greece and Cyprus for the young Tamta in her childhood. When she was 22, her and her family went to Greece as so-called economical refugees. They were allowed to stay, and Tamta immediately seeked a music career.
In 2003, she took part in Pop Idol where she finished second. For Tamta, that was break-through she had been waiting for. Her first solo album was released a few years later, and in 2007 she took part in the Greek national selection. She came third loosing out to Sarbel who went to Eurovision. She was expected to take part again in 2015, but failed to reached the deadline from the broadcaster. It was later revealed that her entry would have been the song Unloved which was also written by Alex P.
Tamta has not only taken part in competitions herself. She has also been X-Factor coach and judge in Greece and Georgia.
Cyprus at the Eurovision Song Contest
The Greek part of the divided Island of Cyprus joined the Eurovision Song Contest in 1981. They are yet to win the Eurovision Song Contest, but they have three times finished 5th tasting a bit of success – and then second in 2018.
When Lisa Andreas came 5th in 2005 with the ballad Stronger Every Minute, the semi-final system had just been introduced the year before. Two years later, the country would fail to reach the final – and unfortunately not just once, but four years in a row. In 2011 and 2013, Cyprus again missed out on the final.
Since 2015, Cyprus was rather consisting reaching the final, but always scoring in the bottom positions – all until 2018 where Eleni Foureira changed things. With the Alex P. written Fuego, Cyprus came 2nd, their best placement ever.
In the video below, take a look at a performance of Fuego live from Eurovision Village in Lisbon, Portugal.