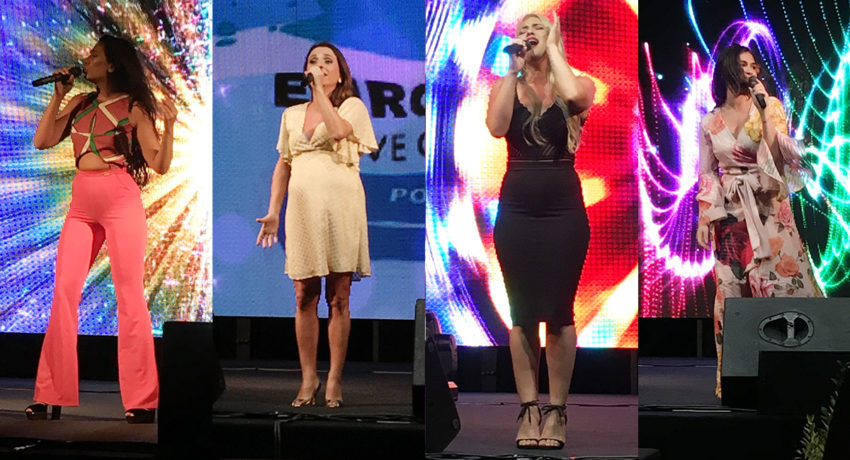 Portugal's annual Eurovision Live Concert was held on September 9th in Setúbal's Auditório José Afonso and, besides bringing Eurovision's newest stars to the stage, a few nostalgic acts and songs were also part of the lineup. The show was also a celebration of Portugal's first ever victory in the Eurovision Song Contest.
"Isn't this truly special, that we are outside tonight with such beautiful weather? (…) It's not raining like in Denmark, 95% of the time!" While the mostly Portuguese audience truly appreciated Anja Nissen's words, in reality, the weather wasn't that pleasant. By the sea, it was mostly a windy and cold night in Setúbal.
Welcomed by the 2014 Eurovision Song Contest soundtrack, an audience started to build in and around Auditório José Afonso at around 9 pm. 45 minutes later – just as Lithuania's 2014 representative, Vilija Matačiūnaitė, screamed for Attention – the music stopped and the official Welcome to Lisbon video invaded the screen. It was the trigger to start what was also a celebratory party.
Sanja Vučić covered 2009's Armenian entry, Jan Jan
The strategy of initiating the event with that video was more than enough to understand that Eurovision Live Concert's ninth edition would also be a celebration of Portugal's first win. Nonetheless, that idea was reinforced by a cover of Amar Pelos Dois, sung by Carla Ribeiro right after. The Portuguese singer, who last attempted to represent Portugal in 2014, gave it a different approach so it would match her higher vocal pitch. Despite asking the audience to sing along multiple times, they struggled, as her runs were quite different from Salvador's. Carla would come back to the stage later on to cover for Mirela's abscence. The Objetivo Eurovisión's runner-up cancelled at the last minute, openining a slot in the lineup.
Sanja Vučić was next and one could only feel sorry for whoever came after because she delivered three amazing and unexpected performances. Besides singing her Eurovision entry – Goodbye (Shelter) – the Serbian singer covered the iconic Molitva with impressive and impecable vocals and showed everyone she is not just about singing. Don't be fooled by the dramatic ballad she presented in 2016, Sanja can throw a party on her own… In fact, she doesn't even need to know the words to a song to achieve that.
"I didn't even know until today that I was going to sing this song. I just decided half an hour ago. I want to apologize in advance because this song is half in the Armenian language that I don't know", she confessed. Naming it as her ultimate favorite Eurovision song, Sanja covered Armenia's 2009 entry Jan Jan and left the stage with a cheerful audience who obviously wouldn't mind more.
The 2009 nostalgia continued with the following act. Ana Luísa Silva – a singing expert – stepped on stage to perform Sweden's La Voix and was able to keep the momentum due to her high pitch that no one expected to hear during the night.
Anabela hopes to end music career
If by now you're feeling nostalgic remembering Molitva, Jan Jan or La Voix, expect it to get worse. Covering for Celia Lawson (1997) who must have cancelled as well, Marco Quelhas – Portugal's representative in 2001 – took the stage with obvious discomfort. The Portuguese singer performed his entry, Só Sei Ser Feliz Assim, and confessed it had been a while since he last performed it. Despite being nervous, Marco was competent and always in key.
It is probably safe to say that one of the highlights of the night was when a very pregnant Anabela (1993) took to the stage to perform the classic A Cidade (Até Ser Dia). It was the first time everyone raised their voices and sang along to each word of the song. Back then, participating in Eurovision was the synonym to having a successful career in the country and Anabela was one of the lucky ones. Nonetheless, it seems like she'll focus 100% on motherhood from now. Before singing her Eurovision classic, the singer confessed she hoped this would be the last time she would have to perform live. Despite that being definitive or not, Anabela's vocals are just like they were back in the day.
Anja glows, Nathan gets a standing ovation and Timebelle perform an ESC 2017 medley
After a ten minute break, it was time to leave the nostalgia behind… Even though, during the break, there was a recap of all Portuguese entries nevertheless. Anja Nissen was in charge of opening this second part. Unlike the previous acts, the Danish singer performed four songs, including two covers, Never Alone (her first attempt to represent Denmark in 2016) and, obviously, Where I Am. Despite impressing everyone with her amazing vocals and melting Portuguese people's heart with her kind words, Nathan Trent ended up winning the crowd by performing a (better than Carla's) cover of Amar Pelos Dois. The audience was so impressed that, for the first time that night, they stood up and gave him a standing ovation.
Austria's representative – also known for his covers – performed an acoustic version of Heroes (2015) and Lena's Satellite (he even showed his underwear and they were blue!). Running On Air wasn't forgotten.
There were two acts left to perform. Sasha Son (Lithuania, 2009) and Timebelle, both in difficult positions. It's safe to say that Sasha was the least known international star in the event as it has been a few years since he represented his country in Eurovision. Despite all that, the singer enjoyed himself and made sure he encouraged the audience to stand up and sing along to his cover of Hit The Road Jack.
Timebelle were chosen to close the event and, honestly, they delivered in a very creative way by singing a mashup of most of 2017 Eurovision entries. To the instrumental of Ed Sheeran's Shape Of You, Miruna Mănescu adapted most of the Eurovision 2017 entries, from their own Apollo to I Can't Go On, Do It For Your Lover, Requiem, Occidentali's Karma and many more. If there was an award for best effort and most original, Timebelle would have won.
A tenth edition is more or less confirmed
With Eurovision Song Contest 2018 taking place in Lisbon, it's obvious that the show's popularity will rise even more in Portugal. So, there's no reason for Eurovision Live Concert not to be held next year. The organiser of the event – Guilherme Nunes dos Santos – mentioned it himself during his time on stage. Therefore, if you can't make it to the main Eurovision event in May, Portugal will open its doors again for Eurovision fans in September.
Below, you can see a compilation of the event's various moments:
This reflection article is based on the author's own personal experience. Views expressed belongs to him or her, and are to be seen as unrelated to EuroVisionary.com.