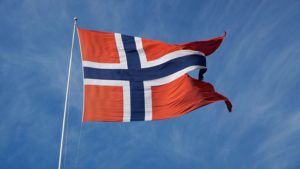 Do you have just the right song which would be suitable to represent Norway at the 2018 Eurovision Song Contest? If so, the country has now, as the first country, opened up for song submission for their national final next year. 
On the 11th of March, Norway will chose its 2017 Eurovision participant. Before they even presented the songs for this year's national final, the country already opened up for the 2018 selection.
Norway puts no nationality restriction on songwriters, but broadcaster NRK do make it clear that they in particular encourage Norwegian songwriters to submit some good songs.
If you have the right song for Norway, you can submit your entry up until the 10th of September 2017. Remember not to do any kind of publication of the song so that you will be able to live up to the rules set by the European Broadcasting Union.
At the 2016 Eurovision Song Contest, Norway was represented by Agnete. With the song Icebreaker she failed to reach the final of the contest. That doesn't make the song less enjoyable and you can watch her performance of it in the video below: