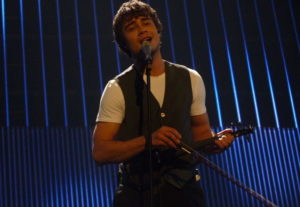 Alexander Rybak, Stella Mwangi and Aleksander Walmann. They are just three of the acts who will battle to represent Norway at the 2018 Eurovision Song Contest. All three are in for a comeback at the contest, but first they need to win what will be a tough national final.
After months of speculation, it's finally time to list the acts who will take part in this year's Norwegian Melodi Grand Prix final. The winner will represent Norway in Lisbon, Portugal in May.
Norwegian broadcaster started their search for the 2018 entry really early. The submission period started on the 1st of February 2017 – more than a month before their 2017 national final even took place – and ended on the 10th of September. Did the long period pay off? That fans will be able to judge immediately as the songs were released right after the press conference held by Norwegian broadcaster NRK today.
This year's Norwegian final takes place in Oslo Spektrum on the 10th of March 2018. At the same time, neighbouring Sweden will also have their final, so fans will have a tough choice – are they watching Sweden or Norway that night?
Melodi Grand Prix 2018 participants
Charla K – Stop The Music (Written by: Charlotte Kjær/Per Gessle/Alex Shield)
Alejandro Fuentes – Tengo Otra (Written by: Alejandro Fuentes / Angel Arce Pututi / Alejandro Arce Pututi)
Aleksander Walmann – Talk To The Hand (Written by: JOWST (Joakim With Steen) / Jonas McDonnell / Magnus Klausen)
Stella (Mwangi) and Alexandra – You Got Me (Written by: Gustav Eurén / Niclas Arn / Stella Mwangi / Andreas Alfredsson)
Vidar Villa – Moren Din (Your Mother) (Written by: Vidar Andrè Mohaugen / Jonas Thomassen / Martin Thomassen)
Tom Hugo – I like I Like I Like (Written by: Tom Hugo Hermansen)
Ida Maria – Scandilove (Written by: Ida Maria Børli Sivertsen /Stefan Törnby)
Rebecca – Who We Are (Written by: Kjetil Mørland)
Nicoline – Light Me Up (Written by: Nicoline Berg Kaasin/ Johan Larsson/ Emilie Adams)
Alexander Rybak – That's How You Write A Song (Written by Alexander Rybak)
If you add that Kjetil Mørland and JOWST are taking part as songwriter, you get to a total of five Eurovision participants who are in this national final. That's pretty impressive.
Norway at the Eurovision Song Contest
As the last of the Scandinavian countries, Norway joined the Eurovision family in 1960. Over the years, they have won the contest three times, first time in 1985 with Bobbysocks and last in 2009 by Alexander Rybak.
In the past five years, Norway scored four top 10 placements, and since the introduction of semi-finals in 2004, the country only failed to qualify for the final on three occasions. That's pretty well done. But the Norwegian Eurovision story isn't all that well. Finishing last 11 times is a record, and so are the four times they didn't receive any points at all!
Bookmakers didn't believe in JOWST for the 2017 contest, but him and vocalist Alekander Walmann went against the odds as they made it to the final, and scored a 10th place with the song Grab The Moment. In the video below you can see a special Full Stage View performance of that entry.