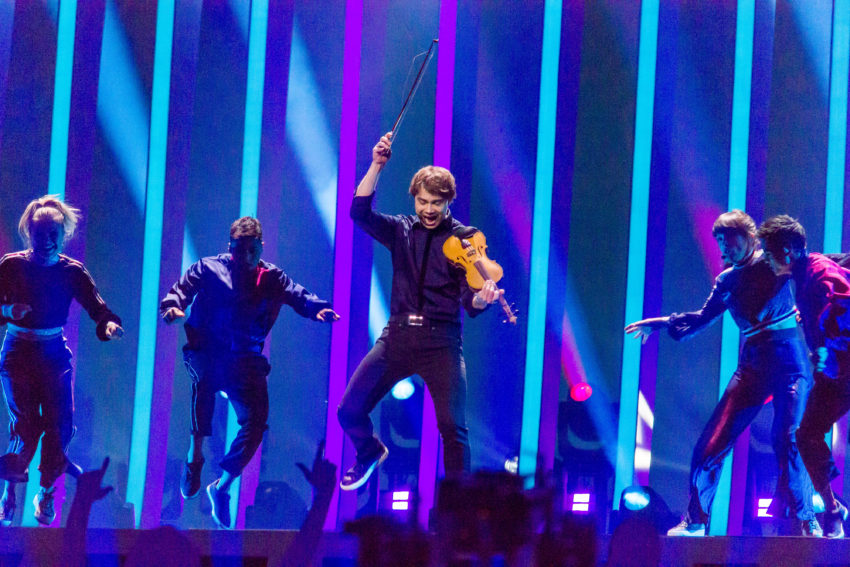 With an amazing stage performance in the national final a few months ago, the 2009 Eurovision winner made it to the Eurovision Song Contest once again. And Alexander Rybak has more or less brought his performance from the Norwegian final to this year's Eurovision.
That's How You Write A Song
.
Fairytale with orchestra
Eurovison Village
Gallery
Second Rehearsal
Opinions expressed during our second rehearsal coverage are personal from the mentioned writers.
Josef Staif , Czech Republic (From the arena) – What an amazing song to open the second semifinal. For the others it will be a difficult task to be better, as Alexander set the level very high. It has rhythm, it's funny and also catchy. This is How You Write a Eurovision Song! And who knows, maybe the winning Eurovision song? Who knows, but Alexander is going at minimum for a top 10 placing in the final.
Michael – United Kingdom (from the press centre) Alexander has performed this song the same way since the Norwegian final. It is insanely catchy and probably like Fairytale, you will eventually become sick of it. For now the stage performance is entrancing, and its either love it or hate it. Me, I find the dancer more annoying than Alexander, but I managed since Fairytale to do without him, and I'm not sure if I'm glad to see him back. Infectious though.
First rehearsal
This year we have the honor of a former Eurovision winner. Alexander Rybak won in 2009 and now he's back. He opens the second semifinal with a very energetic performance. It's basically the same as in the national final, although it's not the exact same. He starts sitting on a bench playing the same animated instruments he did in the Norwegian final – guitar, drums, piano etc. The blue stage light is the same, he's wearing the same clothes and he's playing on his violin. Just as we already saw in the Norwegian final. However, there are some minor differences in the dance routine with the backing dancers, but otherwise only one thing has been updated. The performance now has pyros – one in the middle of the song, and one to end it all.
It may seem boring to do the same all again, but why fix something if it was perfect to begin with? It worked in Norway, and it works in Lisbon as well.
How Alexander Rybak was selected
It may be hard to imagine, but Rybak wasn't a favourite to win the Norwegian selection, Melodi Grand Prix. The former Eurovision winner had in the studio version of his entry failed to convince people that he, this time, had the recipe on how to write a winning song.
Just how much a stage performance can do, he is an example to pay attention to. With an almost perfect performance, he swiped all competition away in a very strong national final, where he was just one of three former Eurovision participants taking part, five if you include the songwriters.
Norway at the Eurovision Song Contest
With three Eurovision victories, Norway is on track with fellow Scandinavian neighbour Denmark, although both countries are three behind Sweden. Norway first won in 1985, the year after Sweden's second win. Bobbysocks' La Det Swinge has since become a classic hit, which most fans can sing a long to. Ten years later, Secret Garden gave Norway their second win with the song Nocturne, which only contained 24 words, and the rest was instrumental, mainly violin. In 2009, Norway would once again bring the violin to Eurovision – and win by no other than Rybak.
Since the last Norwegian victory, by Alexander Rybak in 2009, Norway have scored rather decent in Eurovision. Stella Mwangi (2011) and Agnete (2016) both failed to reach the final, but of the remaining six entries that did make it, four of them ended in top 10.